Terrace Club
Reviewed by our Secret Senior - April 2009
The Terrace Club
Progressive Field
Cleveland, OH
216-420-4040
Click for a Mapquest Map
There is a new way to enjoy the tremendous food at the Terrace Club, the Cleveland Indians beautiful "dining room with a view." It's called 'Fridays at the Field" and it is a full buffet of gourmet food.
Every non-game Friday all year, from 11:30- 1:30 the Terrace Club will offer this buffet.
We had the opportunity to try it out on the first day it was offered, April 3. There was a wonderful salad bar and all of the dressings were made on premise. In addition to the assorted greens and a great assortment of salad "fixins" there was also a lemon pepper chicken salad, tomato and mozzarella salad (really, really good) and an Asian noodle salad.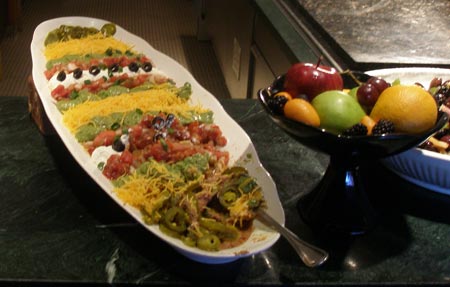 None of us tried the meat dishes (it was Friday in Lent) but those who did said it was wonderful. Same with the French Lentil soup - none of us had room, but it looked and smelled delicious.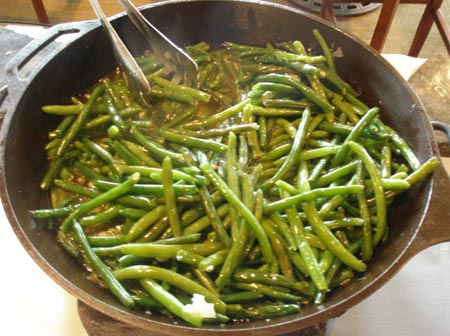 The non-meat eaters were hardly left out. A pan-seared salmon with a Chardonnay cream sauce was out of this world, and I am not a huge salmon fan. The Potatoes Lyonnais and sautéed green beans with garlic parmesan butter were amazing. Who would have ever thought I'd go back for more green beans at a buffet - but I did!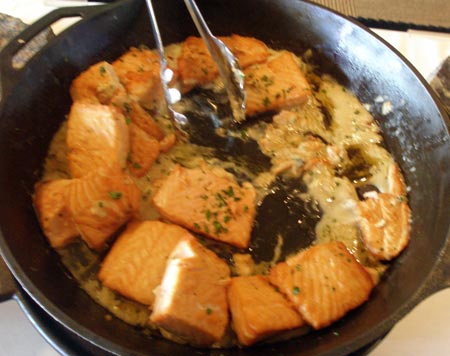 There was also chicken braised in red wine and button mushrooms and it looked beautiful.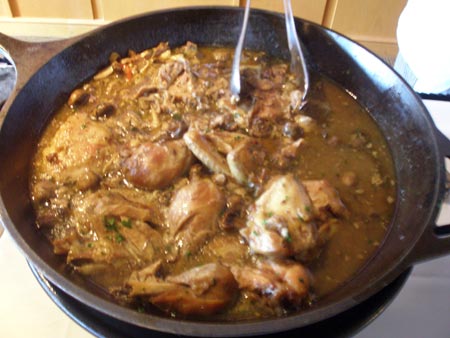 Just to be able to give an accurate review we ate even more. It was business after all! Spinach Gratin - light and cheesy. Pasta Prima Vera - delightful. Even the bread (assorted breads and rolls) were special - they too are made on premise. In fact, everything is. Absolutely everything.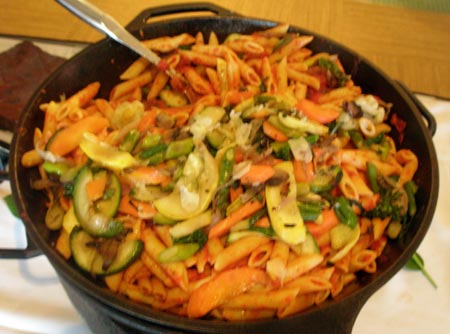 Dessert consisted of homemade chocolate chip cookies and what can only be described as pecan pie without the crust. Amazing! Sweet, gooey and oh so good!
An assortment of soft drinks and iced tea were always available and the servers were prompt and courteous.
The menu will change weekly, but the quality and good taste will not.
Oh and the price for this gastronomical extravaganza? Just $11.00!
The Cleveland Indians hit a home run with this buffet. And if you have never visited The Terrace Club, this is your chance to take out-of-town visitors to a Cleveland landmark without breaking the bank.
The view of Progressive Field from the huge glass windows in the Terrace Club is breathtaking.
Senior Tip: An elevator takes you up to the Terrace Club so don't worry about steps. The restrooms are on the same level too.
Senior Tip: If you expect to visit often be sure to join the free Fridays at the Field Lunch Bunch. Cards are available and each visit earns a stamp on the card. The 5th lunch is free, the 10th lunch earns a t-shirt, the 15th lunch gets a set of leather embossed Cleveland Indians drink coasters and the 20th lunch earns you an autographed item from a Cleveland Indian.
---
Ranking (out of 5 possible spoons)

Food:






Service:






Price/Value:






Atmosphere:






Overall:





---
---

---
Top of Page
Back to Restaurant Reviews for Cleveland Seniors
Cleveland Indians 2009 Season