Rocky Colavito statue unveiling
and 88th Birthday
in Cleveland's Little Italy



Rocco Domenico "Rocky" Colavito Jr. (born August 10, 1933) is best known playing baseball for the Cleveland Indians in right field. In 1959, he hit four consecutive home runs in one game. In 1965, he became the first American League (AL) outfielder to play a complete season with a perfect 1.000 fielding percentage.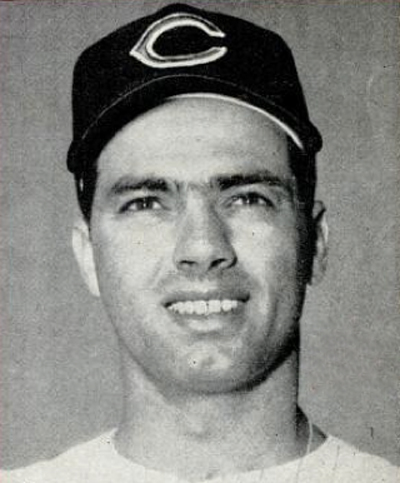 Rocky Colavito in 1959



Rocky Colavito was an All-Star for six seasons (9 All-Star Games). He is the fifth player in the history of the AL to have eleven consecutive 20-home run seasons (1956–1966). During that span, he exceeded 40 home runs three times and 100 runs batted in, six times. He also led the AL in home runs, RBI, and slugging average once each. Colavito ranked third among AL right-handed hitters for home runs (371) and eighth for AL games played at right field (1272), at the end of his MLB playing career in 1968.

But Rocky is so much more than a bunch of all-star caliber achievements. He was a hero to Cleveland and every kid in little league copied the stretch and other batting nuances of #6. The fans loved Rocky and when he was unexpectedly traded to Detroit on April 17, 1960 by Indians general manager Frank Lane to the Detroit Tigers for Harvey Kuenn the fans were devastated. They missed "The Rock" and cries of Don't knock the Rock were everywhere.

The Tribe was extremely unsuccessful after the trade and it was blamed on "The Curse of Rocky Colavito" which became a book by sportswriter Terry Pluto.

In January 1965, Rocky Colavito was brought back to Cleveland from Kansas City by Indians general manager Gabe Paul.

The Cleveland fans never stopped idolizing Rocky and he had a triumphant return in August 2021 for the unveiling of a statue in his honor in Cleveland's Little Italy neighborhood.

The special day began with a press conference behind a restaurant in Little Italy.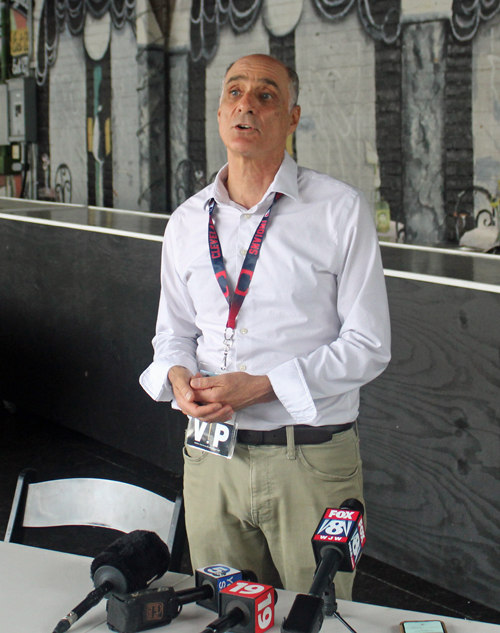 Mark Sommer, Rocky Colavito book author



Mark Sommer, an award-winning journalist for The Buffalo News, wrote a book about Rocky called Rocky Colavito: Cleveland's Iconic Slugger and he told the group how the book, tribute event and statue came about.

NOTE: All the images below with a white arrow in the middle are videos. (The other images are just photos) You can click on the white arrow to watch the video of whatever is described. Make sure your speakers are on and you can make the video full screen once it begins by clicking the icon in the lower right corner.



When Rocky came in the gathered reporters were eager to ask questions.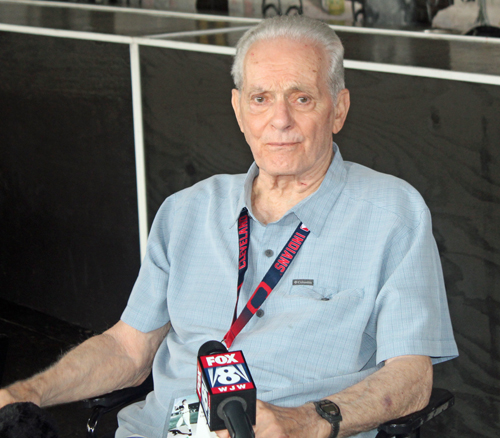 Rocky Colavito at press conference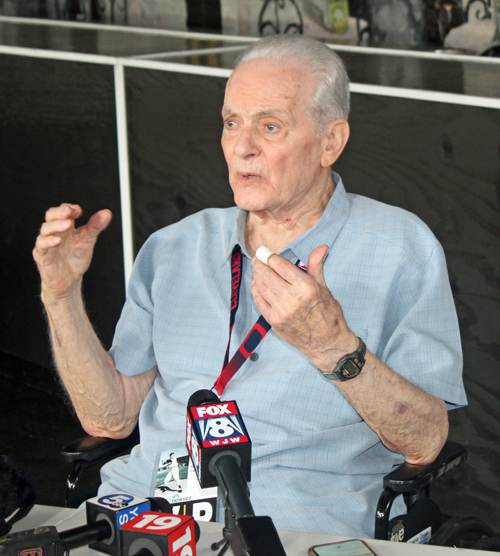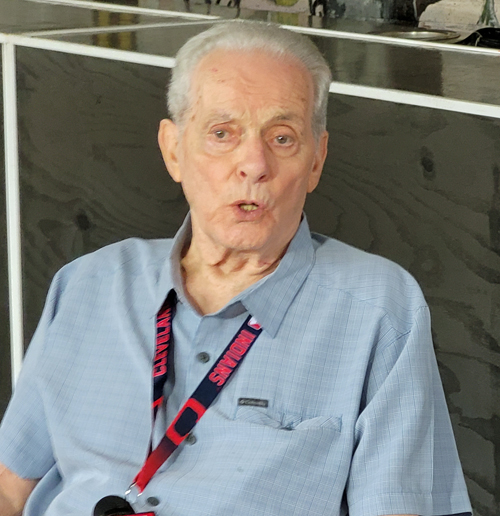 As you will see in this video, Rocky answered questions such as "What was your most memorable game?" (June 10, 1959 - 4 consecutive home runs), "What do you think of Cleveland? ("Cleveland's my favorite city in the world") and "Is this your best birthday (his 88th) ever?" (what do you think?)

I was fortunate to ask Rocky about the many Italian American stars in baseball. I asked who would be his all-time Italian outfield with him in right field and Joe Dimaggio in center. Off camera we talked about other positions. For example, he said while Mike Piazza was great the best Italian catcher was Yogi Berra. No contest.



Rocky would have kept going if he hadn't been ushered out for more festivities. I did manage to have him sign a ball for me which I managed to keep dry though I was soaked in the rain.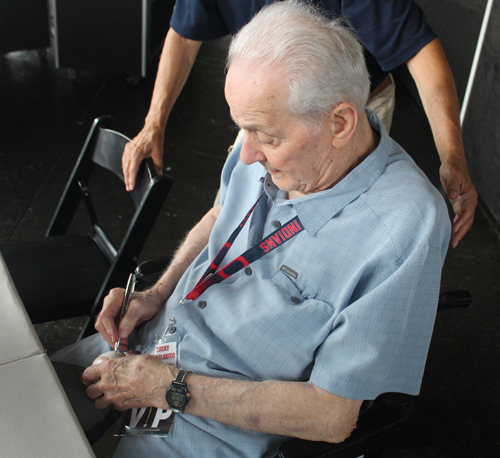 Rocky Colavito signing my baseball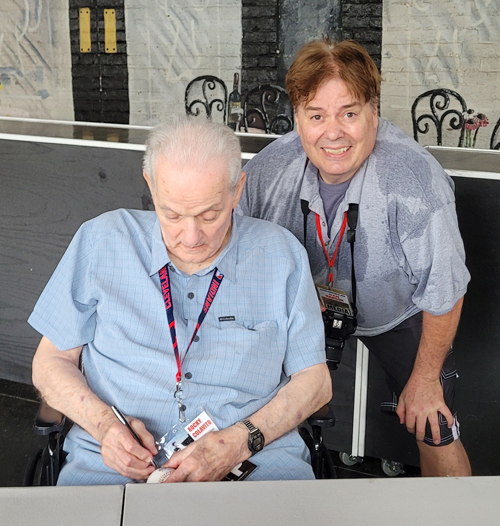 A rain-soaked Dan Hanson watching Rocky Colavito sign his baseball

Next in the packed restaurant, the fans sang Happy 88th Birthday to Rocky and he blew out the candles on a cake.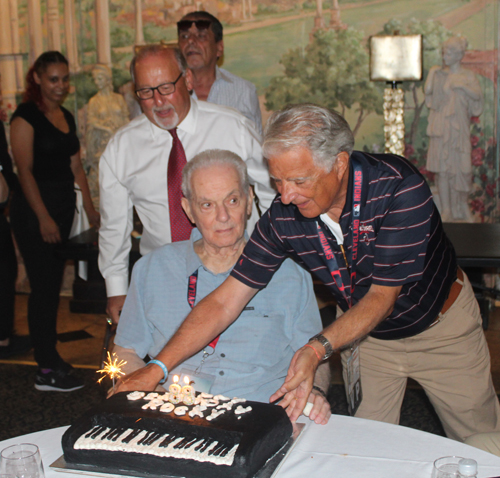 Rocky Colavito 88th birthday cake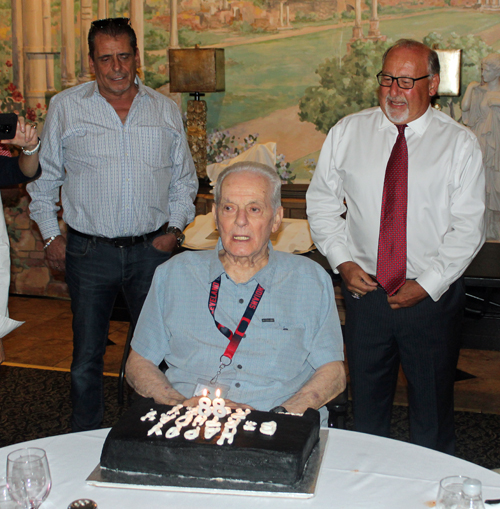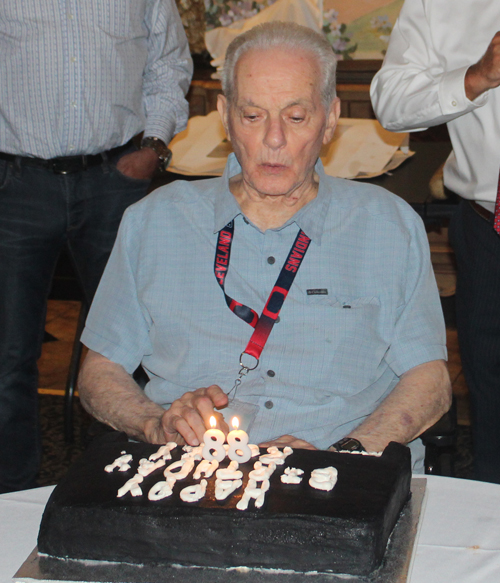 The highlight of the day was the ceremony and unveiling of the Rocky Colavito statue in Tony Brush Park in Little Italy. Cleveland Indian Sr. Vice President Public Affairs Bob DiBiasio served as MC for the ceremony.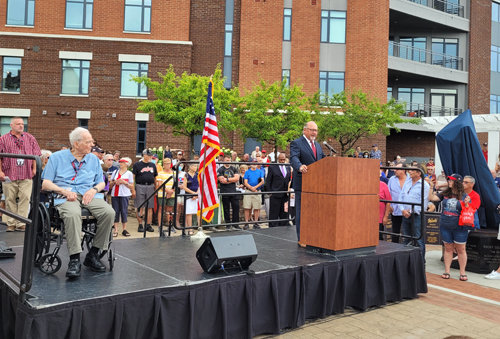 Rocky Colavito statue unveiling ceremony in Cleveland



The park was packed as Bob DiBiasio introduced Indians owner Paul Dolan, civic leaders, politicians and those responsible for the statue. He introduced Rocky's former Indian teammate Vern Fuller and Tiger teammates Willie Horton and Denny McClain. Fans know that Willie Horton hit 20 or more home runs seven times, and his 325 career home runs ranked sixth among AL right-handed hitters when he retired. He enjoyed his best season in 1968 with the world champion Tigers, finishing second in the AL with 36 homers, a .543 slugging average and 278 total bases.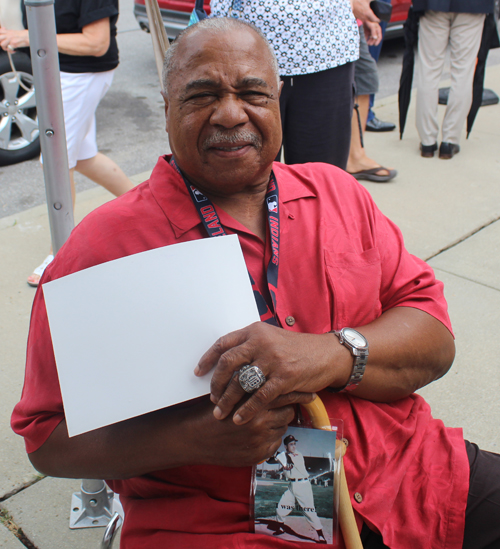 Willie Horton with championship ring



Of course, Denny McClain was the last Major League Baseball pitcher to win 30 or more games during a season, with a record of 31–6 in 1968.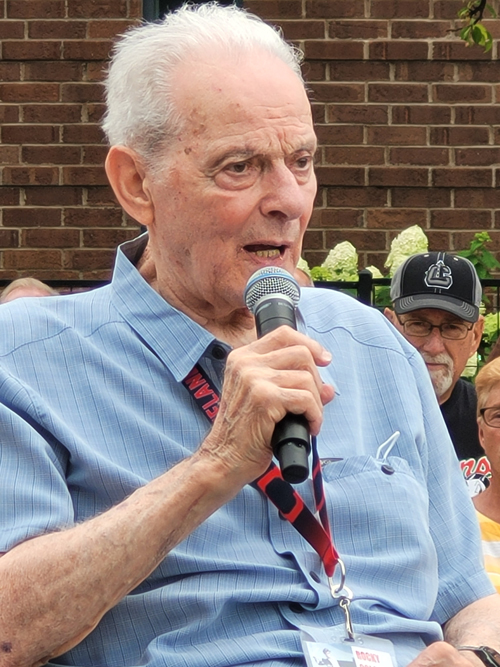 Rocky Colavito speaking at the ceremony



Before the statue unveiling, Bob DiBiasio led the crowd in singing Happy Birthday to Rocky.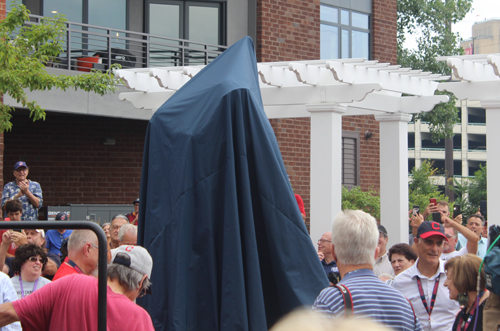 Rocky Colavito statue covered up before unveiling



Watch this video to see highlights from the ceremony, Rocky's speech and the unveiling of the statue - counting down from the number 6 of course (Rocky's number).



See lots of pictures of the Rocky Colavito statue.
---
Top of Page
Back to Sports