Jersey Boys Preview
by Pat Dobro


The Palace Theatre, one of Playhouse Square's crowning glories, previewed the Premier showing in Cleveland of Broadway's runaway smash- hit, Jersey Boys, winner of the Best Musical 2006 Tony Award.
Gina Vernaci, Vice President of Theatricals at Playhouse Square organized this invitation-only event to supporters of Playhouse Square. The audience was a group of 50 some fans, young and old, of the OTHER Fab 4 - The Four Seasons.
Ms. Vernaci opened the event with a welcome and told how pleased Playhouse Square is to be able to bring this wonderful production to Cleveland.
John Lanigan, from WMJI, Majic 105.7, began the program by talking about playing the Four Seasons music in the '60s on Cleveland's Rock and Roll station, WIXY 1260.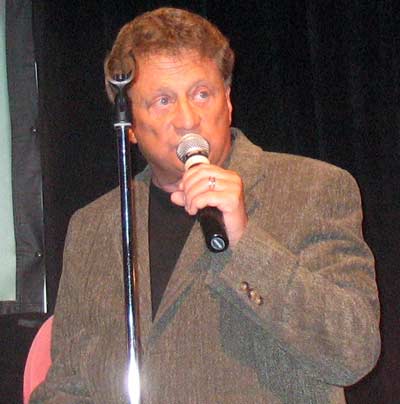 John Lanigan of WMJI



He then introduced a brief video of Frankie Valli, Bob Gaudio and others talking about how they came up with the idea to tell the story and some "inside" stories of this group that started with a handshake between Frankie and Bob in Bob's father's kitchen.

After this video, Lanigan introduced the guests from the cast - John Michael Dias, who plays Frankie, Tonya Wathen, who plays Frankie's wife, girlfriend and daughter, and Larry Baker, the Stage Manager.

John Michael Dias is honored to be able to play Frankie Valli and joked he was cast for this part because he is short and is able to "sing like a girl". His other musical parts include playing in Oliver! and he was Sonny in Grease.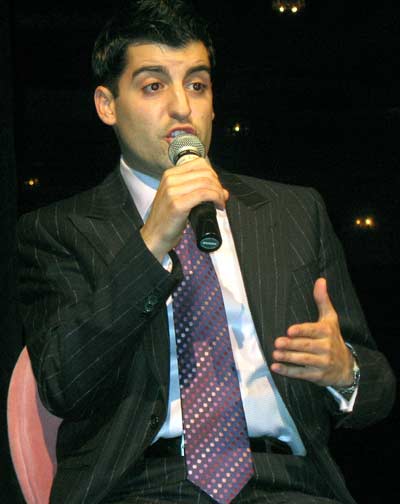 John Michael Dias plays Frankie Valli in Jersey Boys



His favorite part of the Jersey Boys show is singing "Can't Take My Eyes Off of You". He enjoys seeing people stand up and dance during the production, and says they stand up many times!

Tonya Wathen plays "every girl in the show" and is also the dance choreographer. Her Broadway experience includes Chicago and Beauty and the Beast, where she was the "Center Plate".

She enjoys her part in the scene where Frankie fights with his wife, but expressed her love of the entire production because it is so honest and real.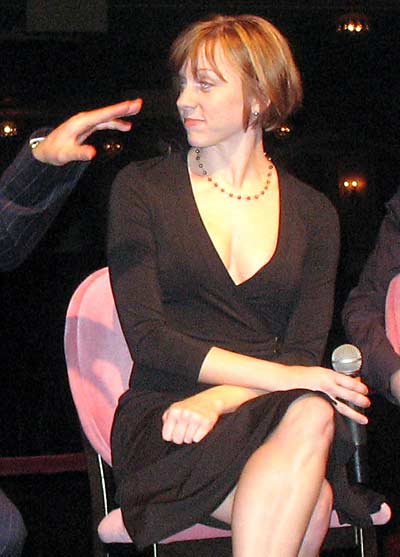 Tonya Wathen - "Every girl in the show!"



Larry Baker is the stage manager and says the shows are like Starbucks - they are everywhere. He maintains the quality throughout so no matter where you see a production, it is the same throughout. Larry also shared that there are two scenes that are located in Cleveland.

The first Cleveland scene is when they are arrested for not paying their hotel bill and the second scene is at the end of the show when they appear at the Rock and Roll Hall of Fame.

His favorite song is Opus 17 and explained they named it that because they knew it was going to be their 17th hit.

I believe I am a typical music lover from the '60s and can say I love, sang and remember all these wonderful tunes, including "Sherry", "Big Girls Don't Cry", "Walk Like A Man", "Rag Doll", "Dawn", "Oh, What a Night" and "Can't Take My Eyes Off Of You". Hearing them brought back fond memories, gave me chills down my back and made me want to get up and dance.

The Cleveland run is from June 18 - July 20, 2008 and tickets are on sale now. ClevelandWomen.com visitors are invited to take advantage of a special discount offer to see Jersey Boys.
---
Top of Page
Back to Music
Back to Theater
Back to ClevelandSeniors - Italians in Cleveland
Back to ClevelandPeople - Italians