Cleveland Indians 2009
Progressive Field
The Cleveland Indians family lost a beloved member during the offseason with the passing of player and broadcaster Herb Score. Those too young to remember the pitching prowess of Score the player certainly will remember his Indians broadcasts on both the TV (1964-1967) and the radio (1968-1997).
His announcing style and knowledge and love of the game made him a beloved fan favorite. The 'Voice of the Indians' was the longest tenured broadcaster in Indians history. Herb retired after the 1997 World Series and was inducted into the Cleveland Indians Hall of Fame in 2006.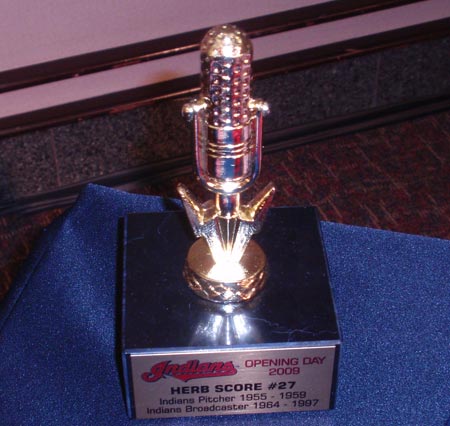 Herb Score tribute microphone



The Cleveland Indians will pay tribute to Herb Score in the 2009 season by wearing a patch featuring Score's #27 and a microphone on all of their uniforms this season. They will also have a moving tribute to Herb Score at the home opener including a video tribute and Herb's wife Nancy throwing out the first pitch. There will never be another like Herb Score.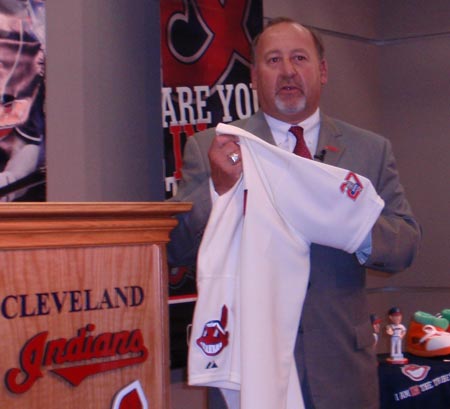 Bob DiBiasio showing the Herb Score patch on the
Cleveland Indians 2009 uniforms



Despite the loss of Herb, the 2009 season looks to be both entertaining and exciting.The Tribe knows that these are tough economic times so they have placed a premium on providing a great bang for your entertainment buck this year. They also realize that "not all 81 games are created equal" (consider a Tuesday in April vs a July weekend) and have specials to reflect that fact.

'Value' is the key word for the fan experience during the 2009 Cleveland Indians season at Progressive Field.

For example, you can get a Buy One Get One season ticket package in the View Seats that will make you think twice about being able to afford season tickets. Buy a season ticket for $2100 and get another season ticket for free. Grab some pals and split the season. Each ticket will only cost about $13! That's lower than the tickets cost when the ballpark opened in 1994.

There are a bunch of special events, firework and promotional giveaways this season. See the Cleveland Indians promotional schedule.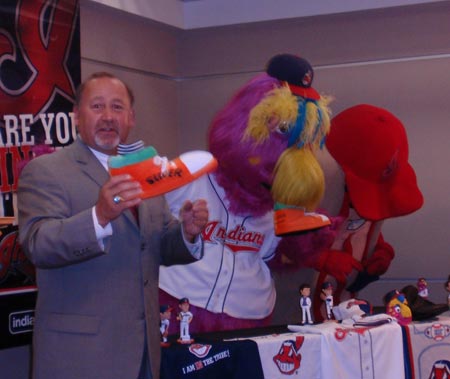 Bob DiBiasio with promotional slippers for Mother's Day as Slider and Ketchup browse some giveaways



Food and watching baseball just seem to go together and the Cleveland Indians have some great food ideas this year. One is the All you can Eat ticket. For $32 you get a ticket to the game and all the hot dogs, nachos, peanuts, popcorn and soft drinks you want.

Other people (especially kids) don't need the huge portion sizes (and large prices!) of some items. So in 2009 you will be able to get some smaller portion items at a correspondingly lower price.

The Cleveland Indians are also partnering with the Cleveland Clinic to provide healthy food options as well.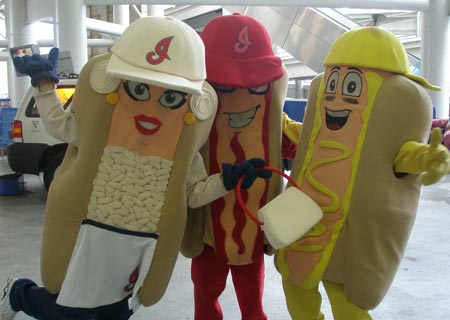 Speaking of food...
Cleveland Indians mascots Onion, Ketchup and Mustard



Learn more, see some of the foods and listen to a short interview with Cleveland Clinic Executive Chef Jim Perko explaining the new options.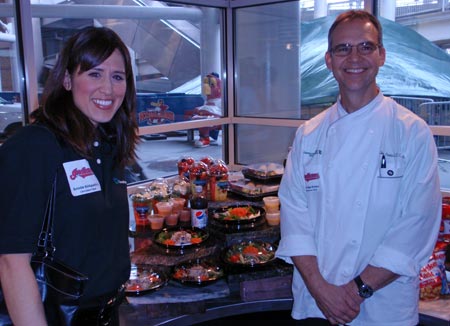 Cleveland Clinic Wellness Manager Kristin Kirkpatrick and Executive Chef Jim Perko flank some new healthy choice food options at Progressive Field



The Indians are also opening up the Terrace Club to the public on non-game Fridays for a delicious buffet for only $11.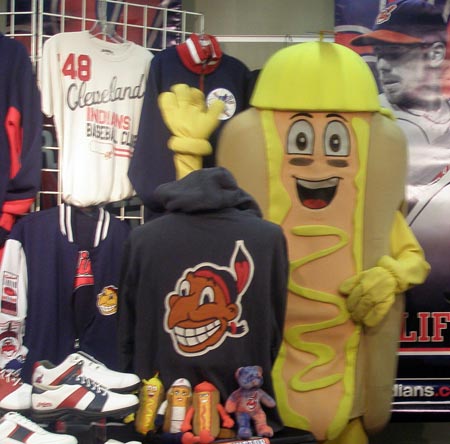 Mustard with new Tribe gear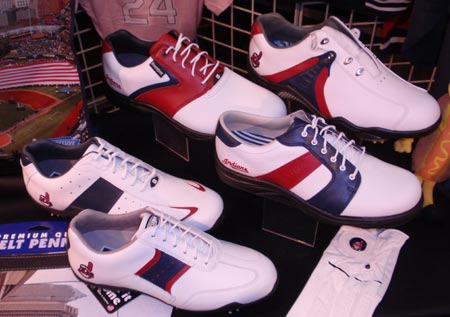 New Cleveland Indians golf shoes are customizable
Visit the Cleveland Indians website for all the special and promotions.
One of my favorites will be the bobblehead of Wild Thing Ricky Vaughn (Charlie Sheen) to celebrate the 20 year anniversary of the movie Major League. And yes, Bob Uecker will be in town that night! Hopefully the Brewers pitchers will be "just a bit outside" all night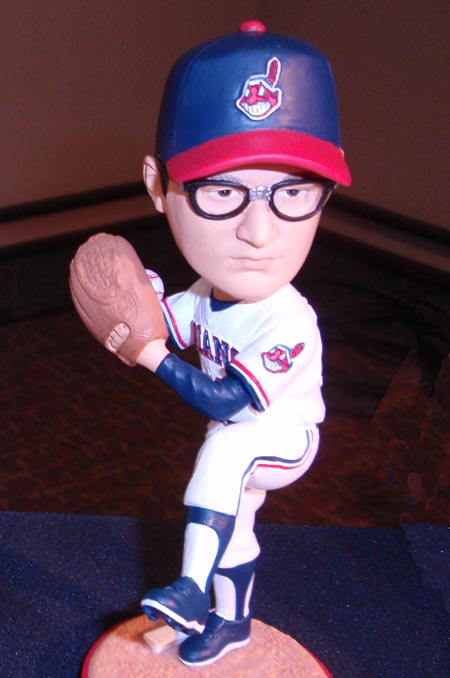 Wild Thing Ricky Vaughn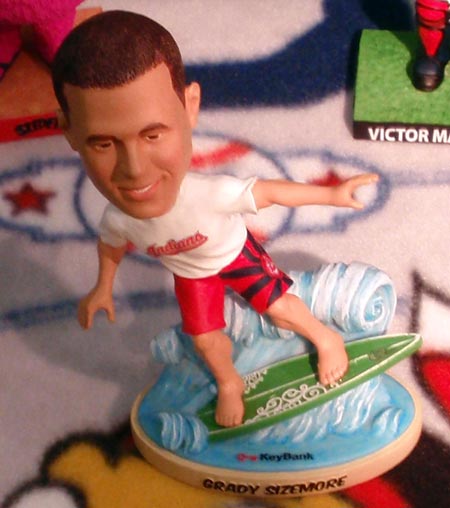 You don't have to be in Grady's Ladies to like this promotional item of Grady Sizemore on a surfboard



Listen to a short interview with Bob DiBiasio who talks about Herb Score and some of the fun things happening at Progressive Field this season.

Play Ball! Go Tribe!
---
Top of Page
Back to Sports
Back to Out & About