The Harp
Reviewed by our Secret Senior
The Harp
4408 Detroit Ave
Cleveland, Ohio 44113
(216) 939-0200
Click for a Mapquest Map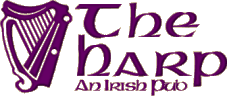 Earlier in August we visited the Irish pub/restaurant "The Harp". It is located on Cleveland's West Side at 4408 Detroit Ave. They have a web site where you can view the menus and more.

We got there about 1:30 expecting to miss the lunch crowd. We did not have to wait but the restaurant was very busy.

Special Senior Tip: The parking lot is very convenient. However it was almost full when we arrived so if you go at a busy time find out where you can park if it is full.

We had visited before and found the food a little below average, but that was a couple years ago, so we were eager to be impressed.

The atmosphere is that of an Irish Pub. The tables are a heavy wood with wooden heavy chairs. No tableclothes or placemats. They also have added outdoor dining and the view overlooking the industrial area near the lake is inspiring.

They had 12 appetizers on the menu ranging from $6.00 to 12.00, the salads ranged from $3.95 (very basic) to Lobster salad at $19.95. The lunch menu ran from about $8 to $12 and was served till 4:30 PM. Main courses ranged from about $15.00 to $20.00.

One in our party had a hot corned beef sandwich that they enjoyed. The other 3 of us had fish and chips. They were all noticeably burned (both fish and chips) but not enough to bother to send back. We observed the table next to us had a Pizza that was also burned and they left the crust without eating it. The coleslaw was good.

We noticed several license plates from elsewhere, and assumed locals were entertaining tourists, which could be fun.

However don't go there for a business lunch. It is very noisy. Not with music, just bad acoustics. The tables are very close together and even with our own conversation going on we could not help but hear the people at the tables next to us.

Special Senior Tip 2: They do not take Discover card

We enjoyed ourselves because of the company, but we will not be in a hurry to go back and certainly not for the food. They offer a full calendar of bands and music so maybe their focus is more on entertainment and the pub atmosphere than the food.
---
Ranking (out of 5 possible spoons)

Food:



Service:




Price/Value:



Atmosphere:




Overall:



---
---
Top of Page
Back to Restaurant Reviews