Marine Week in Cleveland
From June 11-17, 2012 more than 175,000 visitors came to Public Square, Gateway Plaza, Voinovich Park, the Rock & Roll Hall of Fame and Burke Lakefront Airport to meet America's Marine Corps.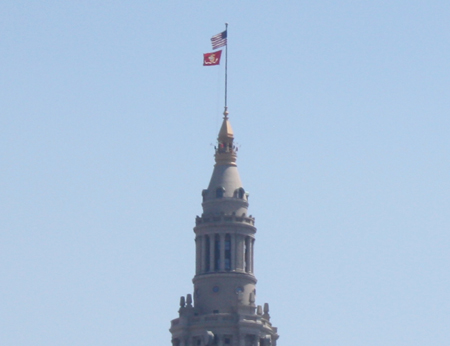 Marine Corps flag flying over Terminal Tower



Clevelanders and visitors climbed aboard Marine vehicles, aircraft and equipment including the revolutionary MV-22 Osprey and Assault Amphibious Vehicle (AAV); tested the latest Marine Corps technology; listened to daily performance by the Quantico Marine Band; witnessed the precision of the Silent Drill Platoon; and experienced the full strength of the Corps' aptitude during Marine Day at Burke Lakefront Airport where the Marines demonstrated their unique capabilities to fight our country's battles in the air, on land and at sea.

Downtown Cleveland was packed as thousands of visitors mingled with the 800 or so Marines who took part in Marine Week. Young and old enjoyed meeting the Marines and the feeling seemed mutual.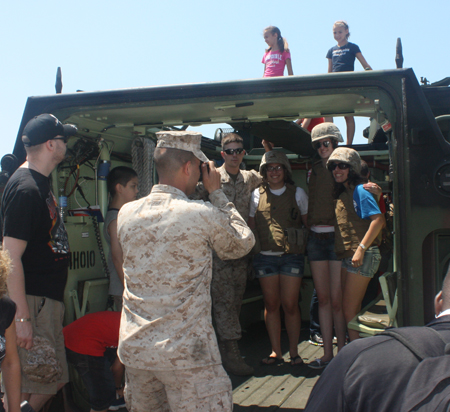 Photo op!
---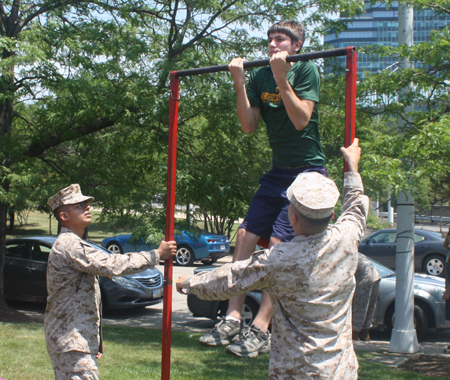 How many chin-ups can you do?
There were many very special aspects of Marine Week. The Marine Honor Guard protecting the largest replica of the Vietnam Veterans Memorial wall was particularly moving.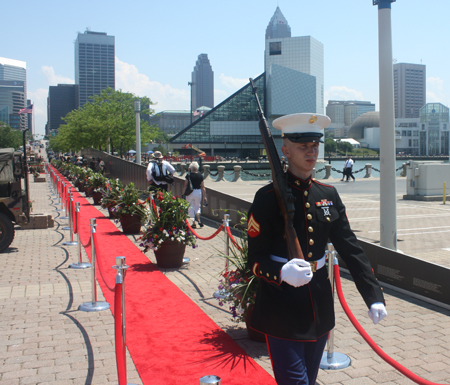 See more from the Vietnam Veterans Memorial at Marine Week Cleveland

Another highlight was the traveling memorial of more than 400 full-sized flags memorializing Ohio's fallen in connection with the War on Terrorism. The flags were on display in Voinovich Park and the wind from Lake Erie kept the flags flying.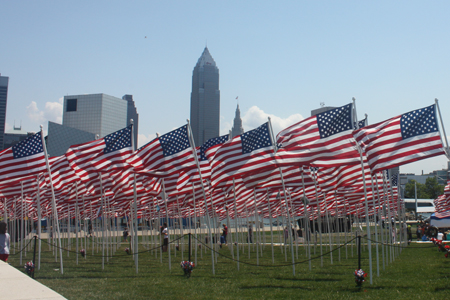 See more from the Flag Memorial at Marine Week Cleveland

State-of-the-art ground vehicles, aircraft, weaponry and equipment displays were very popular, especially in settings such as Public Square and at the Rock Hall.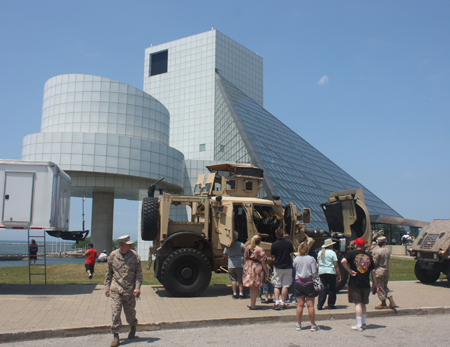 See more vehicles, weapons and equipment from Marine Week Cleveland

The National Museum of the Marine Corps had an exhibit that offered a taste of the Museum located astride I-95 near Marine Corps Base Quantico near Washington DC.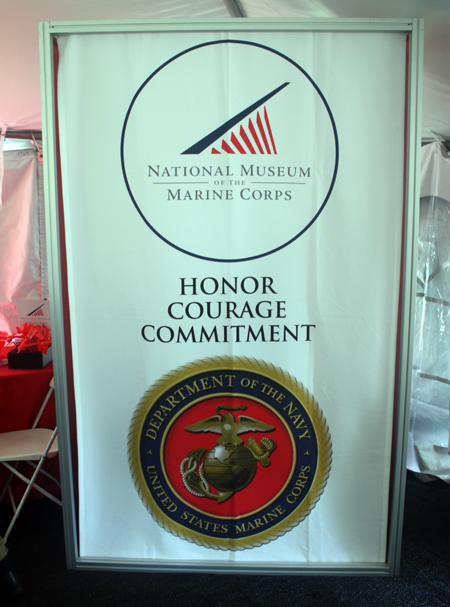 See more from the Marine Museum at Marine Week Cleveland

Of course, Marine Week was not all work and no play. The Quantico Marine Band played daily concerts on Public Square and they performed rock songs in the plaza in front of the Rock and Roll Hall of Fame.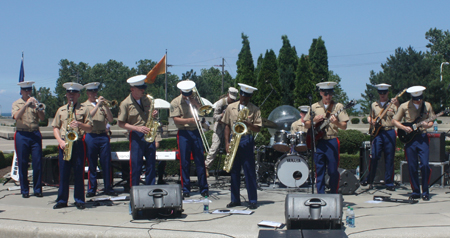 See more from the Quantico Marine Band at Marine Week Cleveland

There were solemn ceremonies, military working dog demonstrations, community outreach and education, Silent Drill Platoon Performance and, of course, the wildly popular simulation of the Marines amphibious assault at Burke Lakefront Airport.
It was a wonderful week and made the Cleveland community feel good about the future with these brave young Marines protecting our country.
Besides the above links to Cleveland Marine Week photos and videos, you can see more from the official Marine Week website.
---
See the Vietnam Veterans Memorial at Marine Week Cleveland
See the 400+ US Flag Memorial at Marine Week Cleveland
See Flags of the branches of the Military at Marine Week Cleveland
See the Quantico Marine Band at Marine Week Cleveland
See the Marine Museum exhibit at Marine Week Cleveland
See Marine Equipment and Tech at Marine Week Cleveland
---
Top of Page
ClevelandSeniors.Com - Veterans, Police/Fire Page