Violet & David Spevack
David and his Amazing Technicolor Violet
If you hear music and laughter, chances are that Violet or David Spevack are somewhere nearby.
They are the dynamic husband and wife team who enjoy life so much; they just can't help put it to music! A birthday, bar mitzvah, graduation, or anniversary will result in a song parody written and sung by these two charming people. They are filled with love and life and this is just a part of their remarkable story.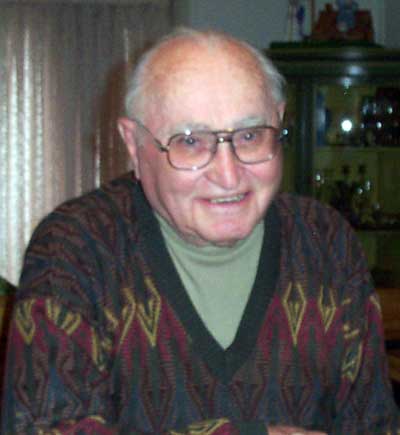 David Spevack





David was born in Russia on June 5, 1912. He fled to Odessa with his family when WWI broke out. Finally, after much suffering and tremendous hardships, David came to this country at age 10. A small, under-nourished child he looked half his true age. But his mother took good care and he grew strong and healthy.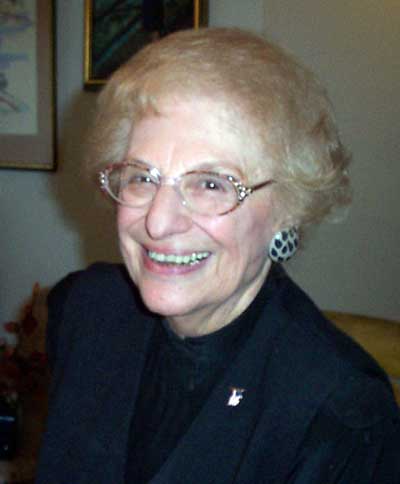 Violet Spevack



Violet was born in Denver, Colorado, July 15, 1916, the daughter of a Hungarian immigrant and a "picture bride". She has been in Cleveland since she was 5.

Their love of music brought them together. It was the end of the Depression and Violet was on a discussion panel in Toledo. David was going to Toledo to play pinochle. They both bought a $2.00 ticket to ride in a car to Toledo and wound up singing all the way there!

When they got there, Violet realized that there was going to be a dance and she invited this man she just met, who sang so beautifully, to join her. They were married in Sept. 29, 1940.

They have two daughters, Bonnie and Dina and one son, Jeffrey and they could not be prouder of them, their spouses and of course, the grandchildren and great-grandchildren! They are also the proud foster parents of a delightful young man who still keeps in touch with them on a regular basis.

Violet writes for the Cleveland Jewish News and has the distinction of writing the longest running column, with the same author, in the entire country! She began writing "Cavalcade" on March 5, 1965!

The list of people Violet has met and interviewed is staggering. Among them are Eddy Fisher, Ben Vereen, Madelyn Albrecht, Henny Youngman, Joan Rivers and Totie Fields.

The list goes on to include Joel Gray (she also interviewed his father), Cokie Roberts, Richard Dreyfuss, Bella Abzug and Lucianno Pavarotti! That's not even close to the end of the list!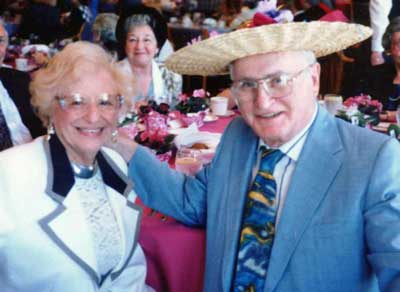 Violet and David Spevack (not David's usual hat!)



Violet has a few rules concerning her articles. The no. 1 rule is "Never call it a gossip column" and this is only fair, because it's not. She talks about society events and charity fundraisers and she talks about feelings and emotions, but she does not gossip.

The 2nd rule is that she never promotes an event - never talks about it before it happens. She does not want to be a vehicle for advertisement or commercials; she is a reporter.

She graduated from Glenville High School in 1935. While there she was editor of the Yearbook, belonged to the National Honor Society and even excelled as a Gym leader. Violet has been inducted into the Hall of Fame at Glenville High School and the Glenville Developmental Corp.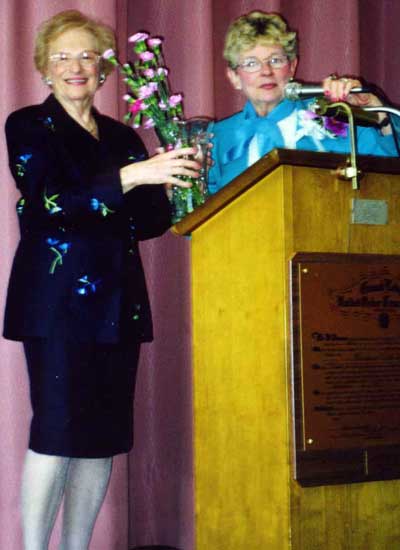 Violet Spevack receiving an award



Such diverse groups as The Greater Cleveland Chapter of Hadassah, The Ohio House of Representatives, Ohio Senate, Diabetes Association, The National Alliance and NAMI (for the Mentally Ill) have justifiably honored her. She has also been featured in both The News Herald and Cleveland Magazine.

Violet is also a very sought-after public speaker. She adds humor to her talks, which have titles such as, "Everything I ever really wanted to know I learned in my old age". She is currently working on a speech on a nostalgic look at the old neighborhoods.

If David is in the audience she will make fun of him ("David look out, you're going to hit that tree" "Me - I thought you were driving!") -but if he is not there, she will not. She will share a laugh with him whenever she can, but she will never laugh at him.

David is Violet's archivist. With her tremendous collection of articles, acknowledgements, photos and memorabilia it would seem impossible to keep track. But mention a date or an event and either one can pull out the article and/or the photo without delay, due to his excellent system.

David loves to cook, which is good because Violet doesn't do any cooking! He is also an accomplished tailor and dressmaker and now spends much of his time making beautiful silk ties.

David had a Men's Wear Store on 105th between St. Clair and Superior. Unfortunately, during the Glenville riots he was robbed and forced to close. This is where he first learned to sew.

It is safe to say David does not like anything "plain." He wants embellishments and glitter and even a feather - anything to bring an item to life.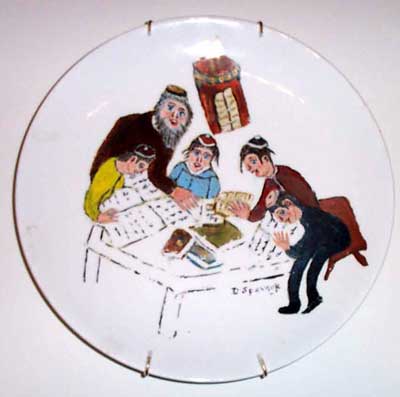 One of David Spevack's creations



You can see this in the beautiful pins he creates as well as his note cards. He has drawers full of buttons and rhinestones and other "precious" gems.

David loves to stay active. "When I was 85" he quips "I shot my age in golf". He was quite proud of being able to stand on his head until he was 87 (and believes he still could) but the family won't let him anymore!

Violet and David are Jewish and very proud of their Jewish faith and heritage. But that has not kept them from becoming involved in interdenominational activities, lectures, classes and even rites! Violet was chosen as one of 10 journalists from around the country to visits the Jewish communities of Argentina and Brazil.

She also served as a teacher in Jewish studies for over 40 years! David is fluent is Yiddish, the language of the Jewish people. Violet is fluent in Hebrew, the language of the Jewish religion, culture and Bible.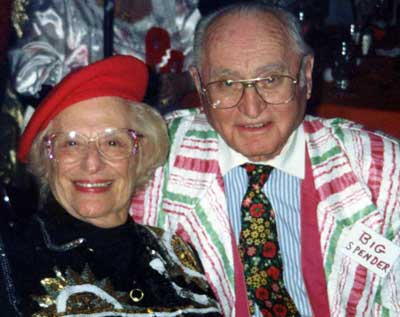 Violet has led trips to Israel, Mexico, Spain, California and Colorado. David accompanies her on many, but not all, of the trips. Their home contains wonderful souvenir gifts from these trips - each one tells a story.

David is making a tape of lullabies for his children for his birthday. The songs are gentle reminders of how much he loves them, and decades after he is gone they will have this loving musical reminder of him. He sings beautifully, but feels his voice is not as strong as it used to be.

In one song, he wishes them in part "May each day in the week be a good day; May the Lord always watch over you; May all of your hopes turn to wishes; and may all of your wishes come true."

He sings in the choir for Temple Emmanuel and every Friday he sings at Montefiorre to help make the people feel better and remember their youth.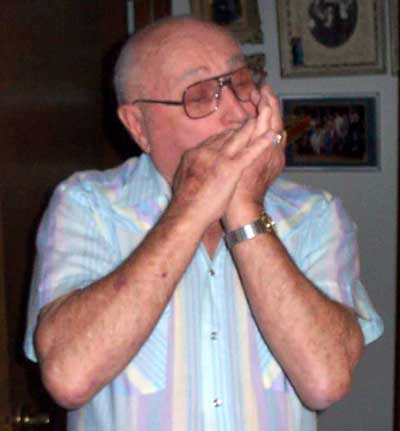 David Spevack playing the harmonica




"Some of the people" he says "don't know their spouses names anymore - but they remember the old songs".
He also plays the guitar and harmonica and very little coaxing will entice him to play!

David describes Violet as having "more energy than a 16 year old" and it is noticeably so. Her calendar is filled with speaking engagements, fundraisers and parties. She knows just about everybody and can't wait to meet the ones she doesn't know! It's hard for Violet to decide which events to attend - there are so many to choose from.

She has established criteria for selecting events. It must be a good cause; put on by good people and she will only attend one event a day. Of course, this will change if the issue involved schools and education, causes near and dear to her heart. If that is the case, she will attend as many as she can to help support the cause.

David can't stop talking about Violet's wonderful writing, her beautiful smile and her contagious laugh. It would appear he is not only her archivist, but also her biggest fan! And the feeling is mutual.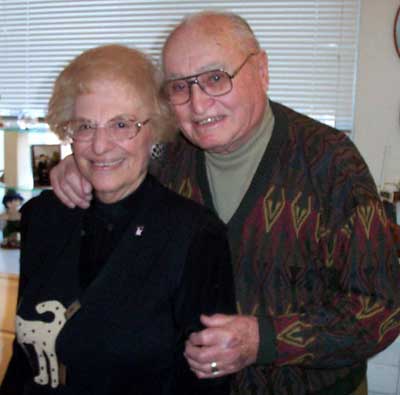 Violet and David - The Happy Couple



Whenever this interview centered too much on her, Violet was sure to steer the conversation over to David. When David was the focal point, he would quickly direct your attention back to Violet. They obviously share membership in the Mutual Admiration Society.

They say they have stayed together these many years because they laugh together. They have a genuine interest in each other's activities, and it is evident that they are still as in love as they were at that dance in Toledo! Life holds many magical moments for David and Violet and they love discovering them together.

Both had strong mother influences in their lives. Violet now does a presentation with her daughter, Bonnie, entitled "My Jewish Mother, My Jewish Self" in which they take a comical look at some of the subtle and not-so-subtle influences of mothers.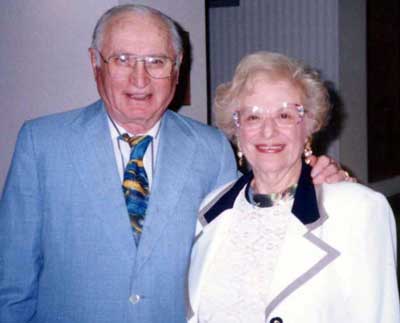 David would like to teach today's youth respect for elders. "Parent, Priest, Rabbi - everybody. Children must learn to respect themselves and others, as we did in our day."
Violet's message is a simple one "Don't hate". She wants children to grow up together as happy, friendly adults who can laugh and share their days with each other. "Like David and me. If we couldn't laugh together, we couldn't be together"
Violet's not planning on retiring anytime soon, but she has told her editor she will understand if they want someone new. She says she's had "a good run" and she's reveled in it. "I feel like I've lived the life of the community. I know three generations of people now. I've been with them through so many things".
She meets a young girl and soon discovers she knows her grandmother; a young man turns out to be the son of a student; a Broadway star she is interviewing is the son of another interview she did."When I can't enjoy it with David anymore, then it's time to quit"
She is a Clevelander through and through. She loves the community and wouldn't live anywhere else. She and television newscaster Leon Bibb compare memories of Glenville; he moved in when he was five. Needless to say, she thinks her memories far surpass his both in detail and in content!
Growing up in a neighborhood and living with a community of people is an experience she cherishes. Her community is not just the Jewish Community. "I belong to Cleveland" she says, "I am part of it".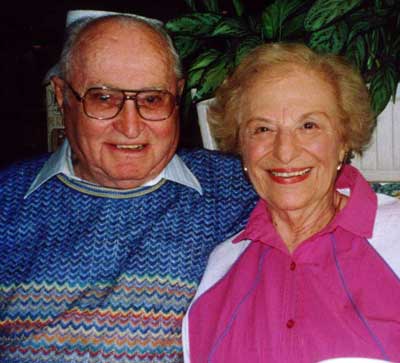 David and Violet Spevack - With a song in their hearts


If you're looking for Violet, you'll find her at the Cleveland Jewish News on Mondays (they have bagels on Mondays) and other than that just listen for a song, a laugh and a good time and either Violet or David will be close by.



Profiled by Debbie Hanson

Updates: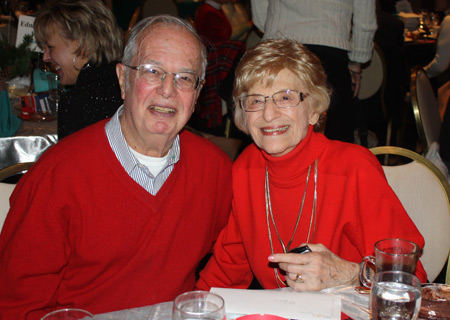 Violet Spevak with Allen Sabin at Philanthropia 2010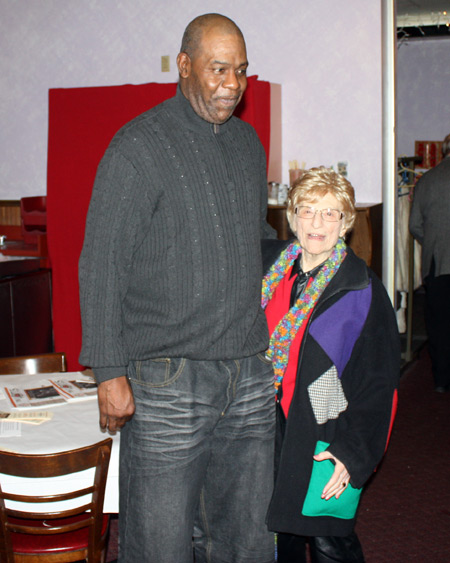 The Long and the Short of it: Former Cleveland Cavalier Harry Davis with Vi Spevak at Bo Loong event



There was a huge birthday party at Landerhaven for Violet Spevack's 95th birthday. Nearly 800 of her nearest and dearest joined together to share good wishes and birthday cake.

Photos and more from Vi Spevack's 95th Birthday Party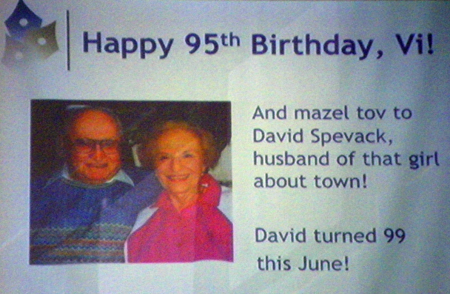 ---
---
Top of Page
Back to Profiles of Cleveland Seniors
Back to Jews in Cleveland