Support the Troops
Glenn Beck Rally for America
Here are some good web sites that will give information on sending cards and care packets to the Troops overseas.
Donate a calling card to help keep servicemembers in touch with their families at Operation Uplink
Operation Dear Abby to send a message
Send a virtual thank you card to the Troops
More information and web sites listed at the Defend America - Support our Troops site
(From that web site:)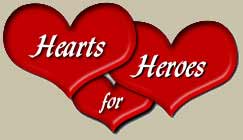 1) Why was the AnyServiceMember.Org Web site created?

This site was created to fill a void left by the cancellation of the "Any Service Member" and "Operation Dear Abby" mail programs due to the Anthrax threat.

2) Who are you, and why are you doing this?! (pretty neat!)

As my welcome message states, my name is Jack Coffey. In the interest of full disclosure, I'm a public affairs specialist (civilian) employed by one of the Army's largest major commands. However, this Web site is a personal initative, and is not related to my job. Nor is this site endorsed or supported by the Department of Defense or the Department of the Army.

As to why I'm doing this. It seemed a shame that because of the Anthrax threat the annual tradition of sending "Any Service Member" mail had to be cancelled. And I've been interested in the Internet for quite some time.

Driving home from work I got to thinking about alternate ways the "Any Service Member" mail program could be continued via the Internet and the idea just came to me.

Job-wise I didn't feel like I was making a contribution, so I decided to use what talents I have and created this Web site.

If you are interested in visiting the site and sending a message to a Soldier (or Sailor, Marine, Airman, CoastGuardman) click on this link.
---
If you know of any similar sites or resources please let us know at troops@ClevelandSeniors.com


---
Top of Page
Back to Memories