Chat with Pat
My Dad
As Father's Day approaches, I remember my dad in a special way. Not that I don't think of and pray for him every day but Father's Day is special.
My Dad was the most handsome man I knew. (I thank God my son resembles him, his own father and my deceased brother. Yes all three of them, and actually, he acts like them too. I am so lucky).
He was five foot eleven but when I was growing up, he was one of the tallest men in the neighborhood. He had a heavy head of black wavy hair which later turned gray but was always full and wavy. He carried himself tall and when he wore a suit or his firemen's uniform Hollywood should have worried.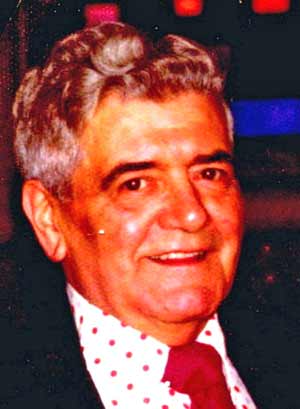 James Francis 'Bud' Sweeney


The only times I remember my Dad raising his voice was in song. He loved to sing, he loved people, he loved to party and he loved his church and family.

My mother or aunts would play the piano for hours and we'd stand around and sing; Irish, Religious, Patriot and war songs. We always begged him to solo "The Rose of Tralee" and other favorites. (Read more about the family singing)

On occasion (I think) someone might want to tell a joke because he would make us leave the room for a few minutes. He would never tolerate bad language in front of us kids.

My Dad was never age conscious (unless it involved his children). He once started a social men's club for his friends of all ages.

The only thing that bothered me was that a lot of the "men" were guys I knew. I once overheard someone say, "No, you can't ask her out. She's Bud Sweeney's daughter!"

My Dad was never impressed by titles or positions either. It was not unusual to have a bum from the corner, a priest, a politician and a neighbor all sitting in the living room. Refreshments would be on the coffee table and everyone would serve themselves. Nobody ever got special treatment.

I remember when he ran the bingo games at our church. One evening, when bringing the money to the priest house, three men with baseball bats stole it and left him with a concussion. He had to be taken to the hospital. I was in grade school at the time and the nuns had us praying for Mr. James Francis Sweeney practically non-stop. I was so proud of him.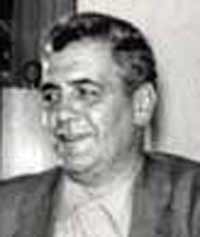 The only time I remember him spanking (if that is even the right word) was when my mother was in a store shopping and my brothers and I were acting up in the car. He never said a word.
When we got home, however, as we went through the door, he gave each of us one pat on the behind. He didn't say anything; he didn't have to. It wasn't hard it didn't hurt; except for our feelings and the shock of it did.
He would kid about us driving him crazy like whenever we went to the ice cream store and each of the three of us would want different kinds of scoops on top and bottom some with sprinkles some without. He would get so frustrated and tell us that this was the last time but we knew it wasn't.
Everyone in the neighborhood respected and liked him. They brought all their troubles to him "because he was so smart and had connections."
While he couldn't actually (ahem) partake in politics (as a city fireman) he and his family were very political. His brother was even at one time Secretary of the State of Ohio.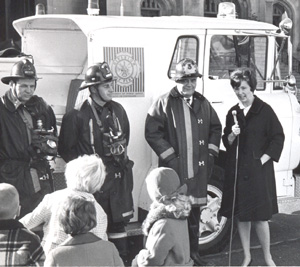 Fireman Bud Sweeney next to
Romper Room's Miss Barbara Plummer



He had no enemies, did not partake in gossip or the like. If someone or something was a problem he just fixed it.

He was not handy around the house but he had so many friends, neighbors and other firemen that were handy, he didn't need to be.

He loved to go down to the corner bar and at dinner time we would call for him to come home. They always responded "Bud Sweeney? Oh he just left." An hour later we would call again and get the same message. Don't misunderstand me I have never seen my Dad drunk.

His favorite drink was a shot of Old Crow whiskey with a glass of milk for a wash. He would make terrible faces after the shot I almost felt sorry for him having to drink it. I guess that was his point.

He loved milk. He loved to be with people, have a few, make horse or football bets, and talk politics and sports. And I loved to listen to him.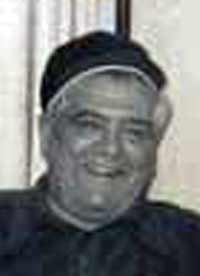 On Sunday morning, he and I went to the 9:00 Mass together. He was striking in his uniform and I was a little waif of a girl holding his hand.
After Mass, he would go up and light a candle at the statue of the Sacred Heart for his deceased parents. I was so proud to be his daughter.
When I see a picture of a hurt fireman I still well up remembering one Sunday morning opening the door and there he stood with his burned hand wrapped half way to his elbow. I guess I will never get over the sight.
He and my mother always taught us to say a short prayer when ever we heard a siren or saw an emergency vehicle for whoever needed it in that case. My children and I still do to this day.
When My Dad was having heart problems, I'd lie in bed at night half awake and his deceased mother (whom I adored) would seem to appear. She would hold his hand and I the other one (it is still very vivid to me).
She wanted him with her so badly and I knew if I let go she would take him to heaven. I held on so tight until one night I knew I was being selfish and let go. He needed to be with his mother.
I'll see him again sometime. 'Til then I know she will keep him safe just as he always (and still does) kept us safe.
Happy Fathers Day, Dad!
Pat
---
---
Top of Page
Back to Chat With Pat