Maury Feren
A Life Full of Busy Days
If you've lived in Cleveland for any length of time you have come across Maury Feren - the Fruit Expert. And that is, of course, an important part of his story. But there is so very much more to Maury.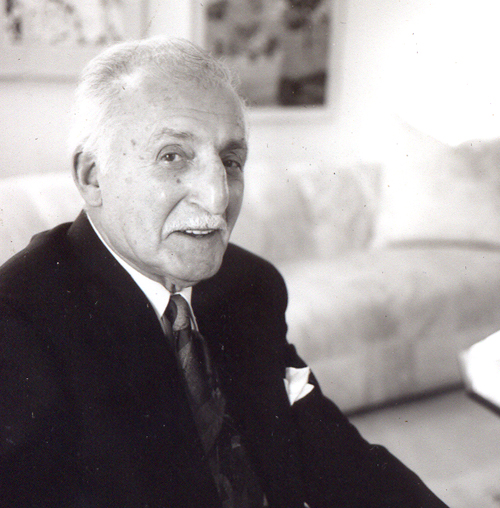 Maury Feren

Maury was born in Cleveland on September 27, 1915, the oldest of four (2 brothers and a sister). He was raised in the Glenville area. "I think this is important because the Glenville area produced some very prominent people - not just in the Jewish community but in the world."

He thinks his High School education at Glenville was equal to a college education of today He took French, which helped him in the army; typing, which he uses to this day and bookkeeping. "I used all of those to great advantage the rest of my life."

He went to work in the Food Terminal at about age sixteen. Maury's family had been involved in produce all of his life. He had graduated from school early. "The only people I had contact with were immigrant Jews or Jews that were entrepreneurs and owned grocery stores and Italians. So my world was limited just to those people. It was a non-Christian world except for the Italians."

He says the Italian community was very Catholic at that time and there was a lot of anti-Semitism. There was also a lot of competition because both groups were trying to make a living in the Depression era.

The Depression left everyone with "a mark' something that told us we had to move on; to improve; to "get better". He says everyone suffered so much, but ironically, didn't know they were suffering. But the mark none-the-less left them knowing they wanted more. "It gave them the impetus to want to get out and make something of themselves."

Then along came the war and as Maury says "The war changed everyone forever. People never came back the same."

He also found a very remarkable change when he came home from the war. In 1945 he saw that the world was changing. It was opening up - people were beginning to fly and travel. Blacks, Italians, French, Russian and others were "all singular in their ethnicity but merged together as great Americans. Even though they were separate they were all united."

Maury was drafted and candidly admits he did not want to go. "But when it came about I said I want to be the best American Jewish Soldier that I can be. That was my goal. I always wanted to be the best American citizen I could be, that was most important because having been a minority people I wanted to show people that we were as good or better than everybody else. I was their representative and wherever I went they should know that I was Jewish and I was an American and that was the most important part."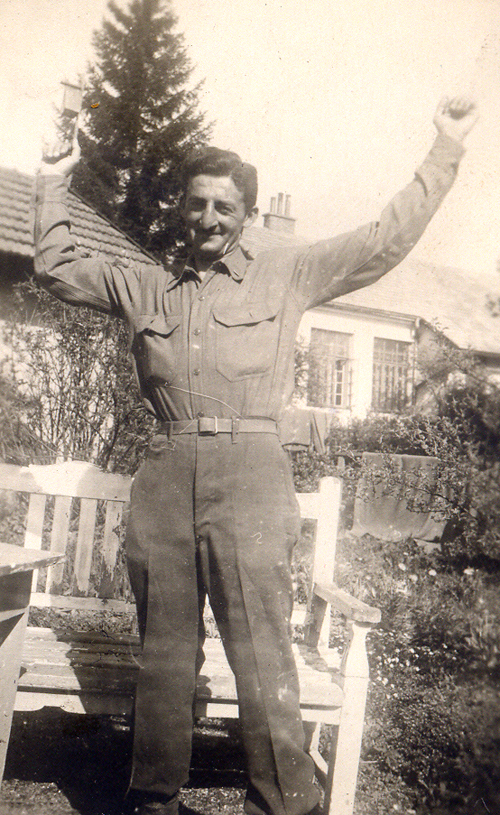 He was 28 years old and married to his love, Bess, for five years when he was drafted. He had already established a family, with two children. At the time the Allies were losing the war. "We went in in 1941 but it took us 2 years to build up." So they were looking for people, even 28 year olds with a family. At this time the Army started getting all of the materials they needed and things started to turn around.
He went in just fourteen days after D-Day. "The world came to an end on D-Day. When I landed, there were no bodies on the beach, but there was nothing but debris. It was amazing and so terrible. Complete devastation."
Maury, a God-fearing person, says he believes God has watched over him his entire life. He made his plans, as people do, but there was always "Someone stronger than me that was making my way and that is why I'm here today."
When he went into the army he was sent to South Carolina. For seventeen weeks he was repeatedly told to get ready - he would be going overseas as soon as he graduated. He was trained as an anti-tank gunner.
He was sent to England and put into a machine gun squad, but he had never fired a machine gun. Next stop was France. There was a Jewish chaplain there who was responsible for 15,000 people. He gave the men the last rites as they prepared to go into battle. "We could hear artillery shells maybe a mile away."
A call went out for someone with medical training. No one responded. ("Nobody volunteers for anything in the Army.") Next thing he knew, Maury was given a bag and told he was now a medic and going into combat. He spent 11 months as a medic "I always complained 'why are you doing this to the men. They deserve better than a man with no medical training.'"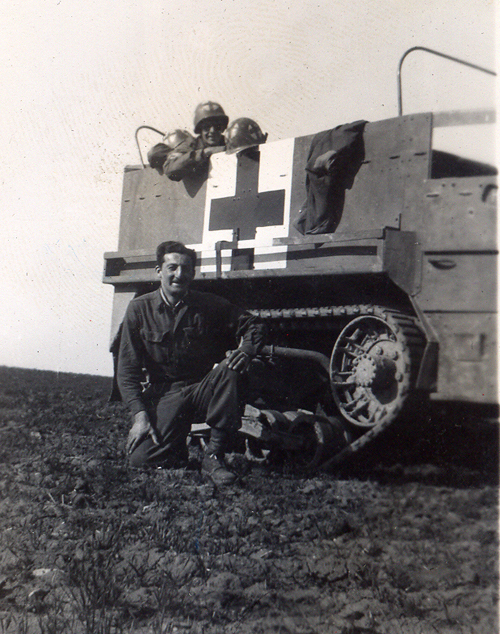 Maury Feren - World War II - Before the Rhine



All of his training came on the battle field. "In retrospect it was the most important thing I ever did in my life because I saved lives."

Maury explained that in WWI a medic was covered in red crosses and was often in a hospital a mile or so away from the action, with a 50-50 chance of survival. The new method in WWII was to have the medic attached to a unit and company, but without a weapon. Today he explains that the medics don't wear a cross or any designation because they are often sought out for attack.

Basic training for Maury was, as he described "like play." Since he worked in the produce business he was used to much longer hours and very strenuous lifting and working.

As another example of God watching out for him he recalls a story of the day he just couldn't walk any more. His feet were so sore and his legs did not want to work. Soldiers in WWI traveled en masse and were often killed as a group. In WWII they started moving soldiers so they were walking 20 feet apart. On this day because of his sore legs and feet, he was all the way in the back of the group, not leading as he normally did. They came upon artillery fire and everyone around him was either wounded or killed, but Maury was safe.

On Yom Kippur, when a Jew knows he cannot eat for 24 hours, soldiers were given dispensation or pardon because it was so important to keep their strength up. But Maury thought he felt good enough that he could fast anyway. He was in a foxhole on "reserve. Ready to go out of something happened." He had about 6 hours to go in his fast, and he began to feel faint. There was a barn with food and coffee set up for the soldiers close by and he decided he should stop the fast so as not to get sick.

He had spent the night in the foxhole, but now got up, took of his helmet and put it on the foxhole while he went off for something to eat or drink. Half way to the barn a shell came and took out all of his personal belongings and helmet that he left by the foxhole. Maury was fine. "It is an amazing Day of Atonement story."

Maury served under Patton, but never met him. "I felt the strength of his personality."

"When we hit Normandy, fourteen days after D Day, it was just wonderful. We went through towns and the people cheered for us and welcomed us…. We were liberators."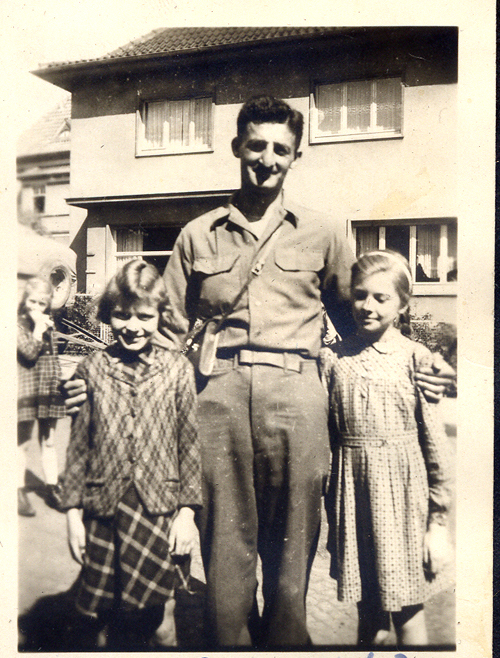 The war taught him just how precious life was. Any moment you could be next. You were surrounded by bodies and limbs. He recalls a battle in Alsace-Lorraine where they lost thousands of people, including dozens of medics, in a very short time period. He says you always wondered if you were next. "How can you forget a leg flying in the air?"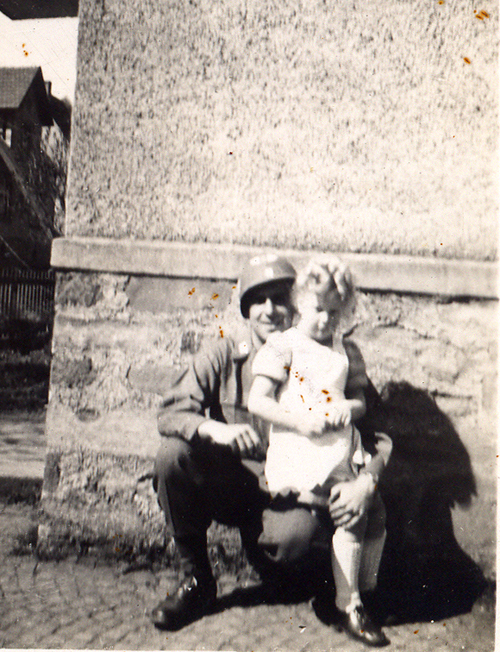 Maury Feren in Paris



When he came back in December, 1945, his wife had been evicted from their home and they had a very difficult time finding housing. "We were both very naïve… I was doing fairly well before I left, I had already established my business. But this was different. I didn't even know if I was coming home."

The whole experience made him a better, richer person. "I learned how to live with other nationalities. I learned about people. I learned about travel… I spoke German and French and Yiddish, so I was able to get some feeling about how people in the other parts of the world lived and thought."

Maury was recently (May, 2013) awarded the French Legion of Honor award, the "Ordre national de la Légion d'honneur", which was first created in 1802 by Napoleon Bonaparte. It is the highest decoration bestowed by the nation. Only 1,352 people had received this honor in the United States through 2012.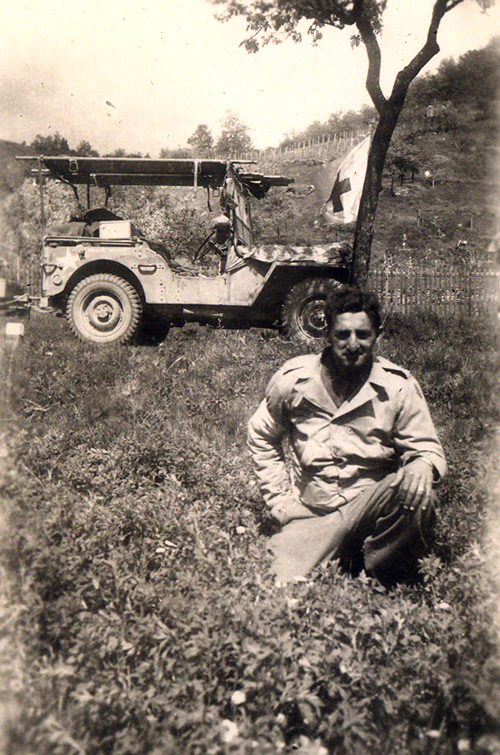 On the Front

He also has 2 bronze medals and a purple heart but is quick to add that there were thousands and thousands of "heroes" who will never be recognized with medals or awards, but they are heroes none-the-less.

He took shrapnel in the chest, most of which was removed. Some still lingers to this day. That would have been the perfect time to say he wanted to come home, but instead he said he wanted to re-join his unit. He talks of the special bond one makes with the people they served with. One such person he maintained contact with for over fifty years, until his death, and still maintains contact with his widow. "We were completely different lifestyles. Different faiths… he lived in Chicago, I was here. He was married three times… I went through all of that with him because of what we shared in the Army."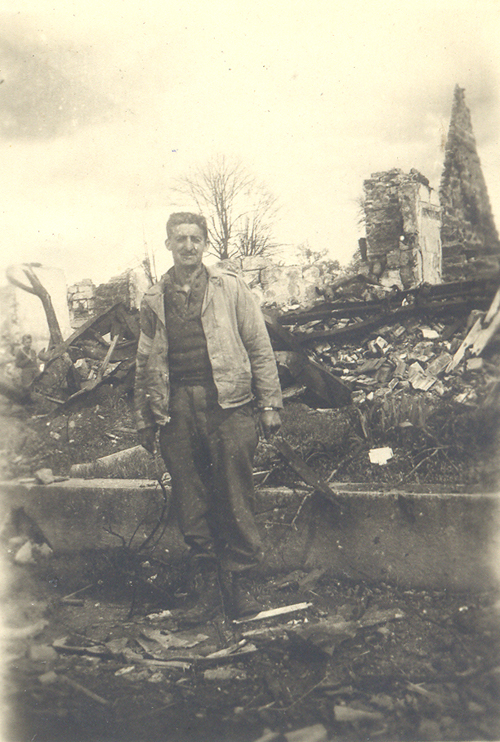 Maury Feren in the ruins of a town



"I feel I have an obligation… I was put in this world to make it better, whatever it is and that's what I believe. You have to do good works."

He goes on to explain the Jewish term, "Mitzvah". He says, "We have a term that if you do good deeds it is called a Mitzvah. Most people interpret it that if you do a mitzvah you're supposed to be rewarded. But there is no such thing as a mitzvah. You are obligated by God to do good. That is your obligation. Reward or not you must do it. You are obligated to God to do it. That's why He put you here. And that's my belief, and the belief of many other people… You must do right… Jesus wasn't the only one who said you have an obligation to your brothers."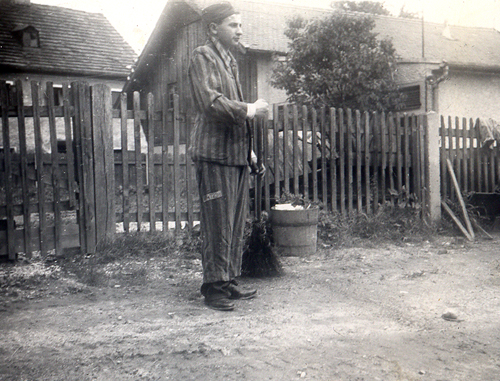 Polish Jewish refugee



As a young man in the Depression, he lived between Superior and St. Clair on 105th. To get to work at 4:00 a.m. he had to take 3 streetcars! After about a year he went to New York to find a better life. "New York wasn't waiting for me! They had the same problems in New York that they had here. There were no jobs!"

So he came home and went to work for a number of people in the produce industry all of whom were able to teach him something new.

Finally it was time to go into business for himself and he did. But he didn't remain just a produce salesman. He became quite a public figure with his vast knowledge of produce and the market.

"Florence Laganke was a writer at the Cleveland Press and was one of the best home economic people at that time. She was a very talented person… She took an interest in me… So she would call me up periodically and ask questions about the produce market." Florence would then write up Maury's comments and recommendations.

Also at this time there was a famous radio personality by the name of Big Wilson. Maury describes his style as being "similar to John Lanigan." (WMJI) He too would call up Maury and ask for the best pick of the season. People started to rely on Maury's information.

The Plain Dealer picked up on this and decided he should have his own column. He wrote a column for them for 15 years called "In the Market"

Maury had already determined that he had no other future, other than the produce business so his goal was to be the best produce man he could be.

Bill Randle came on the scene then, "Probably the smartest man I ever met. He was very egotistical and a womanizer, but very smart.

He would put people on the air that were experts in their field. He had a two hour show. One hour he called "Ask your Neighbor" where he asked people of different ethnicities to talk about the food that they ate as well as other aspects of their ethnicity. Maury was, of course, the produce expert.

Bill Randle "made me famous! I learned a lot from him."

"I was on with Phil McClean and Ernie Anderson and Al Roker. They saw my potential as a TV person."

He became an Action-Cam reporter for Chanel 5. "I could pick any subject I wanted about food and do a story about it. As example, I would go to an apple orchard and do a story about apple butter or maybe a special about pumpkins around Halloween."

His first book was How To Save Money on Fruits and Vegetables
. His next book was Wheeling and Dealing In My World
.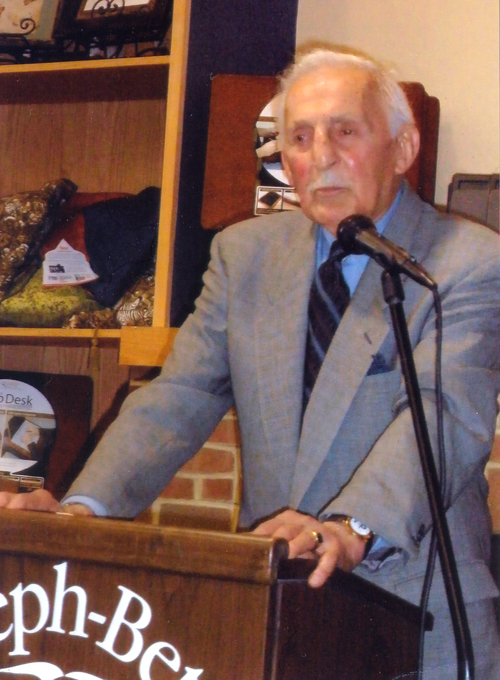 He also wrote for Cleveland Magazine (just once), Call and Post, Universe Bulletin, National Produce Papers and other trade papers. Betty Cope of WVIZ called him and told him they wanted to do a show on different ethnicities. He did that show for two and a half years - representing 27 different ethnicities. He used non-professional people not restaurateurs. He would go to the ethnic stores and buy the groceries and then give them to someone to cook them for him. He would watch them and film what they were doing. He did this for all of the different groups from Amish to French to Spanish to Italian.

He sold his business in 1968 to Fisher Fazio and his Fruit Basket business in 1990 after 40 years. He made baskets for everyone in the city. He would always closed his store on the 18th of December so that there was no chance of not being able to fulfill commitments for the holidays

He wants nothing more out of life than to have been loved and respected by his wife and children. "My children think of me as a father not as a personality."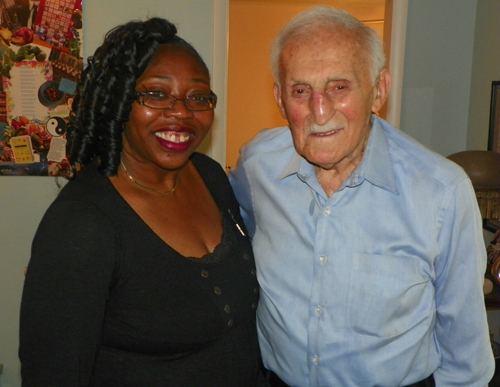 Maury Feren with assistant Beverly



He may be 98 years of age, but there is nothing "old" about Maury. He not only gets online, but he is on Facebook. He practices Tai Chi.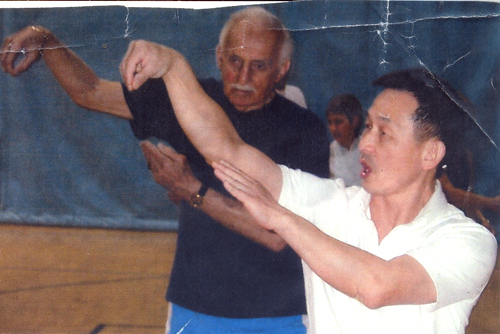 Maury Feren doing Tai Chi



His new book is called "My Life So Far". He is a sculptor, an artist and even creates jewelry. He is now an online journalist as he writes his column for ClevelandSeniors.Com.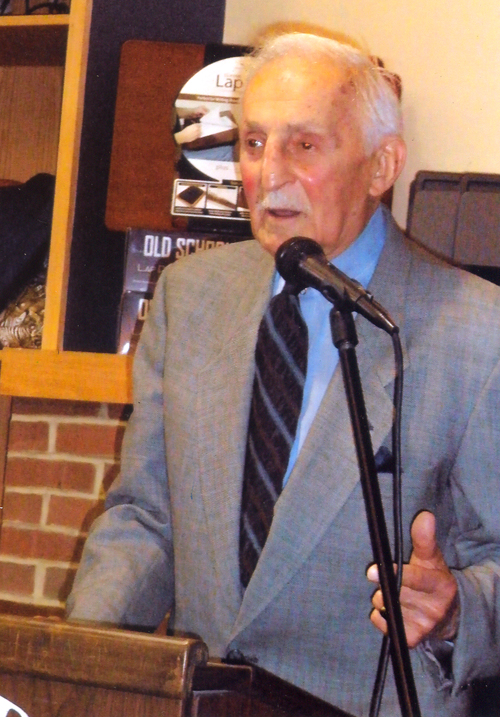 Maury says, "Every day I look for something exciting to happen". For the rest of us, we don't have to look far - we only need to look at Maury, and something exciting will be close by.

He is a man of faith and character. He never let his passion and commitment get in the way of what he knew to be really important.

Profiled by Debbie Hanson (2013)
---
---
Top of Page
Back to Profiles of Cleveland Seniors