Larry Dolan
Baseball has always been his game
Larry Dolan was born on February 8, 1931 in Cleveland Heights, Ohio the son of David and Corrine. He has three brothers, Charles (Cablevision Chairman, and the owner of the New York Knicks, The Rangers and Madison Square Garden); Bill (retired and living in Fort Myers, Florida) and; David who died in a glider plane crash in 1980.
His father was an inventor "but we didn't know that at the time." He looks back now and is amazed at how advanced his father's thinking was. He remembers having gears in the basement connected to his mother's washing machine.
His father envisioned an automobile with an automatic clutch! This was in the 1930's. The first automatic clutch was not offered to the public until 1941.
In fact, Larry remembers their car breaking down at one point and having the service man tell his mother the problem was that the car had no clutch. In reality, this was not the problem at all, as the car had his father's invention - the automatic clutch. "Of course, there was no patent; his ideas were amazing, but not economically sound."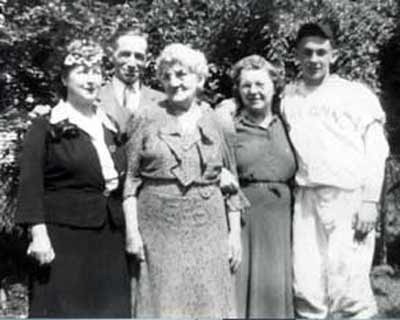 Larry Dolan with family



He also remembers having a garage full of water. The water was raised on one side and came over the top like a waterfall. His father had colored lights attached to the waterfall. He used this for the Ford Auto Show. Again, there was no patent, but the idea was years before it's time.

And in 1942 Larry remembers his father creating a wooden structure that gunners could use in bombing missions so they would not be such easy targets for the enemy. "These things are all commonplace now, but they weren't then."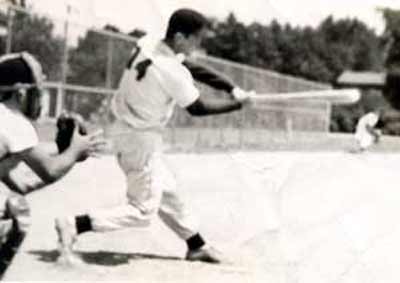 Larry Dolan takes a swing



Larry's father died in 1943, when Larry was only 12 years old. His mother went to work for the Diocese of Cleveland and worked there for a number of years. Larry remembers relying heavily on his brother, Charles.

"Charles was a wonderful brother. I remember after my father died, even though I was 12, I wanted to go out trick or treating on Halloween. Things were different then and you couldn't go without supervision. So my brother Charles took me out trick or treating. He also went to all of my ball games."

Larry's parents instilled a strong sense of faith and morality in him and provided him with a Catholic education from grade school at St. Ann's through High School at St. Ignatius (Class of 1950). He went on from there to the University of Notre Dame at Southbend where he received his Bachelor's Degree in 1955 and his Law Degree in 1956.

Although he grew up on Essex Road in Cleveland Heights he vividly remembers his family moving to the Monticello area while he was in college. "I remember this because I was coming home and all I had was an address to go to."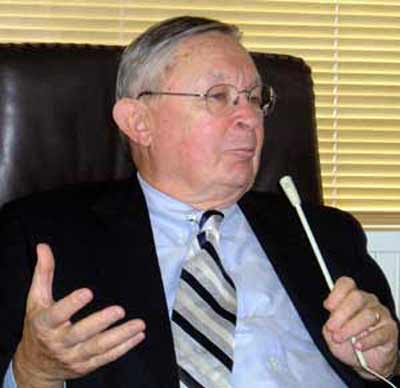 Cleveland Indians owner Larry Dolan



Larry was the jock in the family. He played baseball and football throughout his school years. "But baseball was always my game." While he was at St. Ann's he played in the CBF (Cleveland Baseball Federation) an organization he still holds dear to his heart.

"There was no Coach-pitch or t-ball in those days. This offered everything from Class F to Class A. We played at some wonderful, well-maintained fields; Edgewater, Gordon Park, Brookpark. And people came and watched. Woodhill Field was wonderful. There were at least 10 ballparks at Woodhill Field, all immaculately groomed with umpires and scorers. We're trying to bring this back."

Larry is referring to the Cleveland Indians Charities who just had their annual "First Pitch" luncheon fundraiser. Cleveland Indians charities have donated over 4 million dollars to local causes since it's inception in 1989. The focus this year is the Boys and Girls Clubs and the CBF. "It was important to me then and it is important to me now."

As a baseball player Larry was a catcher mainly because the catcher "is involved in every single play." He finds it to be one of the most exciting positions on the team.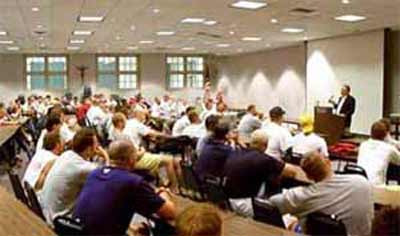 Larry Dolan speaking to John Carroll University athletes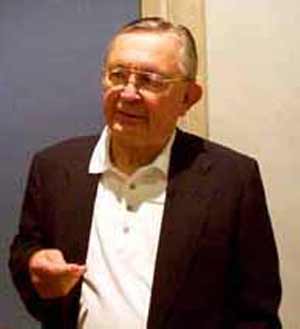 While Larry was at Notre Dame he had the fortune of meeting a beautiful young woman by the name of Eva. It was Christmas break in December, 1955. As part of the Law Review, Larry stayed behind to work on the next issue.

A friend wanted to introduce him to a young student from St. Mary's, a private women's Catholic college adjacent to Notre Dame. And it was on this blind date that he met the woman he would marry a year later and have six children with.

"I guess you have to watch those things" he says with a twinkle. They are happily married to this day. "I often say Eva graduated on Sunday, we got married on Tuesday and she didn't do a lick of work on Monday!"

He finds it amazing that "men are attracted to women first of course because they are pretty, but also because they are smart. Then we turn around and give them the worst job in the world." He can't imagine anything harder than being a homemaker and a mother.

Eva taught school for awhile and when the youngest child was old enough to go to school Eva herself went back and earned her law degree. She practiced law for about five years before leaving it behind for new adventures.

When Larry left Notre Dame he went into the U.S. Marine Corps where he served for two years ranked as a First Lieutenant. As is true of all Marines, he still considers himself a Marine today. "I got more out of the Marine Corps than the Marine Corps got out of me."

Larry recalls Marine Corps Boot camp and describes it as an attempt to "take over your personality." "They want you to be in a position to do as you are told in a combat situation, without asking why. As you get older you recognize the value of that." He learned the history and spirit of the Marine Corps. and is still very proud to be a Marine. "Being a Marine is a hard feeling to shake - but then I never tried because I don't want to shake it."

When he left the Corps. in 1958 he was offered a job in a law firm in Florida but chose instead to go to work as Assistant Prosecuting Attorney for Geauga County. It never even entered his mind to go anywhere but back home. By this time Larry and Eva had their first child, Paul.

Soon after, Larry went into private practice and eventually became president and managing partner of Thrasher, Dinsmore and Dolan in Chardon, Ohio. Although Larry always said he would never retire he was actually considering it.

"I don't think I changed, but the law profession changed. There was not the same sense of being a lawyer. Clients were no longer looking for counselors; they were looking for weapons to attack the other person. Often lawyers wouldn't even talk to one another. It became an unsatisfying experience."

Today he maintains an office at the firm, but does not have any active participation in it. His son, Matthew, is a principal in the firm.

Growing up, Charles and Larry did not compete. There was a clear separation in their personalities - Larry was a jock and Charles was a "geek." "I played ball and he wrote for the newspaper and had a radio show. Charles failed and failed and failed until he finally succeeded and made it."

The two of them decided they wanted to enter into a business venture together and found the only thing that would meet both of their needs and interests was sports. They put together an investment team and made a bid to buy the Cleveland Browns. Also in the investment group were comedian Bill Cosby and football great Don Shula. "We were in the running to the very last day. But in the end, as you know, Al Lerner stepped in."

He next made an attempt at the Cincinnati Reds. At the time Marge Schott was the owner and she was under pressure from Major League Baseball to give up the team. But, true to her reputation, she refused to sell or even cooperate with bidders. Until Larry Dolan came along. She not only agreed to talk to him, but she agreed to his offer.

The only snag would be the minority owners who had the first right of refusal; the right to match any offer. Larry went to the majority minority owner, Carl Linder. He assured them that the minority owners were happy to have him on board and would gladly support him in his new leadership role. And so it was done, and Larry Dolan owned the Cincinnati Reds.

The announcement was made and the newspapers ran with the story. One of the Cincinnati papers protested that "The Person Up North" was about to take over their team, and that couldn't be allowed. "I've been called a lot of things, but 'The Person Up North' was a new one."

The public started to join the protest - and loudly. Carl Linder called Larry and said that regrettably they would have to go back on their word and exercise their right to match the offer. "For 10 days I owned the Reds."

At that time there wasn't any speculation that Dick Jacobs was even thinking about selling the Indians. But within a week of the Reds deal, the team went on the market. "I am so pleased that our previous attempts had not been successful." In 2000 Larry Dolan purchased the Cleveland Indians. "Owning the Cleveland Indians was a dream come true."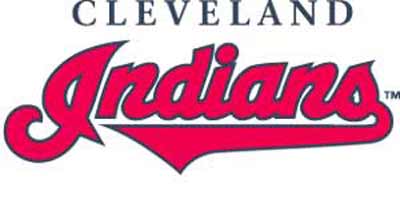 "I have always been - and still am - a fan. But I have beaten down the fan in me". He explains that the part of him that is a fan wants to win every game right now. The part of him that is an owner must see the big picture and have a vision for the future. It is his job to realize winning every game right now is not possible, but building a winning team is.
In an audio interview Larry explains that he doesn't have a phone to the dugout in his loge to prevent him from calling Tribe manager Eric Wedge to offer his opinions. As a fan, it's something he wants to do in every game but knows it would be ridiculous.
In the same interview, Larry tells us that Chief Wahoo is not going away. "He's a beloved figure." He has met with Indian and other groups and has yet to see evidence of some of the complaints. The recent emphasis on the "I" in "Indians" is just an additional marketing tool - not a replacement for Chief Wahoo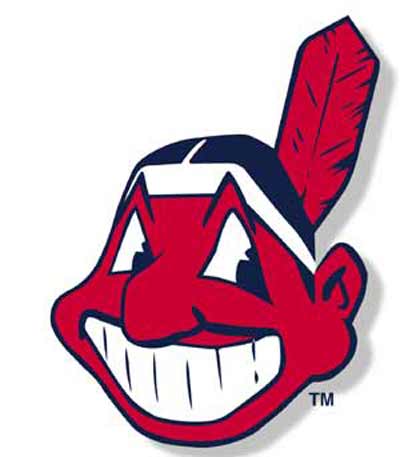 He is not oblivious to the comments from the fans calling him "cheap" or claiming he is afraid to spend money. But he doesn't let it bother him. "I always say the worse thing a fan can do is ignore me, then I know they don't care."

He says baseball should not be all about how much money is spent. "I often told George Steinbrenner, 'Keep this up and you won't have anybody to play'" He points to the big money contracts Philly, the Mets and the Dodgers gave out, and how little they got in return.

"Even the Yankees haven't done anything since 2000." He credits commissioner, Bud Selig with bringing the teams closer to parity.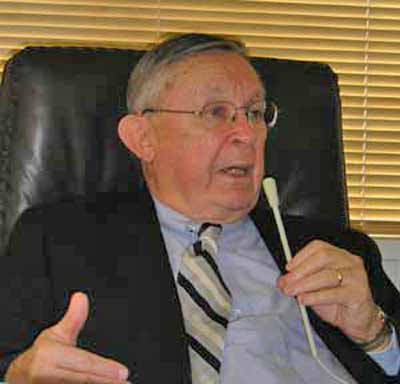 Dolan describes being the owner of the Indians as almost as thrilling as "when we win the World Series". That's "when", not "if."

Larry considers himself to be very fortunate as a senior citizen. "I wasn't smart enough to anticipate." He explains that when people say to prepare for retirement they usually are referring to finances, but there is so much more.

"It's not all about the money. Money won't make your retirement enjoyable. You must be happy with yourself to have an enjoyable senior life. Seniors must have the economic ability to sustain a lifestyle, but they must also have interests." He highly recommends that people of all ages exercise their brains on a regular basis, even if there is no money in it. "You must have a plan and stick with it."

As a successful senior he thinks it's a wonderful and challenging opportunity to help younger people coming up. "I am in a remarkable position to get things done. Everybody returns my calls. People are willing to do things for me. I am excited by the opportunities this brings me."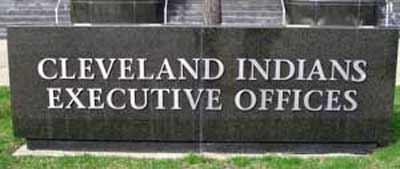 Larry and Eva have a very close relationship with their three boys and three girls: Paul (47), Mark (46), Matthew (41), Mary (41), Joan (39) and Carol (37). Son Paul is the President of the Cleveland Indians. All of the children share their father's love of sports. "Often after a game my oldest daughter, Mary will call me from Chicago and discuss plays with me. She is absolutely insatiable."

Larry also has ten grandchildren; 9 boys and one girl, "our little Lucy," who was adopted. "There is another one coming this month - maybe that one will be a girl."

On his future to do list are two major things. One he would like to win the World Series. The second is to see the City of Cleveland "become proud of itself again."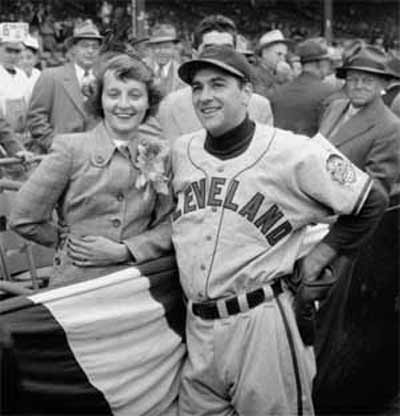 Mr. and Mrs. Lou Boudreau
before a 1948 World Series game



He was there for the 1948 Championship and remembers it to be "an unbelievable coming together, if you will; a sense of camaraderie." He'd like to see the Browns, Cavs and Indians "do it for the city again."

He explains that winning teams build on themselves. Young players come to winning cities. They bring their families. They eat in our restaurants and shop in our stores. "The city would get a major boost with a championship team, and this team is posed to do that."

He also realizes that "we are playing a game, not curing cancer" but none-the-less sports are an integral part of a city's stature.

Larry the fan ponders a moment when asked who the greatest catcher ever was. He thinks Jim Hegan was the best defensive catcher while Yogi Berra was the best hitter. Combining offense and defense, he thinks Johnny Bench would be a good choice. But he adds that current Tribe catcher Victor Martinez has all the tools to become one of the greatest.

The greatest Cleveland Indians player ever? "Bob Feller" he answers without a pause.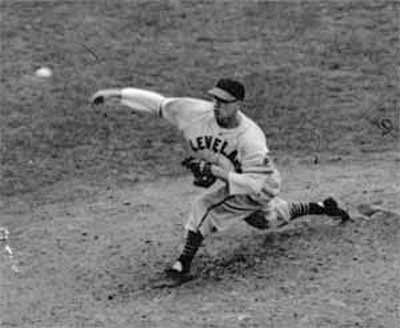 Bob Feller on the mound



He has no doubt that steroids were used in the game and that there was not adequate supervision. But, he also believes that under Bud Selig's drug program, changes have been made. "You have to remember that owner's could not instigate programs like this on their own. Everything has to be negotiated with player's unions."

He approves of the commissioner's decision to "go backwards and see if recognition of certain players should be curtailed." Dolan recognizes that this is a painful, though necessary process and is happy to say it is almost over now. He does, however, get annoyed with the media and the excessive focus given to the negative.

He does not hesitate to say Pete Rose should not be in the Hall of Fame. "If you look at the guidelines for entry you will see that they include character. Some will say then Babe Ruth should have never gotten in. I don't know that the guidelines were in place when Ruth was playing. He ate too much and drank too much, but he never gambled on the sport he played."

Mel Harder? Yes he should be in Cooperstown, according to Larry. But "politics is everywhere and everyone has their own favorites."

Dolan firmly believes that Dick Jacobs should be in the Cleveland Indians Hall of Fame (which will be reopned this summer in a Center Field location.) "He saved baseball in Cleveland." "Being an owner in baseball changed drastically after the reserve clause lost in court." That is why, he explains, there were a series of owners from the mid 70's on.

"Owners were coming on board just as a hobby without the commitment it really takes." Then Dick Jacobs bought the team in 1986 and turned Cleveland baseball around. Jacobs had five straight years of sell out games - unheard of in Indians history. "And he had enough sense to build a smaller, but better, stadium. Supply and demand. Reduce the supply and the demand will grow."

Dolan is very proud of the teams that have been fielded since he took over. "Every player on the team is a representative of the City of Cleveland."

January 1st each year Larry and his wife head to the West Coast and don't return until opening day. "Of course I still get the winter months of November and December." He has never considered leaving northeast Ohio "this is my home."

Among his many community and charity works are these few: He is President of the Christopher Foundation, Executive Board Member of the American Red Cross, Cleveland Chapter, Board Member of the Cleveland Foundation and honorary Board Member of Catholic Charities.

Larry Dolan is so much more than the owner of the Cleveland Indians. He is a man of integrity, conviction and class. He was not born with a silver spoon in his mouth - he earned the money and reputation he has. He knows the value of hard work and he holds morality and principles in high esteem.

He does not sit in an ivory tower looking over his minions, but rather he is a man of the people, using his stature in the community for the good of the entire city, especially its youth. His is not false pride - he knows what he has and uses it to help others.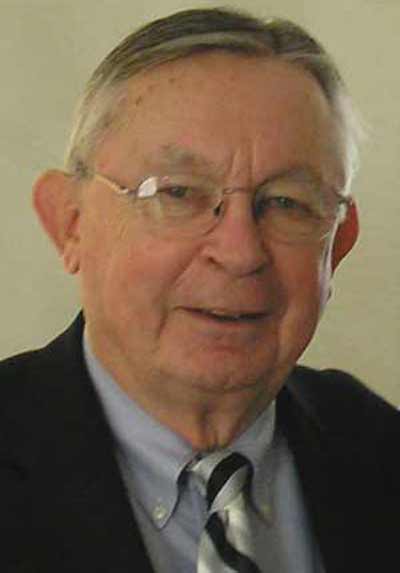 If Larry Dolan were to leave Cleveland, we would get by. But the city would be a little slower, a little gloomier, a little drearier. We would take a few steps backward and have a hard time looking to the future.

Larry Dolan has brought us a dream and he shares that dream with us. Like us, Larry Dolan is a Clevelander. And like us, Larry Dolan is a fan.




Profiled by Debbie And Dan Hanson

---

Top of Page

Listen to an audio interview with Larry Dolan
where he discusses Chief Wahoo, the best catcher ever, Bob Feller and how to beat the Yankees


---
---
Top of Page
Back to Profiles of Cleveland Seniors