A Fathers' Day Gift for Grandfathers (to Give!)

by David Kundtz

My Hungarian grandfather, my father's father, Theodor, died a month after I was born. He held my newborn person in his arms, but we never got a chance to know one another in that special grandfather-grandson relationship. I have always regretted that. He was quite a guy.

My Irish grandfather-he was Hugh O'Neill from County Derry-was very much a part of the first eleven years of my life. So I have memories of him: I recall some of his words, hear his voice greeting me ("Davit me boy!"), picture him in my mind's eye riding his beloved horses, and still see him clearly as he proudly filled the role of patriarch at big family gatherings.

His was the face they were looking at when they invented the phrase "twinkle in his eye."

He too was quite a guy. I loved him.

Why did I-and do I-love him? It may sound a foolish question, almost unanswerable. But I believe there is an answer: I loved him because he shared himself with me, took me seriously, talked to me. I could tell he liked me. He took me to his pig farm and trusted me to spend hours, happy ones, wandering around. He did all this with my siblings and cousins too.

I could not, of course, have told you this when I was eleven, but I sure-as-Patty's-pig knew it in my heart.

Which brings me to my point, an encouragement really, for grandfathers, on this Fathers' Day: In addition to what you might receive on Fathers' Day, why not make it a time to give a gift; at our stage of life most of us have more things than we need anyway.

So to all grandfathers I offer a suggestion: Let your grandchildren experience your emotions. It is a wonderful gift for both grandsons and -daughters, but I want to encourage you especially to focus on the boys.

Boys today, more than girls, are missing this element of a healthy upbringing and are starved for the emotional mentoring of an older and wiser man. You, as a grandfather, are the perfect candidate to give them this gift.

I put my encouragement in these particular words probably because I am a family therapist and I think in terms like "emotions." The essence of what I am saying, however, is simply to do what my grandfather did for me: share your life with them. They are not only starved for it, they learn the most important things in life from it.
Let them see your tears. They learn that to show appropriate emotion is healthy and manly.
Engage them in many belly laughs. They learn the fun of laughing, at themselves and the world's foibles.
Help them experience your joy. It will help them avoid a joyless life and feel attraction to others who know joy.
Allow them to participate in your sadness. Feeling yours gives permission to feel theirs, and express it in an appropriate way.
Give them access to your passion. "What is mine?" they will come to ask themselves.
Don't hide you doubts and confusion. It will help them make friends with their own.
Hang out with them. Just spend time, doing anything or doing nothing in particular. It shows them they have value and are likeable.
More than anything, let them experience how you deal with your anger. Of all the emotions that men experience, anger is the one that gets us into the most trouble. When your grandsons see how you handle your anger, it will give them the example they are likely to follow.
As you might have guessed, I have a bit of an ulterior motive with my suggestion for your Fathers' Day gift: If you share your feelings with your grandkids, it will induce you to recognize, name, and express your own feelings in a healthy way. So your gift is one that is as valuable to you as it is to them.

When your grandsons experience your emotions, it says to them, in a language more powerful than words: I love you. And that is the most irreplaceable, unique, boundlessly powerful, mystical, and creative gift that any human being can give to another; especially an older family member to a younger one.

It not only tells them but shows them-they experience it in their guts and hearts-that they are lovable, that they are OK in this world, that they can make it and know joy as well.

It's like water and sun to a plant. A gift to give. From a grandfather to his grandson. This Fathers' Day.
---


David Kundtz, born and raised in Cleveland, is a family therapist and writer from Kensington, California.

His most recent book is Nothing's Wrong: A Man's Guide to Managing His Feelings published by Conari Press, Boston, in January 2004.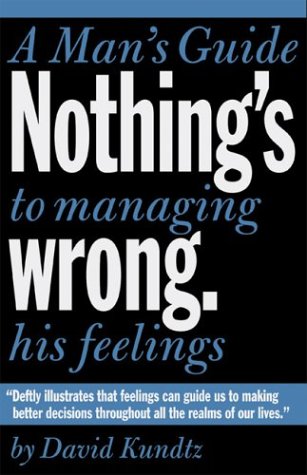 It is available at bookstores, by calling toll-free 1-800-423-7087 or just click on the book cover above for more information or to buy online.

Contact him at dk@stopping.com. Visit his web site: www.stopping.com
---
---
Top of Page
Back to Memories for Cleveland Seniors