Germany Part 2 - Continued
At Home In Germany
by Ron Kitson
Our old airport is still in use but it is no longer a military base. Most of the RCAF buildings are gone and there is a shopping mall there with mostly "outlet" stores and most of the brand names are the same ones we see here.
Their stores are closed on Sundays except every once in a while they have an "Open Sunday." They are also closed on national holidays and everyone gets a day off.
If a holiday falls on a Sunday for example, you don't get Friday or Monday off, you celebrate it on Sunday and go back to work on Monday. Christmas is a two day holiday so workers get Christmas Day and The 2nd Day of Christmas as paid holidays.
Around The House: If our house and lot were in Germany, there would likely be at least two houses on our front lawn and three more out back.
When you step out of the front door of most of the older homes, you step onto the sidewalk. Some of the newer ones are set back a few feet but most have a nice back yard with enough room for some lawn to enjoy, a vegetable garden, flower beds and perhaps a fish pond.
Usually one side of a house butts up against the neighbor's while the other side leaves them access to the rear. In most cases, they attach a one or two car garage to the side of the house with a low roof and no door between it and the house.
With all walls and ceilings being of concrete, there is little to no chance of a garage fire spreading to the living quarters.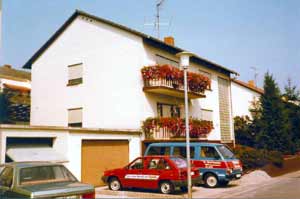 This picture was taken in 1982 and this house was fairly new then. Notice the shutters 2/3rds closed and the flowers on the balcony. The roll-up shutters store just above the windows. As with us, those tv antennas have pretty much been replaced by cable or the dish.

With all the walls, floors and ceilings being of thick concrete, the houses are quiet. You don't hear other people walking around, talking or going to the wc.

You get a new tiled roof when you build the house and you should never need to replace it. They use clay tiles that last pretty much forever.

At one house we visited in the beautiful town of Hattenheim on the Rhine River, they had done some remodeling and had a few roof tiles left over. I asked how old they were and was told the house was built about 150 years ago and that they are the original tiles.

In The Kitchen: Our hosts in Germany eat a light breakfast much like we do. Usually included are fresh fruit, jams, cheese, and processed meats with their Brötchen, which are delicious fresh baked rolls with a near bulletproof crust they buy at a local bakery before breakfast.

The bakeries make these in the wee hours of the morning and open up around 5:30 to 6:00 so those tasty morsels are warm and fresh for Frühstück (breakfast). We miss the Brötchen and can't find anything quite the same here.

Also, they drink juice, yogurt and fresh brewed coffee. By the way, in German, all nouns get capitalized and I don't know why that is. But then, I get e-mail at home from people who don't use any capitals at all and I don't know why that is either.

Their big meal is at midday and their Abendessen is a light meal at supper time. When I was young, we had breakfast, dinner and supper, same thing I guess. Many of the smaller stores still follow the old tradition of closing up at noon for two hours so the staff can all go home for dinner or Mittagessen.

While sliced bread is available and referred to as "toast bread," most bread is purchased solid and gets sliced at home and only as needed to keep it fresh.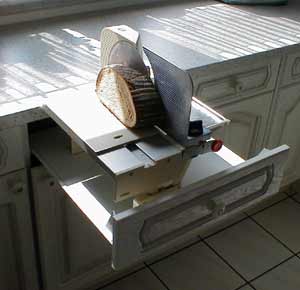 A typical electric slicer built into a drawer. It folds down and stores out of sight.



Heidi's kitchen stove is a Bosch glass top with some nice features. For example, burners will not heat up unless there is metal cookware on them. If she uses a small pot on a large burner, only the area directly below the pot will heat up.

The burner knobs are across the front so she doesn't have to reach over steaming pots, and yes, they can be deactivated to make them childproof.

Her refrigerator door was covered to match the rest of her cupboards which seemed to be the custom. Same for the dishwasher. They just disappear and become part of the cupboards.

Keeping cool is not really a problem here. Ninety (f) is considered very hot and is not common. None of the homes we visited had central air conditioning but some have a portable wheeled unit that can be used to cool down a bedroom for example. Otherwise, they open the windows and let the breezes flow through.

Europe is on a 220 volt system. Not just for kitchen stoves and clothes dryers, for everything that plugs into an ac outlet.

The outlets differ from ours. Theirs are recessed about an inch making it impossible to touch the prongs when there is current on them.

The plugs don't fall out of the outlets either. Here you can see a phone jack on the bottom and two outlets above it. On top is a paddle switch.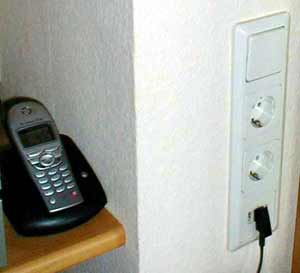 The bedrooms don't have closets as we know them. They call it a Kleiderschrank (clothes cabinet) and when you rent a house or apartment, you bring your own and take them when you move out.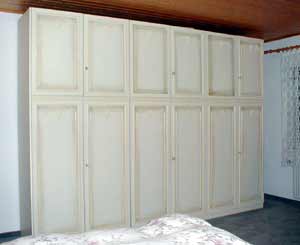 Kleiderschrank (clothes cabinet)

We didn't see any actual double beds other than two singles pushed together. Their pillows are much larger than ours but not so thick and can be squashed and poked into a shape that's comfortable for you.

The bottom sheets were all fitted like ours but their top sheets are more like giant decorative pillowcases stuffed with bed sized inserts that are more than enough to keep you cozy. And that's it.

In the mornings, they like to swing those windows open and hang these bedcovers out in the fresh air. On washday, they open up one end, remove the insert and wash the cover along with the bottom sheet. Works good and it takes about ten seconds to make the bed.

Most windows are dual action inasmuch as they will tip in a few inches at the top for secure ventilation, or swing open like a door. Patio doors are often like that too.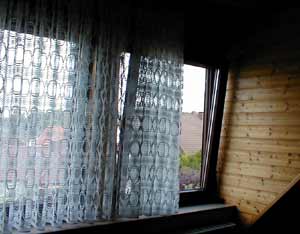 Tilted Window


Windows and glass doors will have roll shutters that can be rolled up or down from inside the house. Some are electric and on timers.

Before the shutters bottom out, there are ventilating slots between the slats that allow some air to pass through but as they strike the sill, they close up to foil any peeping Toms.
Open Window
Bathrooms are much like ours but will often have their own electric heater providing instant hot water for hand washing.
The old toilets in Europe were quite a bit different from ours but the modern ones look much the same as what we see here. Oh yes, one big difference is that their new ones have two flush buttons for the purpose of conserving water. A small button for a small flush and a larger one for a large flush. Or, think of them as #1 and #2.
They like balconies in Germany and most homes seem to have them. They add a lot of character to a house and they almost always adorn them with flowers.
We saw a lot of different birds we don't see here including the magpies which are large black and white birds a little smaller than a crow and often seen on and around the houses looking for shiny pieces of jewelry to abscond with. I understand there are Magpies in some parts of the USA but I've only seen them in Europe.
---
In "Germany Part 3" we will take a quick look at farming in Germany, visit some old communities along the Rhine River and revisit the ancient walled city of Rotenburg.
Still ahead, a look at education in Germany, and our cruise down the Danube visiting several beautiful old cities including Bratislava, Vienna and Budapest.
---
Top of Page
Back to Travel
Back to Cleveland Germans
Back to Ron Kitson Memories and Stories