Dudley Humphrey
Keeping Euclid Beach Alive
Few things bring back the kind of memories that the mere mention of the words "Euclid Beach" invoke. We all have our favorite memories of the special times we had at Euclid Beach.
Just imagine growing up on the grounds of Euclid Beach and going to bed listening to the organ music and people screaming as they climb the heights of the Thriller!
That's exactly the life Dudley Humphrey had. He was born in Cleveland December 8, 1949 and grew up right in the fabled park.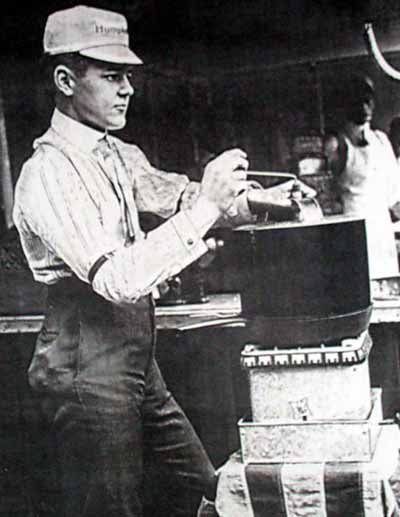 Harvey Humphrey in 1899



Dudley's grandfather was in the popcorn business in the late 1800's. His grandfather and great-grandfather had invented a new type of popcorn popper and sold the machines themselves until sometime in the 1880's or early 1890's when they got into the retail popcorn business.

They had a stand on Public Square and used a horse drawn cart to sell their special treats.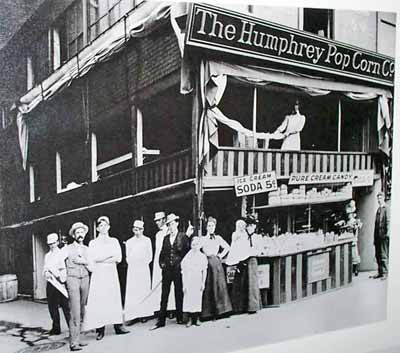 Humphrey Popcorn Company on Public Square in 1899
At this time, Euclid Beach (which first opened in 1895) was just starting out. There were a few rides, a dance hall, beer garden, gambling and alcohol. Humphrey says, "In there effort to appeal to all, they appealed to none." Dudley's grandfather had a popcorn stand in Euclid Beach Park.
In 1901 Dudley's grandfather bought out the original owners and got rid of the sideshows, gambling and alcohol and replaced them with rides. It was those rides and the family friendly atmosphere that made Euclid Beach such a success until it closed in 1969.
The family grows its own popcorn on the same land they originally owned and farmed in Huron County. "Back in the 20's you couldn't get good quality popcorn so we grew our own. Now you can, but we still grow our own to maintain the quality."
Dudley is the fourth generation of Humphrey's in the popcorn business. The family that manages their farm is 3rd generation; the manager is the granddaughter of the original farm manager. Everything about Humphrey says family.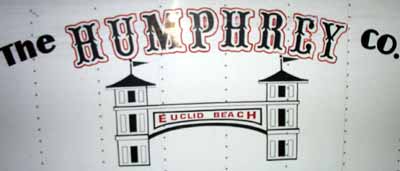 The Humphrey Company at Euclid Beach Park
"The best part about growing up inside the park was when the park was closed. My cousin lived there too and we would ride our bikes and play cops and robbers". Dudley is an only child as is his cousin - the daughter of his father's sister. Together they would crawl all over everything in the park.
They once tried to take their winter sleds down the Flying Turns but lucky for them there was not enough snow on the ride to push them along.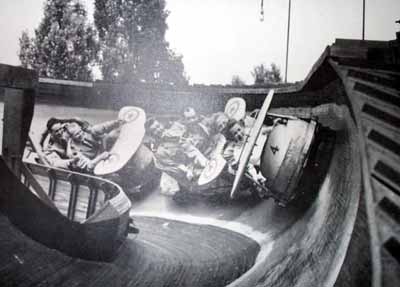 Dudley is a graduate of Hawkins School (Class of '68) and received a BS in Political Science (called Government then) from Hamilton College, a small liberal arts college in Utica New York. He considered law school or earning and MBA.
However, in 1969 his father built a small amusement park in Streetsboro, called Shady Lake, and Dudley went there to manage the park for the next seven years. The park included a number of rides that had been salvaged from Euclid Beach and, of course, the popcorn.
(Click to see more pictures of Euclid Beach and the Humphreys )
In 1975 Dudley married Betsy who had been working at the May Company. Betsy joined the business and from 1982 on the popcorn business became their sole focus. "It was a combination of good name, good memories and good popcorn".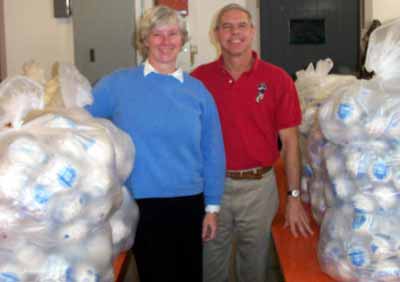 Betsy and Dudley Humphrey surrounded by popcorn
They have two children, a son and a daughter, neither of which are currently in the family business, but "that doesn't mean they'll never be."
You may see one of the two rocket ships from the old rides driving around the streets of Cleveland. One is said to be in Cleveland Heights.
Laughing Sal is alive and well and "living" in Highland Heights. A number of the Dodge'em cars and ride cars are owned and loved by people around the State.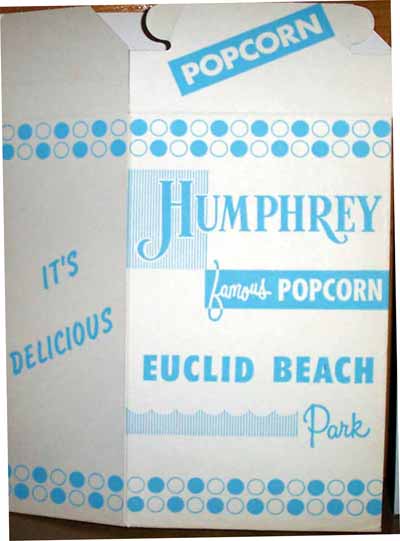 Box of Humphrey Popcorn from Euclid Beach
The company uses the same recipe for their treats as they started with. The yellow-wrapped taffy with the unique and wonderful taste has not changed one bit.
A minute amount of Lecithin has been added to the popcorn balls to help them slide through the machines, but the tasty popcorn is exactly the same.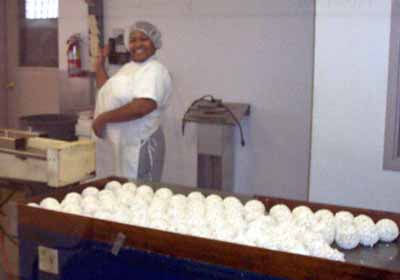 Making the famous Humphrey Popcorn Balls
The balls were made by hand, like snowballs until about 18 years ago. Instead of 9 people hand rolling 4500 balls a day, they now have 4 producing 7 to 8,000 a day.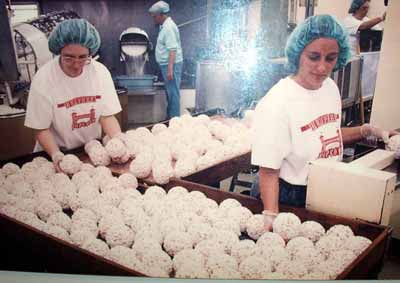 Making the famous Humphrey Popcorn Balls
November 2000 was a lucky time for Humphrey and his popcorn company. The Food Network's show, "Food Finds" featured his operation as part of a holiday special. It ran again in 2001, 2002 and December of this year (2003). Sales increase so much after each airing that he is forced to hire an answering service to handle the volume of telephone orders.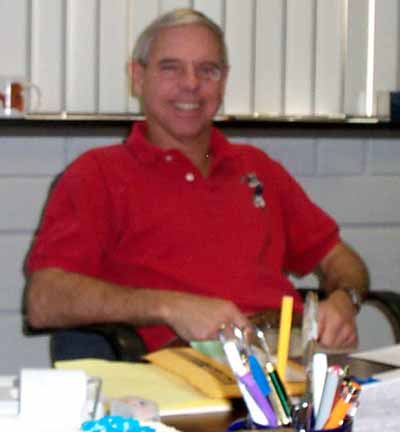 Dudley Humphrey at his desk
Dudley spoke at the Smithsonian when the food editor of the Washington Post put on a speaker series on Nostalgia Foods. There was a seminar on various foods from different regions and he was included.
Dudley is a self-proclaimed "sports nut". His goal is to someday see a game in every stadium. He loves tennis and is "pretty good" in golf. He played high school and college football and baseball. He is a Browns season ticket holder and usually gets to 15 or so Indians games.
Dudley and his wife walk around their plant with a smile on their faces, as do the workers. Everyone seems very happy with the work they are doing, and you can't help but notice the wonderful and reminiscent aroma of popcorn and taffy as you enter the building.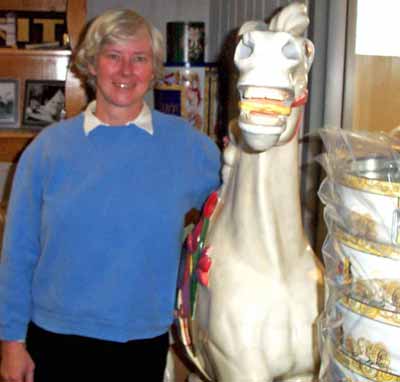 Betsy Humphrey with horse from Euclid Beach Carousel
The only down side would be what Betsy refers to as "A work related accident - weight gain!"
It's a happy place with happy people and equally happy memories. Although Euclid Beach Park has been closed for well over thirty years, you can taste Humphrey popcorn balls and taffy in your mind just by mentioning the name.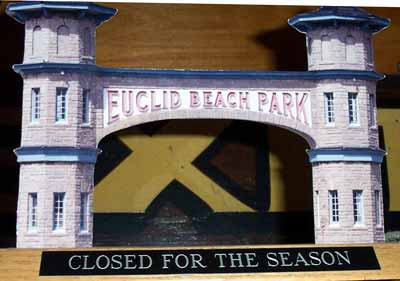 Better yet, you can taste them by stopping at your local supermarket. It's a wonderful treat that won't soon be forgotten thanks to Dudley Humphrey and his family traditions.
Profiled by Debbie Hanson



Click to see more pictures of Euclid Beach and the Humphreys



---

Do you know somebody with an interesting story to tell?
E-Mail us at:
profiles@ClevelandSeniors.Com

---
Top of Page
Back to Profiles of Cleveland Seniors
More about Euclid Beach