Fred Buck
Leaving the Lights On for Us, GE and Baseball
There are many things in life that we enjoy, but take for granted. Take the game of baseball.
Of course different players have different skill levels, different teams have different records. But there are some constants - especially when it comes to playing conditions.
Lighting and field measurements are two such areas. Fred Buck is responsible for both of them, and this is his story.
James Alfred Buck was born in Cresson, Pennsylvania October 5, 1930. (His mother wanted to name him Fred, but in order to be baptized he needed two Christian's names. His mother didn't like Frederick, so she compromised, and then called him by his middle name.) He comes from a large family of three boys and three girls, of which he is the youngest boy.
As did so many young people in his day, Fred never knew a summer without a job. Cutting lawns, washing cars, picking blackberries or digging up potatoes, it didn't matter what the task was, just so it brought in cash. The boys would then turn their earnings over to their mother to help support the family.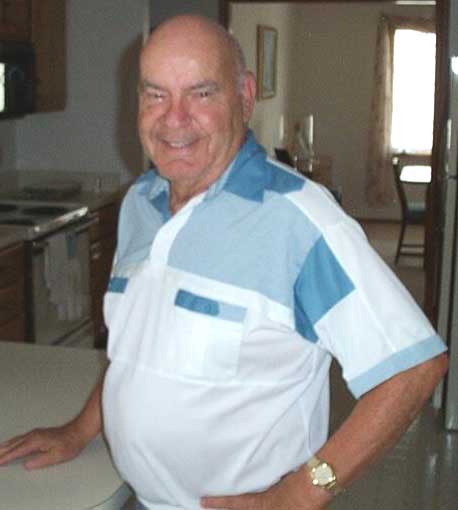 Fred's father managed an American League Baseball team in Cresson; a team made up of a lot of the local boys. Fred and his two brothers were batboys for the team. Being a batboy meant they got to keep all of the broken bats, which they nailed and taped back together for their own games.
When Fred saw his very first professional ball game, he knew one way or another he needed to get out onto that playing field. It was years later that this would become a reality.
Fred and his family moved to Cleveland in 1945. He attended John Adams High School, and graduated in 1949. Then it was off to the Army in 1950 where he was awarded a Bronze Star in 1951.
When he got back from the Army, Fred went to work for General Electric, in the meter section. At this time he never dreamed there would one day be a connection between his work and his love of baseball. He attended John Carroll University and Fenn College and transferred in to the Application Laboratory at General Electric.
In 1962, a representative of baseballs' American League came to General Electric looking for assistance. Their goal was to improve the lighting in all eight of the American League Stadiums. The League had assigned a retired umpire to work hand in hand with General Electric to improve the lighting conditions.
At the time, all of the League's stadiums were being lit with standard incandescent lighting. However, GE had just developed the metal halide light source. This innovation would double the light levels on the playing field and conserve 50% of the electrical energy.
Fred was assigned the task of assisting GE's Sport Lighting Specialist at Cleveland Stadium in the task of converting the lighting system to the new light source.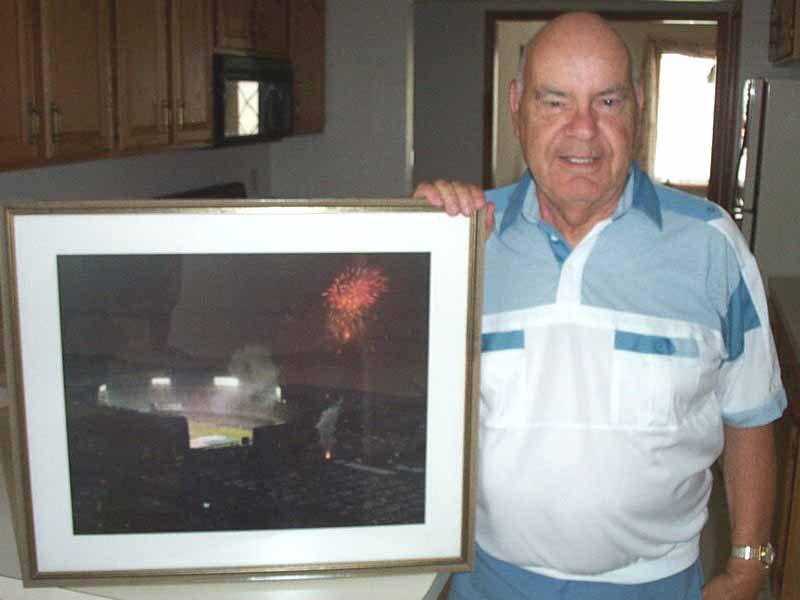 Finally, all these years later, Fred recalled his desire to be on a major league baseball field, and here he was.
In 1981 the metal halide lighting system was up-graded at the Cleveland Stadium with the help of Fred, General Electric, and Norm Hanson from Magnum Electric. It was perfect timing since baseball was on strike that year.
When the strike ended, the first game played at Cleveland Stadium was the All Star Game. At four in the afternoon on game day the work in the light towers was finally complete.
Fred became the Sport Lighting Engineer for the lamp Division of GE. He taught three different umpires how to conduct the light survey at all the American League Stadiums.
The umpires (all retired) would visit the major league cities and contact a GE person in that city to perform a light survey. The data would then be sent back to Fred for an evaluation. The light program began in 1962, and Fred has been part of it the entire time.
Here's an example of the importance of the light program. An American League team (who, at Fred's request, shall remain nameless) had a light rating of 75 foot-candles at home plate, but only 15 at second base. A five to one ratio of light such as this is equivalent to going from day to night.
He wrote a report asking for corrections in the light for five consecutive years. Finally in his report he compared the field to the old Abbott and Costello routine "Who's on First", the only difference being that nobody ever did find out "what's on second" because it couldn't be seen. Within a month the field had corrected their lighting problems.
In 1971, after the American League light program had been around for nine years, The National Association of Minor Leagues requested help to re-light many of the minor league stadiums. A new program was formed in which two retired ball players were trained to take light reading at all 160 clubs.
Until then, there were no lighting standards in minor league baseball and less than 20% of the minor league teams were playing under standards that would even come close to meeting minimum standards.
The standard for today's infield is 70 foot-candles and in the outfield it is 50. (A foot-candle is a unit of light. Sunlight can be 8,000 to 10,000 foot-candles; a well-lit parking lot can be 1 or 2 foot-candles. Some of the teams in the minor leagues were playing with 7 foot-candles.)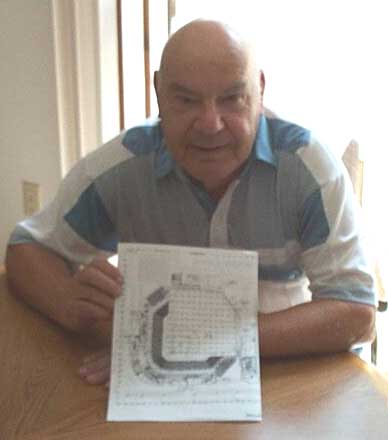 With today's current program, Fred now reviews all new minor league lighting designs before the system can be installed. He has recently been called in to look at the plans for the new Eastlake Stadium.
In 1982, with the death of the last of the three retired umpires, Fred became the sole person in charge of measuring the entire American League lighting system. Still working for GE, his company and Major League Baseball created a program that continued until Fred's retirement from GE in 1987.
At that same time, GE discontinued the program. But retired or not, Major League Baseball was not ready to give up the program, and certainly had no one to replace Fred. They invited him to continue the work, directly for them. Fred has been "retired" for fifteen years, but has continued with the lighting program and now deals with both the American and National Leagues, totaling thirty teams!
Fred remembers going to Detroit Tigers Stadium in 1982. The grounds crew had left for the day and he started marking his testing points. Naturally, this being a light test, it can only be done in the dark. It was his first visit to Tiger's Stadium and he was enjoying the sights and just being there.
He bent over to put in a measuring stake just at the moment the sprinkler system went on. Imagine his surprise when the water shot up and hit him in the backside! This event has prompted him to ask the most important question first when he comes to a stadium: "What is your watering cycle?"
Lighting is not the only thing that needs to be measured and comply with League standards. Pitching mounds, base lines and the distance to outfield fences all have to be measured.
It wasn't long before Fred was approached by Dr. Bobby Brown, President of the American League, who asked Fred to add a field measurement survey to his light survey.
To this day, Fred completes both surveys each time he visits a stadium. A survey is done of all thirty stadiums every year between Opening Day and the fifteenth of July.
All playing field measurements start at the back point of home plate. First and third base lines are 90' long to the back corner of the bags. Second base is 127' 3-3/8" to the middle of the bag at second base from the back point of home plate. The pitching mound is 10" above home plate. The front slope from the pitching rubber drops off one inch for every foot.
The field mound is checked out along with every visitor bullpen mound to see that they comply with the rulebook standards. The home team bullpen mounds are only checked when requested by the club or when there is a difference between the visitor mound and the field mound.
Fred doesn't have the opportunity to meet many of the players, since he tries to do his measurements when the team is away and of course, it has to be dark! He has a deep respect and admiration for the ground crew and the hard work they do. He makes it a point to be careful when he is working and wouldn't dream of disturbing their field.
Fred is never without volunteers to help him on his surveys. People are enamored with the idea of being on a major league baseball field, and of course, since they're there, run the bases or test the padding on the outfield wall. Of course, getting your picture taken on a MLB pitcher's mound or sitting in the dugout will turn any grown man into a little boy.
People have often told Fred how lucky he is, and he feels the same way. His life long dream of being on a major league baseball field has come true, and continues to come every season, even after forty years.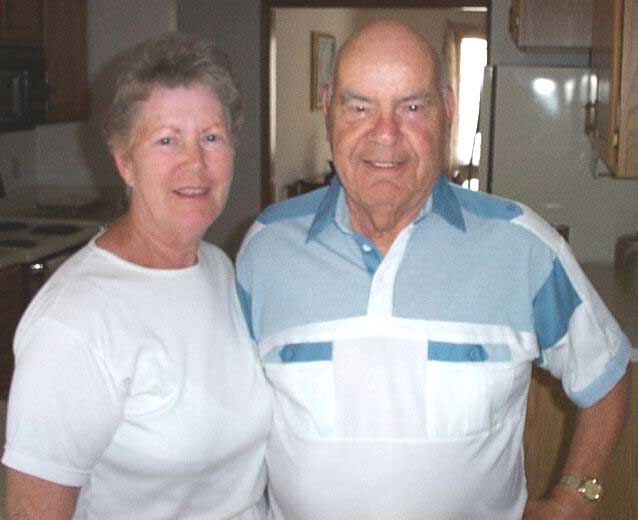 Fred has been married to Doris Call for forty-seven years. They have one son, Mark.
Although Doris accompanies him on some of his trips, for the most part she stays home in their beautiful Seven Hills home and "keeps the light on for him".
Profiled by Debbie Hanson
---
---
Top of Page
Back to Profiles of Cleveland Seniors