Doug Adair
From Anchor Desk
to Winner's Circle
When you think back about Cleveland news reporters it's hard not to remember Doug Adair. It's also hard to believe that he left Cleveland over 20 years ago (1983) to go to Channel 4 in Columbus.
You probably remember him from his time on City Camera on WJW or Newsday (Newsday 90) on WKYC with Virgil Dominic. Clevelanders will always remember the team of Doug Adair and Mona Scott. "We keep in contact by email and I am still very close to both of her children."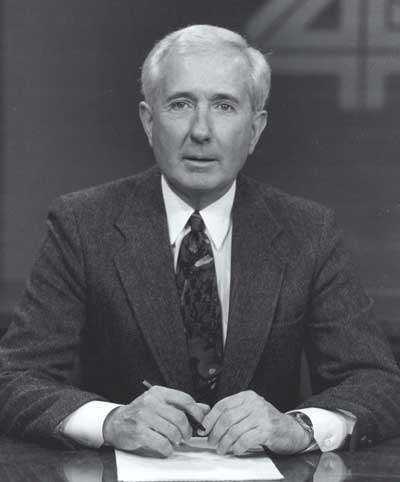 Doug Adair at the anchor desk



Doug grew up in Xenia, Ohio where country fairs were a very large, important part of daily living - socially as well as economically. It was there that he began his love of horses and harness racing.

Doug owns horses, including one of the fastest three year olds in Ohio. He recently had his horse, Meadoland Carter compete - and win - in the Battle of Ohio at Northfield Park.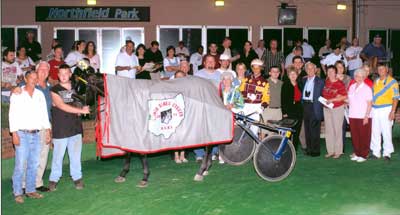 Doug Adair and his winning horse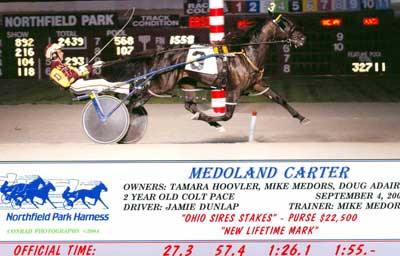 Doug started out as a staff announcer then auditioned for the news desk. He began with City Camera, the very first Cleveland news show. Prior to that, everything was national news.
They took Polaroid pictures and held them up to the camera. When Doug started his career in Dayton, Ohio he had a wooden teleprompter with butcher paper that was manually rolled from one side to the next.
When he came to Cleveland he brought it with him and taught Bob Neal how to use it. (Bob Neal and Jimmy Dudley were on air partners). Neal and Adair went on to become great friends.
Doug was doing City Camera for Channel 8 when they asked him to do an ecumenical program called Moral View. It was a discussion of news on Sunday mornings. For the first time a Catholic priest, a Jewish Rabbi and a Protestant Minister were on at the same time, discussing topics.
In the past there had been separate segments for each of them, but they never conversed together. The Council of Churches was formed as a direct result of Doug's show. When he went to Channel 3 they continued the same concept with a different name.
"In those days there was news at 6 and 11 and only on 3 stations, so it was very important not to loose any of the huge audiences out there. So we were sure to stay unbiased. Now stations seek certain segments of the population and are willing to concede the others. They will go after certain political audiences because if they have one segment of the population watching now, that is enough."
Adair is not happy to see news slanted in this way and feels it results in people mistrusting the news they hear on other stations. He is even less happy with the "in your face" news that allows people to do whatever they want or can to make someone look bad and get higher ratings. "That is not journalism. It's just not."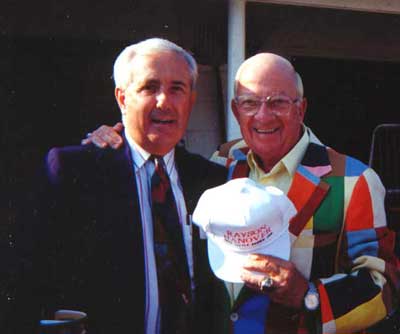 Doug Adair with legendary
"dean of sports" Jimmy Crum



Doug has 3 children from his first marriage. Although they all went onto different colleges and career paths, they are all graduates of Brecksville High School.

Doug has fond memories of his time in Cleveland - he lived in the area over 25 years. "Dorothy Fuldheim and I would go out and do public speaking together whenever possible. It was a great way to meet people. Plus, they got to know a different me - not just the television person."

He still communicates with his friend, Dick Goddard and fondly remembers Joel Daly, his favorite co-anchor. Al Roker was the best man at his wedding. He remembers working with Hoolihan, Tim Conway, Ernie Anderson, Howard Hoffman and Jimmy Dudley.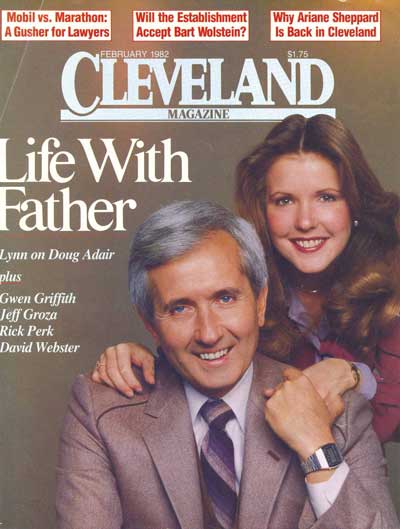 Doug Adair with daughter Lynn on cover of Cleveland Magazine February 1982



He recalls how he and Lou "the Toe" Groza would kick off every Salvation Army drive at East 9th and Euclid Avenue. Doug would hold the football and Lou Groza would kick it over the Bond Clothing Store sign.

He got to know Sam Shepherd while he was doing a story. Later when Shepherd got out of prison he invited Doug to meet him at the Hollenden Hotel where, along with Joel Daly they talked until 5 in the morning. "It was interesting to hear Sam Shepherd proclaim his innocence."

Another notable name Doug became familiar with was "Fast Eddie Watkins", often referred to as "the last of the great bank robbers of the Depression era." Watkins wrote Doug a letter from prison that resulted in the police questioning him about its contents. Watkins wrote often and Doug always responded.

Watkins told Doug he always found him (Doug) to be fair and respectful. In addition to being a bank robber, Watkins was an artist.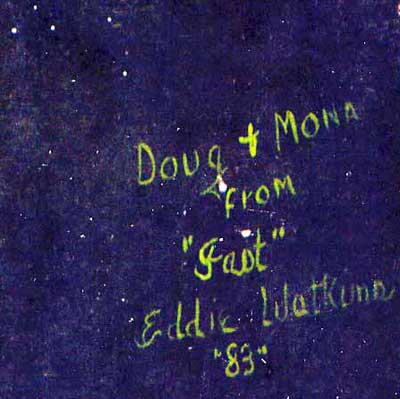 The signature on the painting
from Fast Eddie Watkins



He sent Doug a large drawing of a tree that he did that he kept in his cell. Adair proudly displays it in his home. (see the painting)

Doug remembers the old days at Cleveland Municipal Stadium where "it seemed like Mayor Ralph Locher and I were the only ones that would be at the Indians games. We didn't actually go together but we would see each other because the crowd was so sparse." In fact he remembers taking his 9 year old son to a game once. He caught two foul balls because there was no one else there to chase after them.

He's still an avid Indians, Browns and Cavs fan and "always will be."

Doug's current wife, Jean, grew up in the Toledo, Ohio area. She was a Franciscan nun in the Catholic Church for 27 years before leaving the convent. She worked in the Catholic community in Dublin Ohio at the time they met.

Doug had been unmarried for many years when friends fixed them up on a blind date. They were good friends for eight years before they married less than three years ago.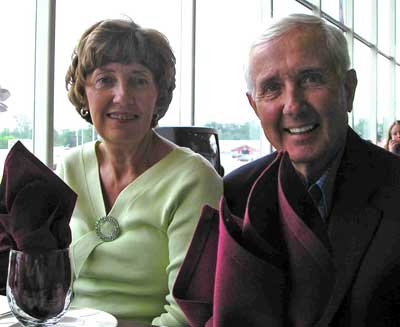 Doug and Jean Adair at Northfield Park



Jean is now retired from being the organist and music director at St. Brigit of Kildare Catholic Church in Dublin, Ohio.

Doug's father owned a furniture store that had been in the family for over 100 years. For some reason people thought his father was a minister and that rumor brought him many invitations to speak at Churches and Synagogues throughout the area.

Doug thinks of Cleveland as his career since he spent so many years here. When he went to Columbus it was near the end of his career and he only stayed for 12 years. When it ended he was managing editor of WCMH.

When he moved to Columbus, Doug remembers everyone asking him to compare the two cities. He told them about the efforts and great results of Cleveland lighting up the Terminal Tower and Public Square and hoped to accomplish something similar in Columbus.

Columbus has LeVeque Tower and he wanted desperately to see it lit up. The News Director gave him the okay and Doug contacted the people at GE here in Cleveland. They decided the best approach was to flood light the building. The big lighting was scheduled for the 4th of July for the Red White and Boom! Celebration. The city wanted them to do it live and they agreed.

Doug and Catherine LeVeque rode in on a boat to light up the city. Then Governor Dick Celeste was in the boat right in front of them. Dick Celeste was greeted with heckles - he had just raised taxes. Doug's boat was greeted with applause and cheers. The ceremony began. The switch was thrown and nothing happened.

The cheers turned to "Send him back to Cleveland!" "It was terrible but I was determined to make this work." Other business started lighting up their businesses and inviting Doug to come and throw the switch and he did.

After many attempts and a few years, the Columbus skyline and LeVeque Tower were indeed lit up and continue to be to this day. This accomplishment was recognized by then Governor George Voinovich when Adair retired. The Red White and Boom celebration this year will be the 25th anniversary and Doug has been invited to join the celebration because of his contribution.

When Doug went to Columbus the newscast was in last place in the ratings. When he left, and for a long time before, they were in first place. "I think that was because so many people in Columbus new me and where comfortable with me from Cleveland."

Doug finds a similar situation when in Florida. People there recognize his name, to such an extent that he was recruited for a job there, but had no desire to go. He does maintain a winter home in Venice Florida which he loves.

Since his retirement in 1994 at age 65 he has been very active. He is involved in hosting a charitable event at Little Brown Jug Harness Racing in Delaware, Ohio.

There is not one thing Doug would have done different "I am 100% in love with what I did."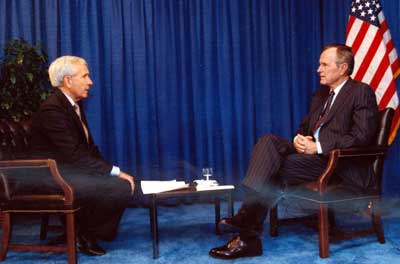 Doug Adair with the first
President George Bush



As for retiring? "I never look back. I loved it - and I think I could've worked until I was 80, but realistically it was time to go. I really embraced retirement and didn't want to wait until I couldn't enjoy it."

As a newscaster, his life was run by the clock. To this day he has the same nightmares that he had while he was on the air. The nightmare in which he can't find the copy script or the newsroom on time. He is always grateful to wake up and realize the clock does not have the same significance it once did.

Doug loves to golf. A hip replacement last August may have slowed him down slightly, but not much. He's back on the course again and almost back to his top performance.

The story of Doug Adair could go on for page after page with his awards and honors. Professionally he was honored both in Cleveland and Columbus for Ohio's Best Television Newscasts.

He was also honored as the state of Ohio's Best TV News Writer. He is in the Broadcasters Hall of Fame and is the proud recipient of the Distinguished Service Award of the Society of Professional Journalists.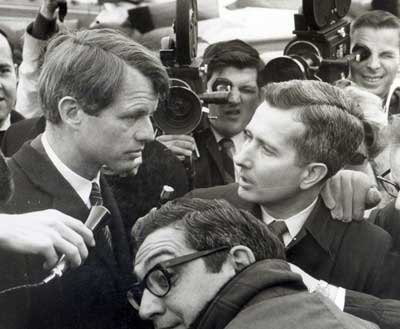 Doug Adair with Bobby "RFK" Kennedy the day after Martin Luther King was assassinated



In the early 60's Doug co-anchored with Joel Daly. It is widely recognized that the pair was the first anchor team in the entire nation to share the same desk, something seen commonly now. Although Adair and Daly were preceded by Huntley and Brinkley, they actually reported from different cities.

Not all of Adair's awards were from fellow journalists. He received the National Faith and Freedom Award from Religious Heritage of America. The same piece that brought him this award (The Crisis in Christianity) brought him the Catholic Church's National Gabriel Award.

The Holy Name Society named him Cleveland's Outstanding Citizen and in the same year he received the First Bishop's Award of the Episcopal Church. The latter was the result of his massive efforts on behalf of needy children in Cleveland and his "Clothes for Christmas Campaign."

Doug investigated Hawthornden State Mental Hospital in 1982 - and investigation that ultimately resulted in grand jury indictments and changes in care given to Ohio's mentally ill. He was recognized by Cleveland City Council for his work on that report.

His newscasts reached so many people that when he used it to support the Big Brother program in Greater Cleveland they found 800 new big brothers in one week!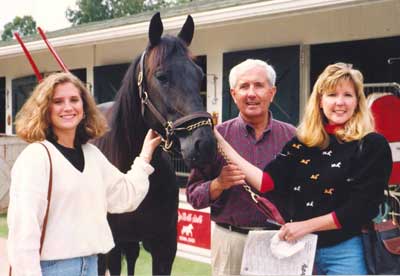 Doug Adair with Mona Scott's daughter Laura and daughter Lynn


Doug served as an officer in the Air Force during the Korean War and used his position to do whatever he could for veterans.

In 1994 when Doug retired he was Ohio's longest serving television anchor with over 40 years on the air.

Among Doug's favorite "perks" of his life in television was the travel. He led fundraising cruises and tours for the American Cancer Society all around the world. He led a number of tours for other charitable causes as well.

"Some of the people I met on these cruises became my close, dear friends". Doug took a couple of cruises "just for the fun of it, but [I] missed that role. I wanted to make sure everyone was having a good time."

He travels to Disney World with his children and "even at my age they make me ride the roller coasters."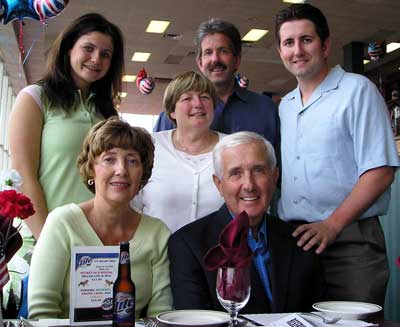 Jean and Doug Adair flanked by grandaughter Jill, daughter-in-law Jeanny, son Tim and grandson Jamie



It's hard to find a time and place to get all of the children together. They have a family reunion every year some place in California. "We have a very close family and it's comforting to see the children all doing so well."

Every Spring for more than twenty years they all meet at the airport in Detroit and drive all night into the woods to go Morel Mushroom Hunting. "We usually search for nine hours or so and then quit and play golf. Sometimes we do really well and other times we don't find any. But it's always a wonderful experience."

They choose Michigan because there is more land in Michigan that is not privately owned and Morel Hunting is actually the No. 1 tourist attraction in Michigan.

"It's very exciting and good family fun. Regardless of your age you can enjoy this. Then when we play golf all of our games are scrambles so everyone can play."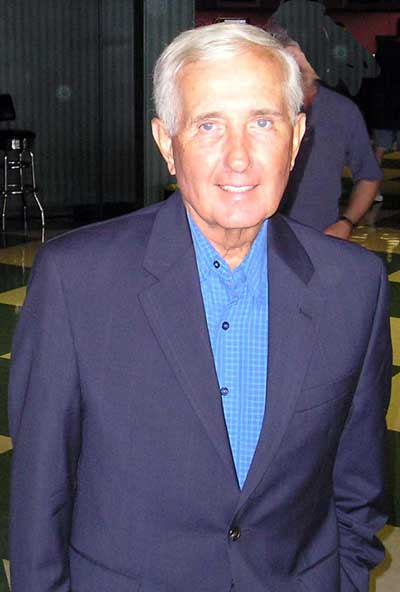 Doug Adair in June 2005



Doug hopes his future is pretty much the same as now. Surrounded by family and friends he loves and the good health to enjoy it. His children are now thinking of retiring and he and Jean may move to be near them.

He works out a lot to maintain his good health. He swims, walks and even lifts weights. "These are things you must do if you want to continue to live a good and happy life."

Doug Adair had the opportunity to reach and influence millions of people. He chose to use that influence in a positive, wholesome way that has earned him the respect of all who knew him then and all who know him today.

He did not take the easy route; he always chose the path of righteousness and he is now reaping the benefits of a good career by enjoying a well earned good retirement.

Click to see more pictures of Doug Adair




Profiled by Debbie Hanson



Update: Doug Adair passed away Monday April 29, 2019 in Pleasanton, California, of complications from Alzheimer's disease. Adair was 89. RIP Doug.

---
---
Top of Page
Back to Profiles of Cleveland Seniors