Del Spitzer
Car Dealer continues Life's Good Ride
Adelbert "Del" Spitzer was born December 1, 1927 in Grafton, Ohio.
Del's father, George, was a Ford dealer in 1904. His was the start of what became one of the largest dealerships in the world. It began as a hardware store that kept expanding as George realized that people had lots of wants and needs and he could provide many of them.
He added items such as grain, seeds, paint and even Christmas trees. Eventually they added a lumber yard and then a car dealership.
As early as age 9 Del started working for his father. He started driving and making deliveries. "In those days it didn't matter how old you were just so long as you could pass the test."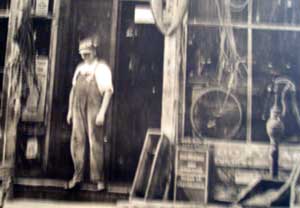 Young Del working in the family store


By the age of 11 he was driving the high cab-over-engine trucks from one state to the next. When he was stopped by the police he found out he needed a truck drivers license for the big trucks, so at age 12 he took, and passed, that test as well.

By the time he turned 13 the law was changed and you had to be 16 to get a license. Because he had been driving with a license all this time he was given a temporary extension and he was allowed to continue driving "for business purposes only."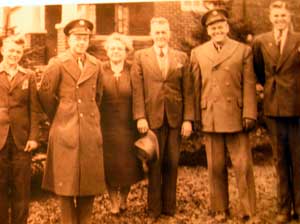 Young Del Spitzer (far left)
with parents and brothers



Del was never afraid of hard work. He remembers back in the 30's when his father could not afford a machine to unload the 50 tons of coal that would come in with each truck load. For 50 cents a day ("I remember when it went to $1.00 and how excited I was.") Del unloaded the coal one shovel at a time. "My father was always very encouraging. He always told me I was doing a good job and noticed when I was working extra hard."

For extra money Del would go to the Larson Foundry in Grafton and unload railroad cars full of coke for the furnaces. They paid him $20.00 a day and he felt like a rich man.

His father worked with his teachers to let him leave school at about noon everyday so that he could work. "As long as my grades were up. If my grades slipped that would have been different."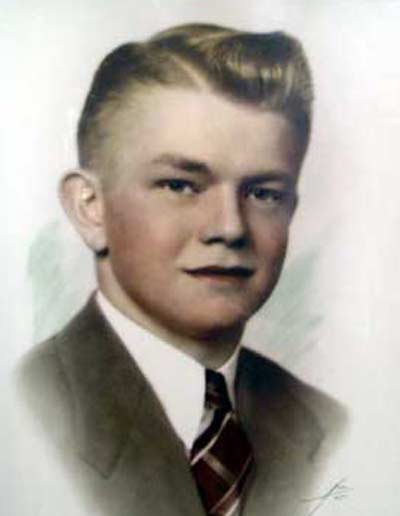 Del Spitzer High School Graduation Picture



Del was a forward on the Grafton High School Basketball team and also played in the marching band. Del had played trumpet from age 5 and continued on into the college band. He still has that same trumpet today.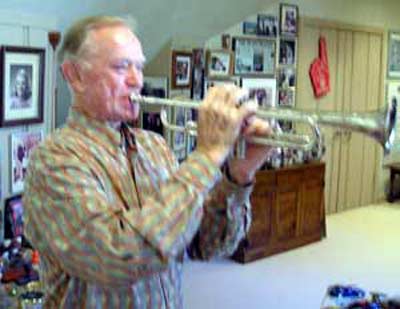 Del Spitzer playing his trumpet



He graduated in 1945. "In that same month three important things happened. I graduated from High School, WWII ended and my father died."

In 1945 Del took the physical to go into the military and passed. He was scheduled to go to Camp Benning in Georgia thirty days after high school graduation. As luck would have it he graduated from High School and within that thirty day period the war ended and he never had to go.

After High School he went to Baldwin Wallace, where he earned a Bachelor of Arts degree, then Western Reserve for his Masters in Business Administration. Baldwin Wallace recently made him an honorary PhD.

The first two years of college Del worked full time during the day and then attended night school. When the night school program was cancelled he went to college in the mornings and worked in the afternoons. He continued to work full time all through college including his time at Western Reserve.

He remembers his father telling all of his sons that they needed to leave Grafton - they would never make it in the business world if they didn't expand their horizons.

His brother Sidney had no interest in the car business and went into construction. Eventually he built a number of the dealerships. His oldest brother, Stewart, ran the Grafton dealership and never left the area.

In 1946 Del and his brother John went to Elyria. His father had picked out a piece of property there that would be good for a car dealership. He and John built their first dealership and stayed in business together until John died at age 75 in 1992.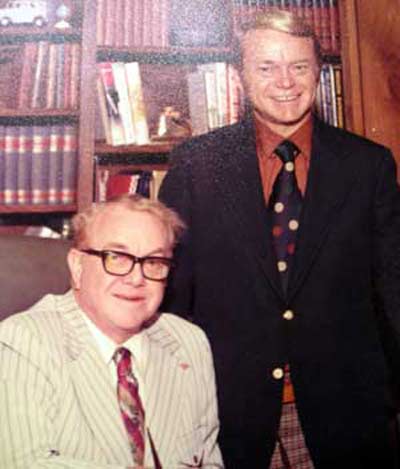 John and Del Spitzer



John, an Ohio State graduate, did all of the books and accounting work. Del was the one meeting with the public. "We both knew the importance of the other ones job and we both knew we couldn't do the other ones job. In all of the time we worked together - almost 50 years - we never had an argument. We didn't make decisions without consulting the other and we always came to an agreement before we acted on anything."

Del and John had 25 dealerships from Miami to Little Rock and of course Lakewood, Mentor, Mayfield Heights, Ashtabula and others.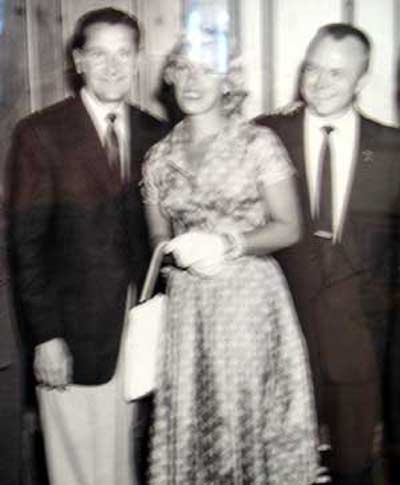 With Lawrence Welk



In 1950 a fraternity brother of Del's (Del was ATO) was dating a young woman by the name of Alice. He invited Del to go along with him one day and "When I got there, there was this babe - Annie. I remember thinking 'now that's a well turned ankle!" Annie was Alice's sister.

Del asked her if they could date, but she was still a senior in high school and not permitted to date college boys. But the next semester she started school and Del approached her again. "Now we can date" and as Del says "Neither one of us has looked back since."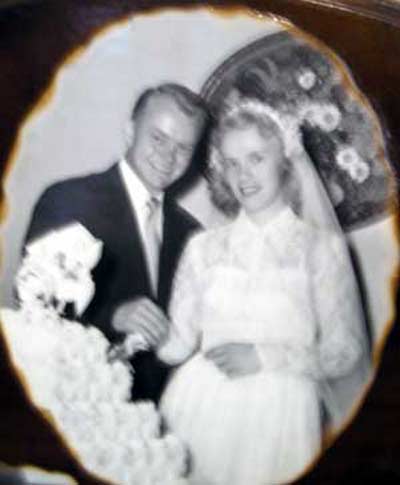 Del and Annie Spitzer wedding photo



Del and Annie married in 1951 right after graduation and the honeymoon has never ended. Annie's father was an original Cleveland Indians team member, Ralph "Dim" Benedict.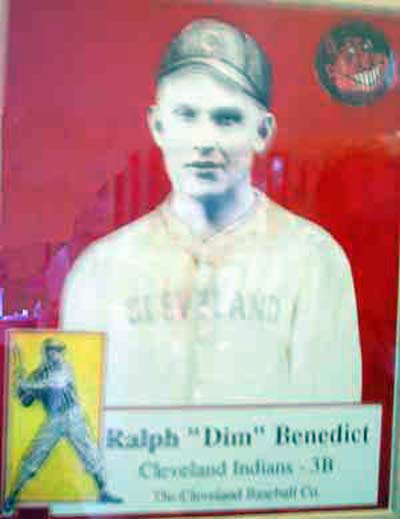 Ralph "Dim" Benedict,
an original Cleveland Indian



Annie and Del have four children; Donn (married with 3 children), Mary, Susan (who died tragically in 1984 from cancer) and, Diane (married with 4 children).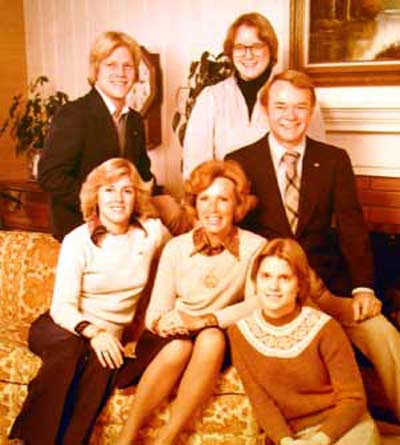 Del and Annie Spitzer and children



"Annie and I are so happy. She is such a wonderful person, it has just been great."

Del and Annie have traveled around the world many times "It's the curse of selling too many cars. I kept winning trips to everywhere".

Annie and Del have their winter home in Indian Wells Calfornia, just west of Palm Dessert. "I don't own a snow shovel - I have to leave."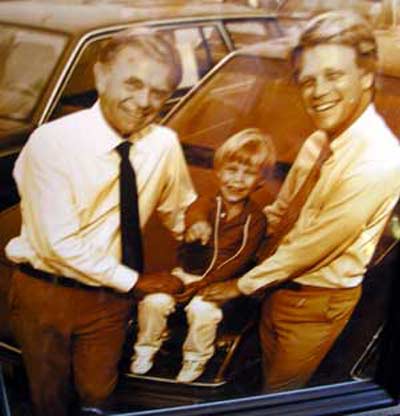 Three generations of Spitzers
- Del with son Donn and grandson



Del and Annie had two thousand people at their wedding reception at the Buttsman House Estate in Strongsville (which he owned). "We put the invitation on the front page of the paper saying everyone was welcome and over 2,000 people showed up."

He took the Dale Carnegie course over 50 years ago and learned so much that he had all of his employees take it. Then he went on to be a director of the company. "How To Win Friends and Influence People. That right there says it all."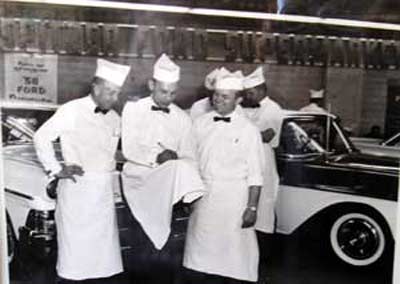 Del Spitzer in the 'Spitzer Ford Supermarket' with the 1958 Fords



Their home is a magnificent showing of light and openness with touches of nature's beauty throughout.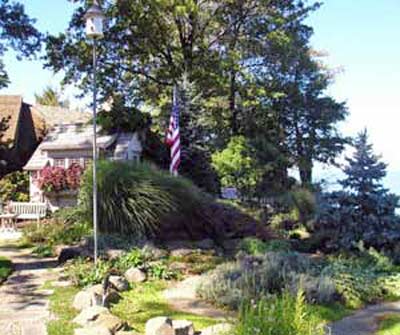 Outdoor view of Del and Annie Spitzer's beautiful home



The garden, which separates the house from the 50 foot drop to the shores of Lake Erie, are at once calm, peaceful and exhilarating.

Annie decorated the entire house and gardens, with the exception of one room on the second floor. "I call this The Cave and it's a collection of my stuff. I am an accumulator. Stuff. Stuff. Stuff. Everywhere you look more stuff."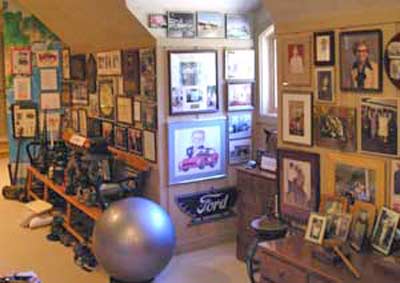 Part of Del Spitzer's "Cave"



By "stuff" he could be referring to the huge goldfish bowls of thousands of matchbooks from around the world. Or it could be the hundreds of pens he picks up wherever he goes. To be fair though, he also happily passes out "Del Spitzer" pens, too.

"Stuff" could also be the collection of railroad lanterns or early hammering tools. The ceiling fan in The Cave came from the Rockefeller Rail Road Station in East Cleveland.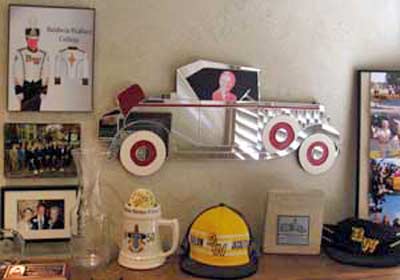 Go Yellow Jackets!



Del spent 20 years on the Baldwin Wallace Board of Trustees, just leaving in July 2006. Baldwin Wallace had given up their marching band in 1971 mainly for financial reasons. He always loved it and did everything in his power to resurrect the band. He was finally told it was just not possible because the cost of $200,000 was just not in the budget.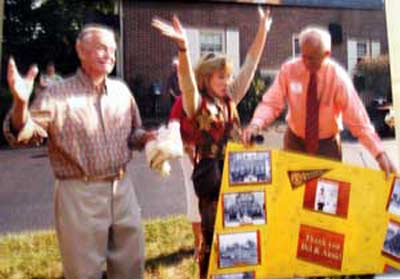 Del and Annie Spitzer celebrating the Baldwin Wallace Marching Band donation



Del donated the entire cost and the Marching Yellow Jackets took the field once again. On Saturday September 29 in an at-home win against John Carroll.

Del was also on the Board of First National Bank. His keen business sense helped him convince the powers that be that there were too many banks with "National" in their name and suggested they change it to First Merit - a suggestion they obviously took.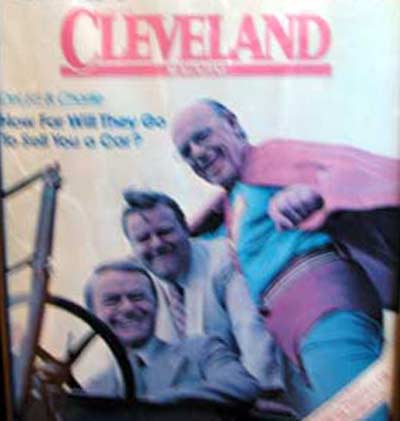 Cleveland Magazine cover with Del Spitzer, Ed Stinn and C Miller



Del has a pocket full of $2 bills; ready to be used to calm a youngster crying in a restaurant or reward another child for behaving so well. "Even the most unruly child stops in awe when I give them a $2 bill!"

Del retired in May of 1998 and today has no involvement with the business at all. Prior to retirement he says he was never home but now "I'm always here." He credits Annie with raising the kids "And she did a great job of it."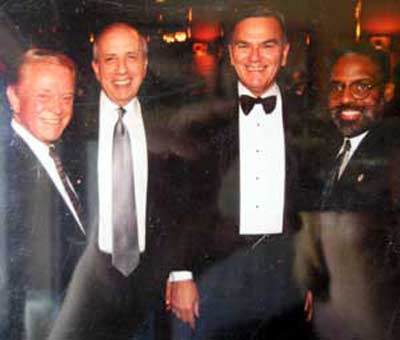 Del Spitzer with Al Lerner, Plain Dealer publisher Alex Machaskee and Cleveland Mayor Michael White


During his working years the dealerships sold " a million and a half cars one at a time!" To put it in perspective a million and a half cars is 28,846 per year or 1153 per dealerships (although they were not all open the same length of time). That's over three cars a day every day for more than 50 years!

Del's life philosophies are very simple. Be nice. Be happy. He read a book by Dennis Prager called "Happiness Is A Serious Problem." "The author says there is one word that creates happiness and that is gratitude. If you are grateful for all of the wonderful things you have, regardless of how simple they are, you will be happy."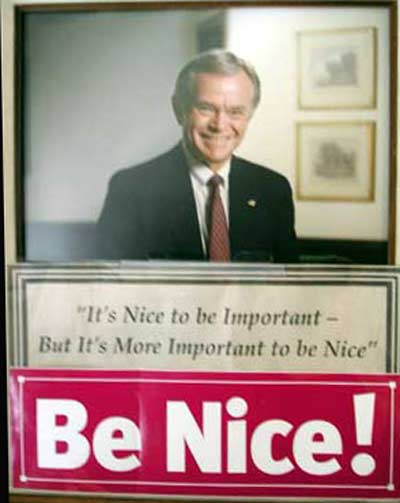 Nice guy Del Spitzer


He says although many people appear to be having fun, there is no telling if those people are happy or not. But a grateful person will always be happy.

He tells the story of an irate call he received at his home over twenty years ago. It was a Sunday and the caller was cussing and screaming that he wanted his money back because he changed his mind about a car he bought on that Thursday. Del recommended that he call and talk to the sales person when the dealership opened on Monday. The caller would not be calmed down. Finally Del told him again to call the salesman and suggested that when he call he go out of his way to be nice. "What you give is what you get back".

A few days later Del checked with the salesman and was told that yes, the man came in, and the salesman had the office prepare a refund check for him. The man had been especially nice and they didn't want an unhappy customer. "As it turned out he refused the check when he got it, but because everyone was nice it worked out for everyone."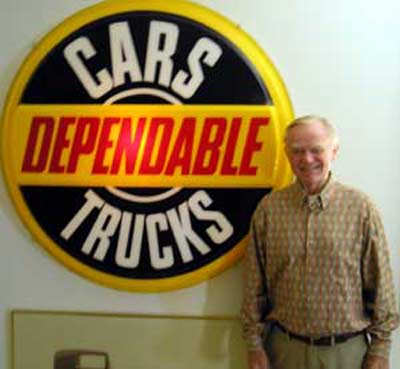 A Del Spitzer trademark - dependability



This caller (and any others) could always find Del by just looking in the phone book. He was always listed and insisted that all of his employees be as well. His phone operators were instructed never to ask "Who's calling?" since he wanted everyone available to a customer at all times. Del worked 75 hours a week, but never worked on Sunday. "It was really my only time to spend with the kids."

Del's philosophy that "Be Nice" creates "Be Happy" surrounded him in the workplace and at home. He had 'Be Nice' stickers all around the dealerships including on the inside and outside of the cashiers windows and in the service areas. "They always worked. They made people stop and think."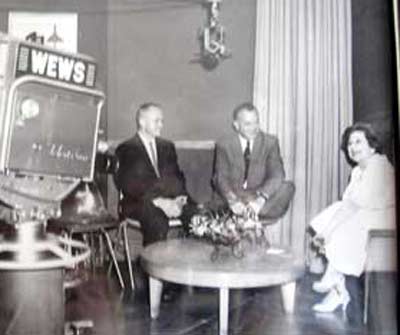 Del Spitzer on the Dorothy Fuldheim show



The most important word to him, as a business man, is one he learned when he was a junior in college. "Why?" Del notes that children ask 'why' all the time, but as they grow up they don't stop asking they just stop vocalizing it. But the question is still very important.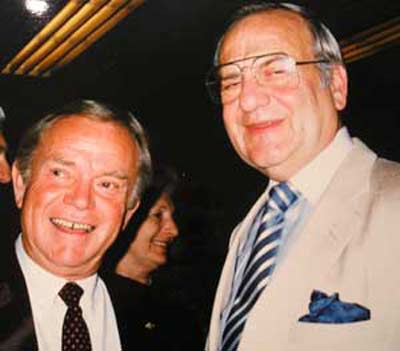 Del Spitzer with Lee Iacocca



If you tell a worker "why" something needs to be done quickly or tell a customer "why" something is the way it is they are always more satisfied and will help you accomplish your goal. "If they think they are just working on your whim they are less likely to cooperate."

"Ask why. Tell Why. Ask Why. Tell Why. I can't emphasize it enough."

"Every ad I ran I told them why the should buy a car from Del Spitzer. Very few people will do what they say they will do so in the ads I would explain why they should buy from us and then I added that 'What we say we'll do, we will do because I want to sell you a car now!'




"It was simple. I told them why we they could believe we would follow through - because I wanted to sell them a car."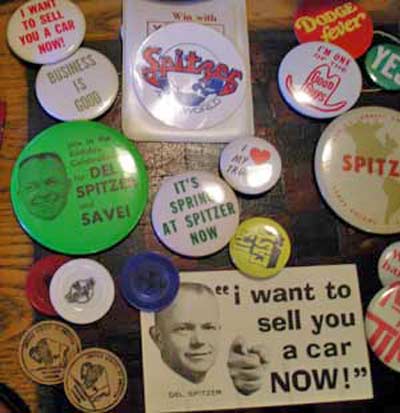 Do these look familiar?



Del thinks many of the things they did in business that were successful for them wouldn't work for others. They always tried to promote form within. "This way people who knew our program could continue the program in a new position or even a new market." The company had very little turn over, boasting employees of twenty, thirty and even forty years of employment.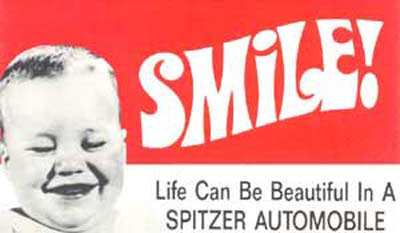 When his son Donn was about nine he would go to the Brookpark dealership and wash cars and do odd jobs. Then to make a little extra money he would take a salesman's business cards and the promotional yardsticks they gave out and put them on cars parked across the street from at the Mall.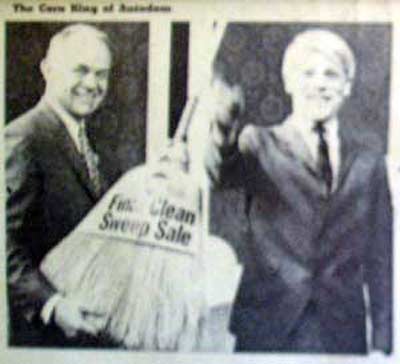 Del with son Donn


Donn was a natural for the "My Dad wants to sell you a car now" campaign. He was in charge of the Buick Dealership at Brookpark and West 25th at the age of 19 and "has been successful from day one!"



Donn Spitzer's famous line


Del was always a "Do it Now" person. His desk was always perfectly cleaned off. He would either handle an issue or assign it to someone else immediately. The only evidence was a notebook listing the disposition and status of items.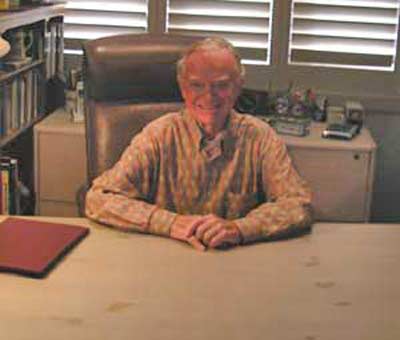 Del Spitzer and his clean desk
He passes out round buttons with the letters "TUIT" so that when an employee told him they would do it when they got "around to it" he could give them the button and they would indeed have a "round TUIT"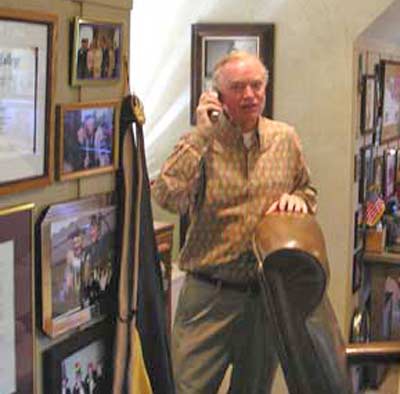 Del Spitzer at work in the Cave



For over twenty years Del has studied handwriting analysis and applied it to all job applicants. "It works. You can't get around it or trick it. It really works."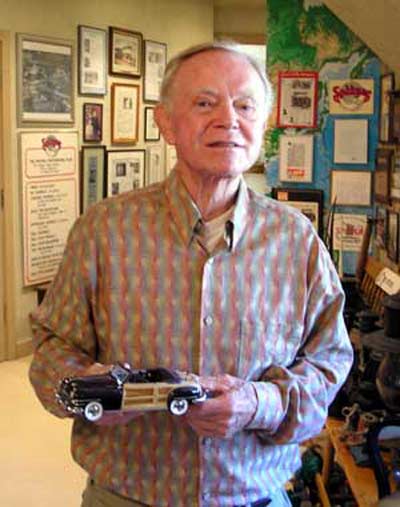 Del Spitzer with one of his collectibles


At one time Del had 120 antique cars. "Most are still sitting in Elyria collecting dust". He served on the board of the Western Reserve Historical Society's Crawford Auto Museum.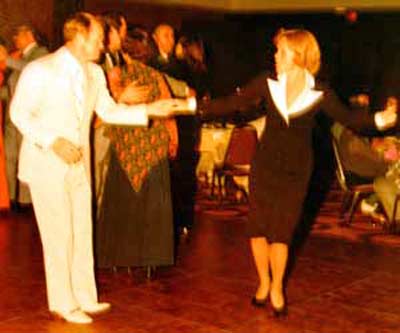 Del and Annie Spitzer cutting the rug



For fun now he goes to dinner with Annie. "She's quite a lady. And she had to put up with me all these years."

Del misses the people connection of work but not the stress and pressure. He spent most of his time on the road and he is happy to be at home now.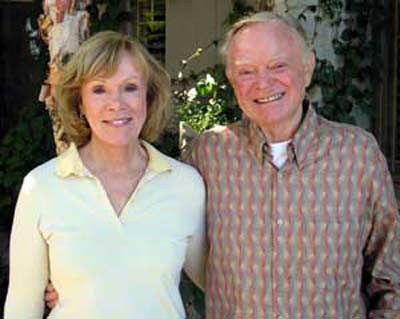 Annie and Del Spitzer



It is not hard to understand Del's success in business. He is the antithesis of every car salesman stereotype. He is kind, generous fair and sincere. He built his business and his reputation on his ability to keep his word and treat his customers and employees with respect.

A business person would do well to emulate the patterns Del Spitzer has established and we all would do well to learn from his values.




Profiled by Debbie Hanson
---
---
Top of Page
Back to Profiles of Cleveland Seniors