MagniPros Lighted Magnifiers
Review and Special Offers
2-17-22
Let's face it. Our vision is probably not what is was when we were younger. Even with "cheaters" it can be a struggle to read fine print in documents, prescription bottles, thread a needle and so on. And when the lighting is not as bright as we would like it can be a real problem.
MagniPros has solutions for these and other problems. Read on to see how you can get 20% off, get a second product for free or maybe even win a free product.
MagniPros has extensive experience in the optics industry, and has dedicated a team of engineers whose sole mission is to improve the life of individuals with low vision & aging eyes to be able to see more clearly with their devices. We tried 3 different models of the MagniPros. Here is what we found.
The 4x dimmable LED reading magnifier (Model ED12 and ED14) has a horizontal lens that simulates the way we naturally read.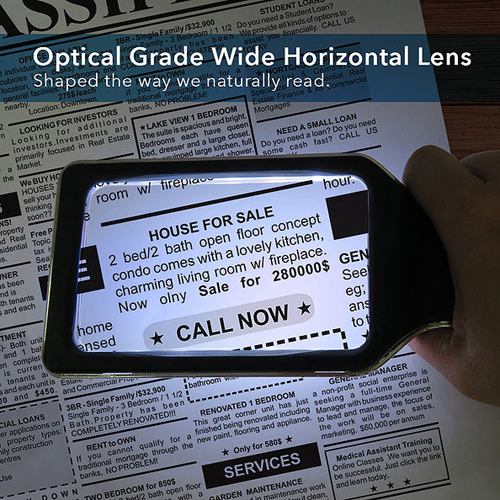 It has a comfortable handle attached to a crystal clear magnifying lens that is a little smaller than a 3x5 card.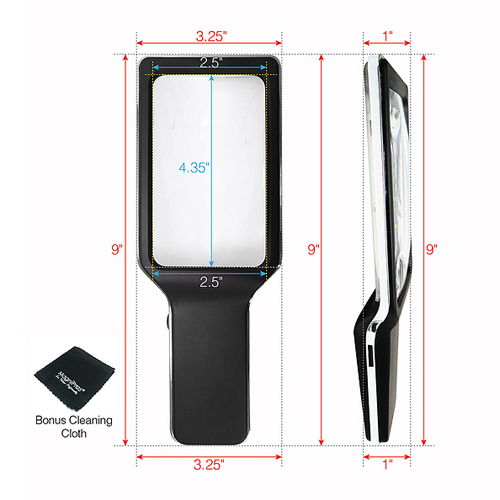 You can insert 3 AAA batteries (not included) into the ED12 or use the included USB cable to recharge the batteries in the ED14. Press the scroll wheel on the size to turn on the 10 Ultra bright LED lights. The scroll wheel lets you dim and brighten the LEDs for any situation. It really works well with fine print and/or darker conditions.

It comes with a protective pouch that doubles as a lens cleaner and a bonus magnifying card and ruler you can keep in a pocket or purse. They have great tech support (you won't need it).

Like the infomercials say, "But wait, there's more"

Once you get your MagniPros device you can contact them (phone, e-mail, Facebook or web) and they will send you another one - on them!

The next one we tried is the MagniPros 10x LED Dual Lens Magnifying Glass (Item # MP9896).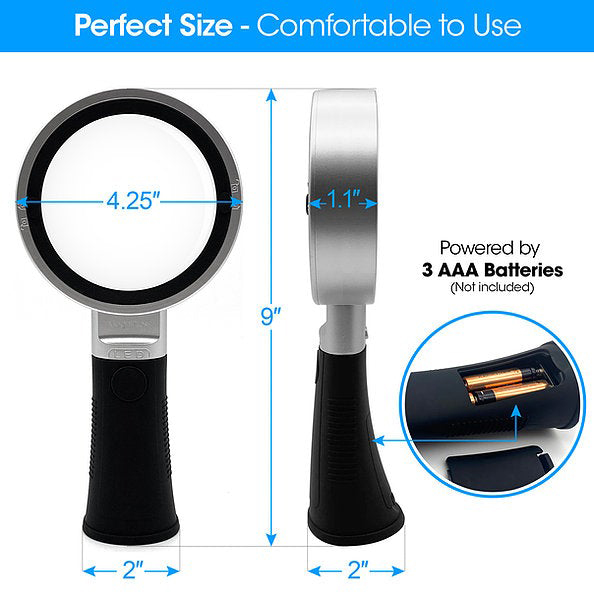 It is shaped more like a traditional magnifying glass - think Sherlock Holmes. You can change it from 5X to 10X magnification and back as desired. With the batteries you can then dim or brighten the LED lights and have a Warm, Cool or Mixed lighting mode. Again you will get the pouch/cleaner and the "Get another on them" offer holds for this model too.

This model can stand on its own so you can stand it up and have both hands free to look at your needle or pill bottle or other item.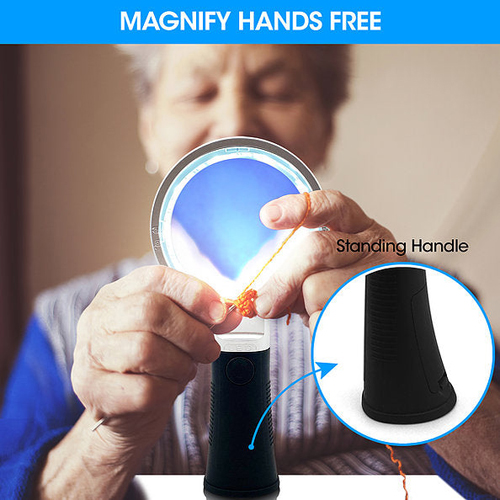 Then we tried the Anti-Glare LED 3X Page Magnifier.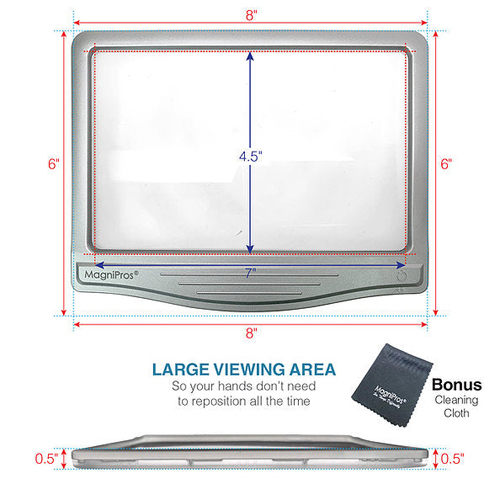 Model 1815 use batteries and the 1816 has USB rechargeable battery. The unit is very lightweight and 6" x 8" with the lens being 4.5" x 7". This may be the best choice for reading books, magazines, newspapers and so on because it covers more ground. In addition if you have any hand mobility issues you don't have to move this unit as much as the others.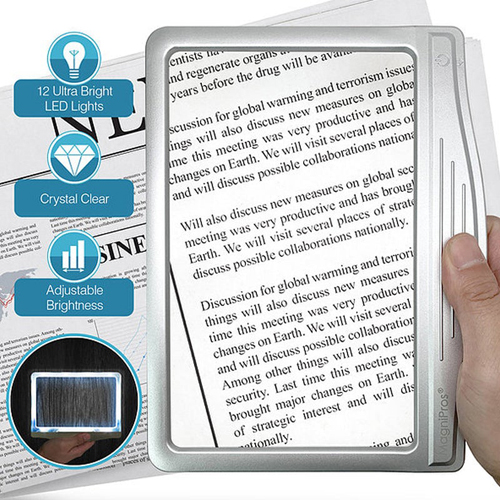 See these and other dimmable magnifiers.
Special Offer
Depending on the model they cost from $19.95 to about $24.95. But use the code Cleveland20 at checkout and you can get a 20% discount. And then once you receive the product, the promotion for "Next one on us" kicks in and you can contact them to get a 2nd one free.

They have useful tips on their website to choose the right items but here are a few notes:

When looking for the right magnifier, it is important to pick which magnification level is best for you. Say for instance a magnifier has a 3X magnification, that means the object or wording will be magnified three times which is equivalent to 300% magnification. Therefore, a 6X magnifier will magnify an object six times which is equivalent to 600% magnification. The higher the magnification, the stronger the magnification will be.

So is a Magnifier with the highest magnifying power the best? Not necessarily, the higher the magnification the shorter the focal distance. So in order to use a high-powered magnifier, you would need to put your head very close to the object you are viewing.

In addition, a magnifier that is too powerful will distort the image making it difficult to read. Lastly, a high-powered magnifier has a very small viewing area. If you have too high a magnification, it becomes difficult to use the Magnifier as you end up focusing on too small a part in the page. Don't get too caught up with magnification.

They also have tips on how best to use the magnifier for whatever usage you need such as for reading books and maps or as a jewelers loupe or whatever.

Here are the item numbers that you can get the discount on at www.magnipros.com
1815 both the Silver and Black page magnifier
1816 both the Silver and Black rechargeable USB page magnifier
MP9896 10X handheld round magnifier
1616 Large standard 3X magnifier
ED12 Battery operated handheld magnifier
ED13 Battery operated handheld magnifier at 3X with 5X bifocal lens at corner.
ED14 USB rechargeable handheld magnifier
But wait. There is even more! If you are not signed up for our ClevelandSeniors eNews, sign up at http://clevelandseniors.com/newtoday/notify.htm and you could win one of the above products.
---
Top of Page
Back to Products for Cleveland Seniors