Murphy and Me
By Kathie Kintz
In May of 2006 I was working at the Irish Summerfest when I received a phone call from my roommate telling me there was a yellow lab puppy for sale and he knew how much I loved Yellow Labs. Well, as busy as I was, I said sure, let's get him!
After the festival was over and things started settling down, the reality of getting another new puppy set in. "Do I really want to do this again"?
Well, we went to look at the puppies and there was one Yellow Lab, a few Black and a Brown. They were adorable, I wanted them all! But the Yellow Lab came running to me and cuddled onto my lap. My heart melted, this was the one I wanted.
You see, my brother had a Black Lab named Clay (after our very own Clay Matthews from the Cleveland Browns), and he was so well behaved and a therapy dog, so I knew that I could train this little puppy just as well! This is going to be great!
We debated on names, and he just looked like a Murphy to me! So Murphy and I bonded immediately. He was a great puppy, only chewed a few things and had a couple of "accidents", but he loved to play, walk, run, and just be a clumsy puppy! How could I ever think of not getting him?
So, time passed, Murphy grew and I thought it was time for some real training. I signed him up for classes and after taking him to a few, the trainer asked me if I knew that there were two breeds of Labrador Retrievers, the English Breed and the American Breed. I had no idea, until she pointed out the difference in Murphy's longer nose and more narrow head, did I realize he was from the American Breed.
She also informed me that the American Breed is not as easily trained and are more hyper than the English Breed, which my brother's lab, Clay, happened to be. Oh my, what have I gotten myself into!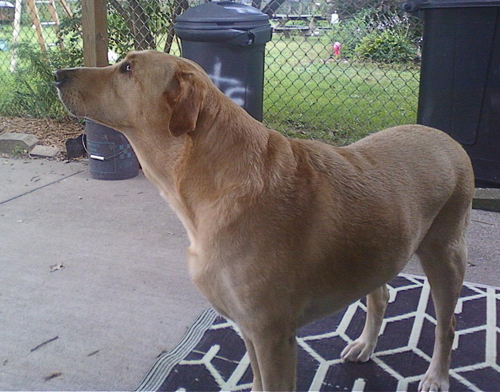 Needless to say, Murphy did not graduate from class. He didn't like to be told what to do and when to do it, much like his owner. I took him home to our 10 acre spread and let him run and get out his energy, or at least try to. Murphy and I moved and he has a fenced yard to run in and is actually walking a lot better on the leash.

I asked the vet when he will start to settle down and she told me around 3 years of age. Well, he is 6 now and is just starting to show signs of settling….a little. He actually lets me live with him and sometimes I even get to choose what side of the bed I'd like to sleep on.

This adorable little puppy has grown into a 98 pound dog, or should I say a 98 pound puppy. He will back up and sit on my lap, or lay on my legs like he is still a puppy. Would I have it any other way? Absolutely not.

His bark is vicious, but he will lick you to death. He excites easily when visitors come and always thinks that they are there to see him and play.

I love my Murphy, and after all of the back and forth about getting him, I could not imagine my life without him. Unconditional love is what he gives me, and I to him in return.
---
---
Top of Page
Back to Cleveland Pets