Collecting Mushrooms -
Living in the Dark
I am the last one in my family to ever know what's going on in anyone's life unless there is a crisis - it's the only time I'm called first. So, because I'm usually in the dark I think it's only natural that I collect "mushrooms". No not the kind you eat, silly, but beautiful and unusual ones made of glass, wood, porcelain, clay, crystal, and the like.
Someone once asked me when my fascination with these objects began and I truly couldn't tell them until one day my oldest brother was going through a box of family photos and found one of us kids at a birthday party. There I was in a splendid knit shirt with colorful mushrooms on it at the age of 6 or 7. Maybe that's when it started. After all living in a neighborhood where I only had boys and my brothers to play with I did feel in the dark even way back then. Whatever the reason, collecting mushrooms is my passion.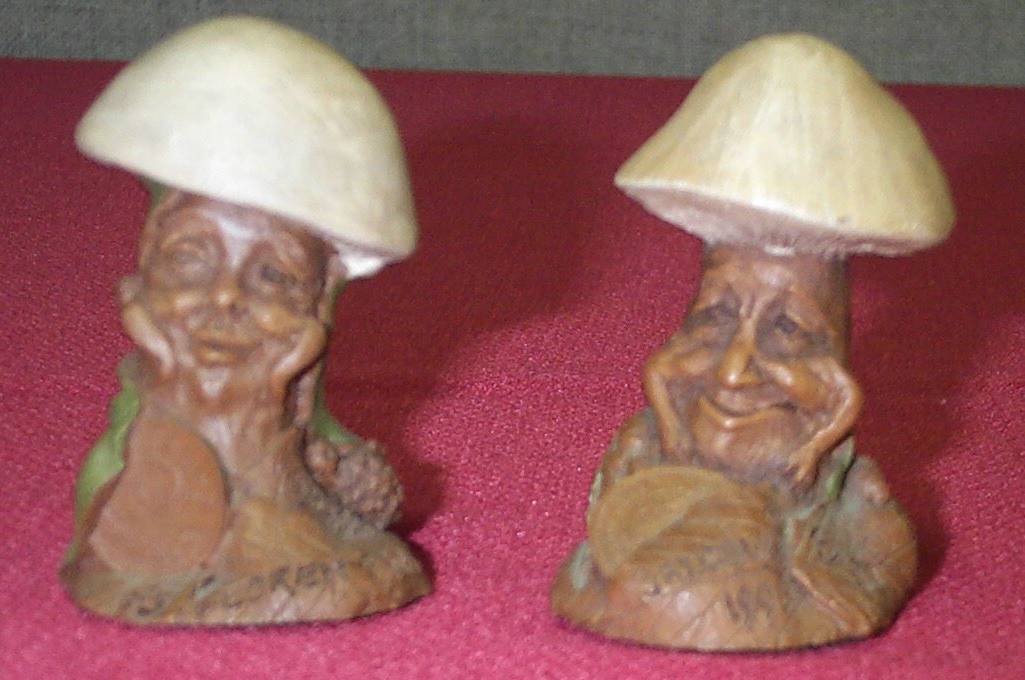 In October of 1973 I met a girl at a new job. She turned out to be a kindred spirit. To my amazement she too collected mushrooms. We thought it was cool. Everyone else thought we were odd. Odd as we may seem if we spot two, we get one for ourselves and one for the other until this day. Jealousy has occurred though when one of us has gotten a prize mushroom and the other doesn't have that one and can't get it either. We now just congratulate one another on the coup of obtaining that particular mushroom.

Presently, I'm winning the Great Mushroom Collection Challenge and plan on keeping it that way. I have also made it difficult for my best friend of 29 years as her daughter one day recently decided to collect them too. This happened because she found two real beauties, for me of course. Her youngest daughter begged her to let her have them instead so Aunt Ellen's influence brought another mushroom collector into the fold. Now one day too she will have a full flock.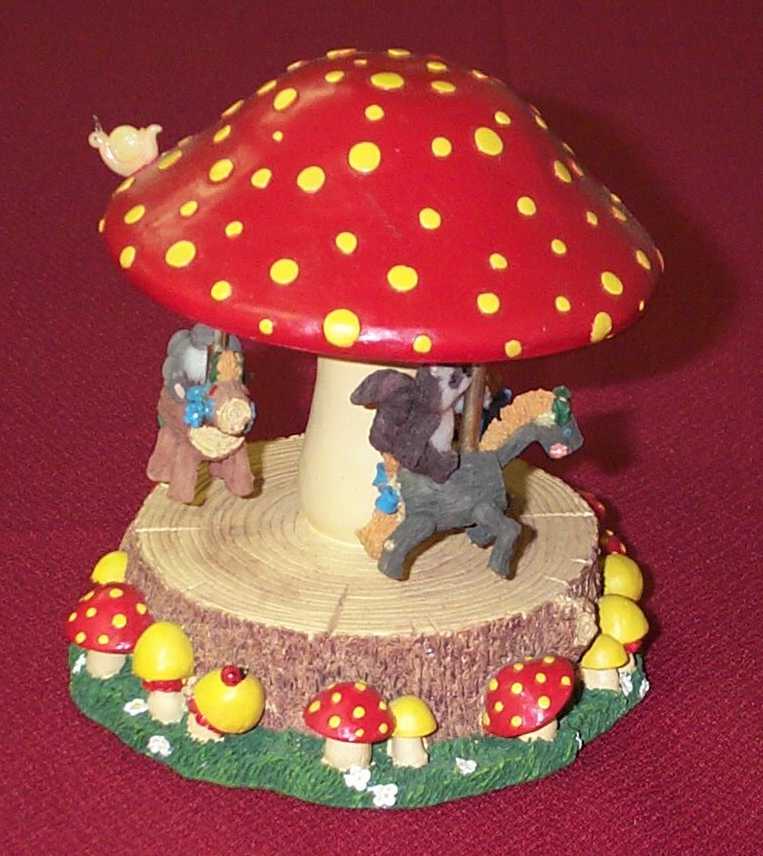 At last count I have 124 mushrooms and mushroom things displayed. I have mushrooms from Ireland, Scotland, Canada and Costa Rica - God love my friends and family. I have designer mushrooms from Cairn Studios and the Fantasia mushroom from Disney Studios (the small one - anyone who would like to get me the other two please do!).

Some of my more unique ones are; a carousel with baby animals riding on logs, an Irish mushroom house with a leprechaun sitting out front incense burner, one made of small sea shells, one whose top comes off made of spalted wood (I keep my favorite earrings inside this one), a sterling silver one, one of blown glass, and bunnies at a juice bar.

I also have a mushroom made by the Fenton Glass Company. Fenton Glass is very collectible, in fact it is highly sought after by glass collectors. Even the nightlight in our living room is a mushroom lamp which is flanked by a mushroom teapot and stackable creamer and sugar. (Glad my sister-in-law goes to those garage sales). And lest I forget the Christmas tree either. Yes, I have mushroom ornaments too on top of all the others. These items are just a few of my heart tickling treasurers.

I once had a babysitter I could have strangled. They decided to play hockey with my son in the living room and shooting for a goal into the fireplace instead it hit the mantle and shattered a mushroom which was part of a set of salt & pepper shakers from Las Vegas. I'm still not over that 15 years later.

My personal opinion is if your not passionate about what you're collecting and if you are collecting strictly as an investment not for pleasure and passion then you are in no-way a true collector.

I admit finding a mushroom is not the easiest item to find, but when it happens - wow! Just this past Christmas while shopping for clothes for my children and of course they had to be from a name store God forbid, there just sitting above the racks was a fabulous purple mushroom with ladybugs and flowers votive candleholder with a purple votive candle. Needless to say I bought that and not a Christmas present. Finding mushrooms became so frustrating for my Grandmother she crocheted me one of her own design. Now that she's gone when I look at it I smile even more.

My advice to collectors to save problems down the road is to make sure they are included in your will and be specific about how you want your collection to be handled. If you do not have a will then write everything out in a letter and have it witnessed and notarized.

My reasoning for this is because in my own family my grandfather had an extensive horse collection. It was not mentioned in his will and the whole collection went to one grandchild causing alot of dissension among his children, grandchildren, other family members and friends; all of whom had at one time or another had given him a gift of a horse for his collection.

The general consensus was that we felt we should have been able to have one of the horses we had given him that he so dearly treasured for us to remember him by. Had I myself been given this opportunity to have one of the horses I had given him not only would I treasure having something of his, but it would have been passed down to my children with pictures and my stories of my special times with him. Therefore, please take this advice into serious consideration it may seem trival now, but it could hurt your loved ones later.

All of my mushrooms are cataloged and marked who gave me which one, the ones I bought myself, and who has asked for a particular one if something should happen to me. Personally, after my children and grandchildren, should I have any, choose what they would like to have from my collection I say "SPREAD THE JOY AROUND !!".

See you when the lights come on and Happy Collecting!

Aunt Ellen

Footnote: Spalted Wood has a dramatic swirling of black lines and varying coloration caused by a fungus that attacks dead wood or wood that has been cut and left in a damp moist environment like that of a deep forest. Good quality is rare to find and is prized for its unique character.
---
Top of Page
Back to Hobbies and Collecting for Cleveland Seniors