The Hunt for the Lost
Leonardo DaVinci Painting
If walls could talk, high-tech art sleuth Maurizio Seracini's thirty year search for the Da'Vinci masterpiece The Battle of Anghiari would have been for naught. But as we all know, walls can't talk.
But with the help of some incredibly sophisticated equipment usually used only in the military and medical fields, the east wall of the Salon of Five Hundred, located in Florence's Palazzo Vecchio, has given up a tantalizing secret.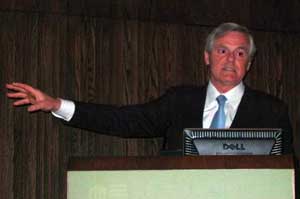 Maurizio Seracini at Cleveland Museum of Art
(Photo by Nikki DiFilippo)



During a recent visit to Cleveland, Seracini, as a guest of Case Western University's Art History Department, delivered a free lecture (Decoding Leonardo: Latest Findings) at the Cleveland Museum of Art in which he outlined his quest for Da'Vinci's mural.

The mural has gone unseen since the 1540's. By utilizing thermographic cameras, ultrasound, and a portable, ground-penetrating radar machine, he explained how he was able to detect a cavity varying from 1- to 3- centimeters thick in the wall of the great hall.

He believes Renaissance artist, Giorgio Vasari, created the cavity in an attempt to preserve the 1505 fresco. In the 1560's, Vasari was commissioned by Florentine powerhouse Cosimo Medici to renovate the hall after his family returned to power.

Seracini asserts that Vasari, a great admirer of Da'Vinci, would have had no reason to destroy such an incredible work of art and may have even provided his own clue to the mural's whereabouts.

In the upper corner of the east wall, not visible from the floor below, there exists a green flag on which the words "Cerca Trova" are painted. Roughly translated, the phrase means, "Seek, and you shall find."

The phrase could aptly be applied to Seracini's own career. Over the past thirty odd years or so, he has examined over 2000 masterpieces, developing along the way a non-invasive clinical approach to determining the provenance and health of a piece of artwork.

He is on his way to creating a whole new discipline in relation to the study of art, architecture, and archaeology, one in which an art diagnostician would work hand in hand with art historians, restorers, and conservators to protect and to better understand how art is created.

For example, he recently discovered that the venerated painting the Adoration of the Magi, long attributed to Da'Vinci, wasn't actually painted by the great artist at all. Employing his diagnostic tools, he was able to reveal the original cartoon or underdrawing Da'Vinci intended to paint, but never finished.

It took Seracini and three assistants nearly one year to assemble and enhance the 2400 infrared images taken of the painting. With the collage of the individual images complete, he was able to determine the orangey-brown paint we have become so familiar with was actually applied some fifty years after the original drawing was completed.

And not only was the painting not completed by Da'Vinci, the intent of the painting was also altered. Seracini's discovery has been one of the most important contributions to the understanding of the painting in the last one hundred years or so.

Earlier this year, the Italian Cultural Minister gave Seracini the green light on his project in the Hall of Five Hundred. So sometime in 2008, he and his team will begin removing Vasari's wall and mural in hopes of revealing the long lost Da'Vinci underneath.

With that in mind, one can't help but wonder what wondrous secrets lie beneath...

by Tammy L. Currier
---
---
Top of Page
Back to Art for Cleveland Seniors