Omar!
My Life on and off the Field
By Omar Vizquel with Bob Dyer
You have to like Omar Vizquel. Fans know that he plays the game of baseball with a passion and this book tells how he has brought that passion to all aspects of life.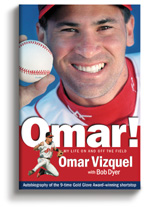 This isn't a book about the nuts and bolts of the game of baseball - you won't read how to advance a runner, hit a curveball or the infield fly rule. It's the story of an extremely talented and likeable guy who has embraced life for all it is worth.

The book kicks off with Game 7 of the 1997 World Series. As Indians fans we all suffered in our own ways. It's interesting to hear how it affected the players. One of the color photos in the book show Omar sitting alone in the dugout long after the Marlins had won the game.

After that heart-wrenching series, Omar needed to get as far away from baseball as possible. So he went deep into the jungle to see Angel Falls in his native Venezuela. Angel Falls are about 20 times higher than Niagara Falls and its remote location makes it an adventure just to reach it.

Omar tells of growing up in Venezuela, his first minor league assignment in the US in Butte, Montana of all places and other stops in the minor leagues. His major league debut with the Seattle Mariners and an error in his first game are all part of the well-told story.

It's great fun for a Tribe fan to relive the beginning of the Jacobs Field era of Champions. Omar tells about the 1994 pennant race and player's strike and that miraculous 1995 season when everything (except the World Series against Atlanta) seemed to go our way.

He gets into the personalities and hobbies of his teammates - Manny Ramirez, Kenny Lofton, Travis Fryman, Jim Thome, the Alomars, managers Mike Hargrove and Charlie Manuel and others. And of course - Albert.

You may have heard some of the controversy erupting from Omar's account of Albert Belle and the infamous corked bat incident. The account is straightforward and fun to read.

You'll read his impressions about Cleveland, the fans, Jacobs Field, millionaire players and who he thinks are the top players in the game. He talks about the natural disaster (floods and mudslides) in Venezuela and how September 11'th affected the team.

Bob Dyer is an award winning writer for the Akron Beacon Journal and he has taken Omar's colorful and interesting stories and turned them to a fun and easy reading experience.

This is a book that all of Cleveland (and much of the sports world) is reading and talking about. Whether you are a baseball fanatic or casual fan, you won't want to miss out.
---
Reviewed by Dan Hanson
---
Top of Page
Back to Books for Cleveland Seniors