Cleveland Food Memories:
A Nostalgic Look Back at the Food We Loved, the Places We Bought It, and the People Who Made It Special
By Gail Ghetia Bellamy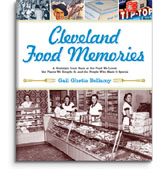 Hough Bakery,
Mawbys,
Clark's Restaurant,
Higbee's Silver Grille,
Captain Franks.
Those are just a handful of the many food memories presented in this new book. Perhaps you recently saw the companion documentary on TV on WVIZ.
Lots of pictures (over 200) and lots of quotes from people make this a fun book to browse through.
One section of the book features "Made in Cleveland" products such as Chef Boyardee, Beeman's Pepsin gum, Dan Dee pretzels and chips, Cotton Club and even Life Savers.
The book will definitely make your taste buds eager to relive some of the great experiences of the past.
Fortunately, there is a section called "Taste Yesterday Today" that will help you find some of these favorites (or close approximations) such as Humphey's (Euclid Beach) popcorn balls and taffy, Hough Bakeries, Big Boy sauce and more.
Reading the book triggered memories (cleaning the plate at Clarks so the kids could grab a toy from the Treasure Chest) in my family and will undoubtedly do the same in yours.
---
Top of Page
Back to Books for Cleveland Seniors