Senior Smart Puzzles
by Lindy McClean


We all know the phrase Use it or Lose it and that applies doubly to using your mind. Puzzles are a great way to keep your brain active and alert.
Author Lindy McClean works as a massage therapist in the small coastal town of Brookings, Oregon. She graduated from California State University at Fresno with a BA in math. She was inspired to write Senior Smart Puzzles by her massage patients.
Senior Smart Puzzles is magazine sized and 46 pages long. There are 3 kinds of puzzles in the book: Mazes, Hidden Objects and Same/Different Puzzles.
In the Mazes, you trace a line from the start to finish. Hidden Objects will display a scene like 'Find 8 sundae glasses in the soda shop picture. Same/Different Puzzles show two almost identical images and then ask you to find a certain number of differences in the two.
The seniors that we asked to try the puzzles liked the basic format. They especially liked that the pictures used were drawings of scenes from the past such as Mickey Mouse Club, Big Bands, old cars and the like.
The puzzles themselves were deemed as too easy. They would have liked them to be more challenging but they did enjoy it. Solutions are available in the back of the book.
Senior Smart Puzzles Book 2 is very similar to the first book. The same puzzle types and lots of memory-invoking drawing in the puzzles such as Bob Hope, Shirley Temple and the Spirit of St. Louis.
Here is a sample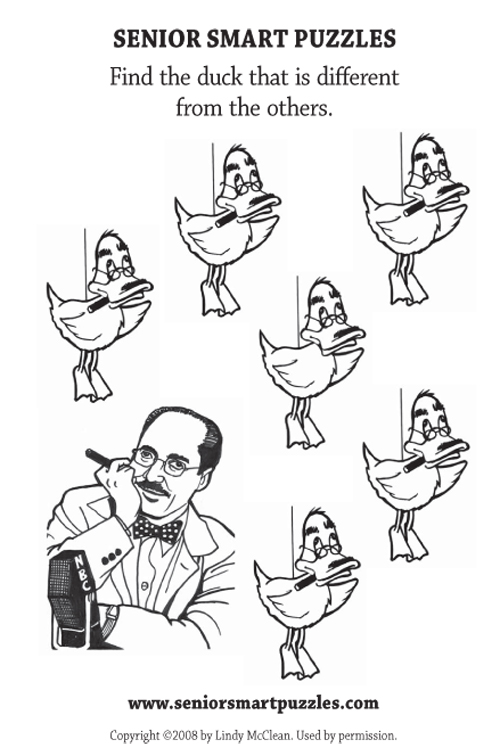 One new variation asks for you to find items beginning with a certain letter such as "Find at least 10 things that start with the letter S in this scene of New York." Our reviewers found those a little more challenging since they had to think of the words and identify the pictures.
There are probably seniors in your life who will have fun with these books - while they keep their minds a little sharper.
---
Top of Page
Back to Movies for Cleveland Seniors