Truth and Justice for Fun and Profit: Collected Reporting
by Michael Heaton


If you were expecting light and witty commentaries a la the Minister of Culture columns in the Plain Dealer's Friday Magazine, you are in for a surprise. This book is a collection of almost 40 feature-length newspaper articles, many from the late, lamented Sunday magazine.
Most people probably don't read the byline of a newspaper article unless it's under a columnist's photo. So I was surprised that some of these gritty and real recountings were from the Minister of Culture.
Every story has some Cleveland connection and that adds to the fun for us locals; I got the same kick out of reading about names, places and institutions I am familiar with as I do with Les Roberts' novels.
But the stories stand by themselves with or without the Cleveland backdrop.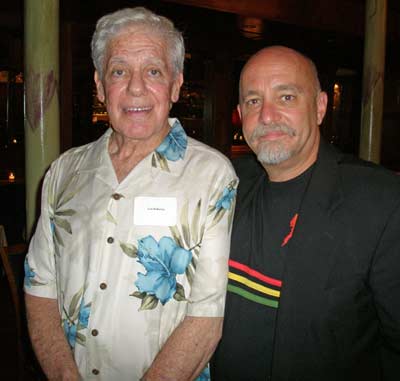 Les Roberts and Michael Heaton
at the book launch party



Joe Eszterhas wrote the forward and tells how Heaton (and he) love Cleveland. So much so that Heaton "left some of the primo hip cities of the world (New York, San Francisco) to come back to Cleveland."

The features are broken down into 5 sections: Crime and Punishment, Passport Required, City Streets, Life and Times and Popular Culture. The articles range from 1983 to 2007 and I found myself jumping to the end of many of them to check the date as I was reading. Especially when reading names like Squeaky Hilow, Danny Greene, Big Jim Butler, Michael Miller and other people that I've had experiences with.

You will find yourself wishing that some of the stories about the FBI or the mob or the characters at the Theatrical were not only longer but somehow transferred to the big screen or at least a TV show. They are more riveting than most of the viewing options we now have.

Some of what he writes about will shock Clevelanders. This can't be going on in my city! Who would imagine the nice kid from Gates Mills being a heroin addict? Or the Gypsies, stalkers, con artists and others from the hidden underbelly of the city that Heaton exposes.

The fact that Heaton is well-read and well-traveled is evident in his writing. He can effortlessly include an Ambrose Bierce quote or pay tribute to Raymond Chandler's Philip Marlowe by writing an entire feature (on the Theatrical no less!) as if it was Chandler's The Big Sleep.

For those who wonder about Cleveland Mayor Frank Jackson's leadership, be sure to read the 1992 article called Saving Central for a side of then councilman Jackson you may not have seen.

You can time-travel and see if the 1994 Harvey Pekar or the 1995 Michael Symon resemble their 2007 version.

You don't have to be a Clevelander to appreciate the Gary Collins story or the account of Casey Coleman's battle with cancer. They work anywhere.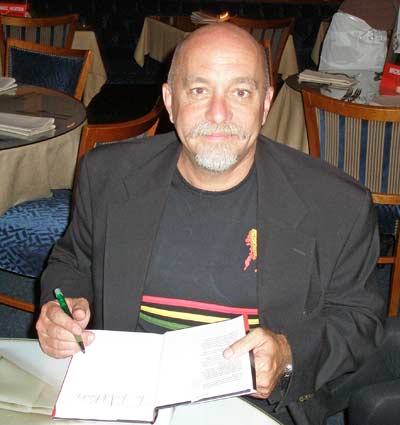 Michael Heaton signing his new book



The final section on Pop Culture is lighter (save for the last article - about 9-11-2001) including Heaton's climb into the boxing ring, a look at Big Hair and the flipside - guys losing their hair.

This is a book that will give you a lot to enjoy and a lot to think about. If you're like me you'll start searching for Heaton's byline in the daily PD perusal to get another fix. This book will keep you turning the pages. It's a winner.
---
For more information or to buy this book from Amazon.Com just click Truth and Justice for Fun and Profit: Collected Reporting
---
Listen to an interview with author Michael Heaton
---
Top of Page
Back to Books for Cleveland Seniors