9-11 Memorial and Museum
By Tom Mugridge


If you find yourself in Lower Manhattan, you should plan a visit to the 9-11 Memorial and Museum. Start with a walk around the 2 reflecting pools that sit where the 2 towers once stood. They cover about an acre apiece, and contain the tallest manmade waterfalls in North America.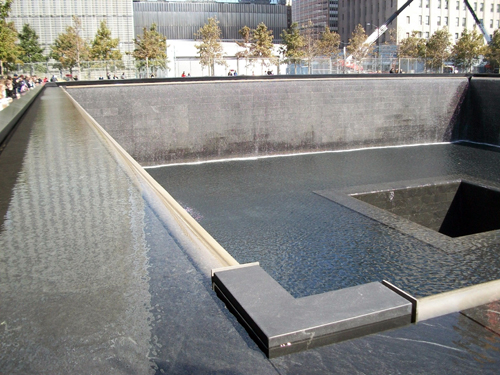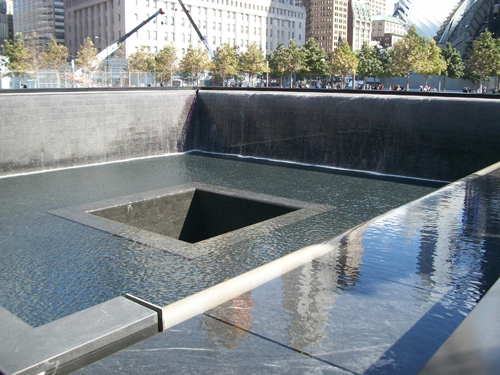 Inscribed on the bronze panels edging the pools are the names of every person who died in the 2001 attack, as well as the attack on the World Trade Center in February of 1993 that killed 6 people. The names serve as a stark reminder of the largest loss of American lives on American soil by a foreign attack, and the largest single loss of rescue personnel in our history.

Many visitors leave a flower by the name of a lost loved one or friend. Quite a few flowers had been placed the day of my visit.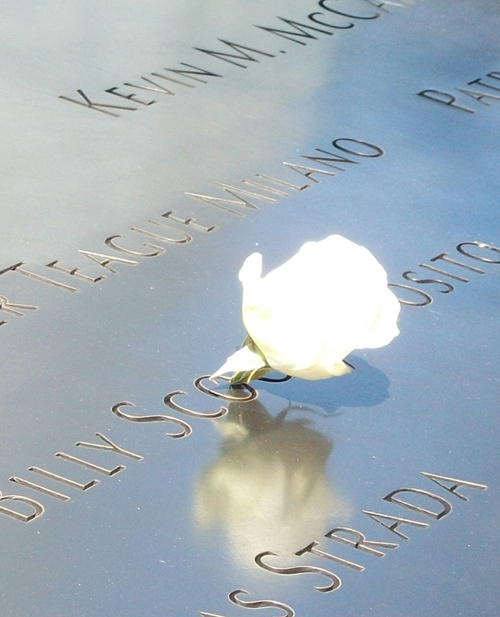 While viewing the grounds, take note of the many trees that have been planted - swamp white oaks, chosen for their sturdiness and beautiful fall color. Look especially for what has been called the "Survivor Tree", a badly-damaged Callery pear that was plucked from the rubble and placed into the care of the New York Department of Parks and Recreation.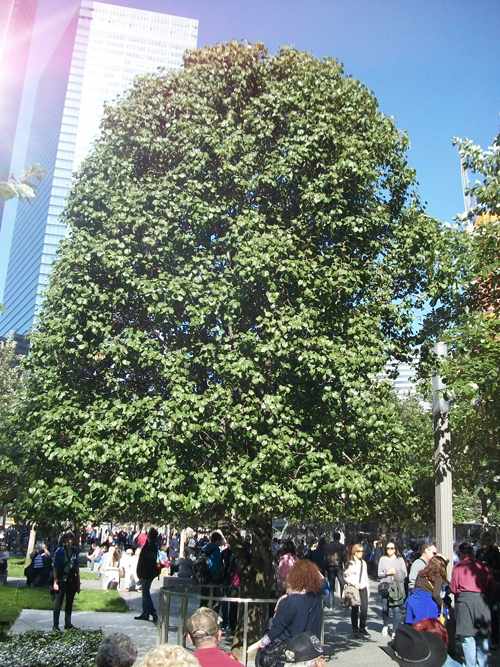 After its rehabilitation, it was returned to the park in 2010, where it stands as a living reminder of survival and rebirth. You'll be able to identify it because its shape and leaves differ completely from the swamp white oaks. I won't tell you which pool it's near, but I will say it's on the west side.
After visiting the pools, head for the museum itself, which is immediately adjacent.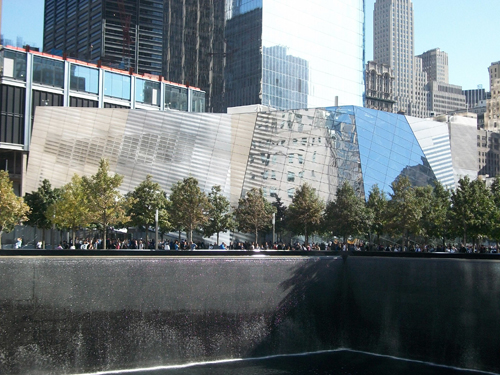 The museum opened in May 2014, and there is an admission fee. The facility is wheelchair accessible, and there are manual wheelchairs available free of charge (first-come, first-served).
Audio tours are available via handheld devices, and downloadable as an app for iOS and Android smartphones. Bring your own headphones, or you can purchase them at the Information Desk. ASL interpretation is also available, free of charge (with 2 weeks' notice requested. For more details prior to your visit, go to their website at www.911memorial.org.
Be prepared to go through security just like at the airport, so don't bring anything that won't pass airport security, like a pocketknife (I always carry a pocketknife, and I was glad I had left it in my hotel room).
Non-flash photography is allowed throughout most of the exhibits. The areas where it is prohibited are clearly identified, and if you forget yourself, a museum guard will be quick to remind you.
I headed for the lowest level, where I viewed a "slurry" wall remaining from the South Tower.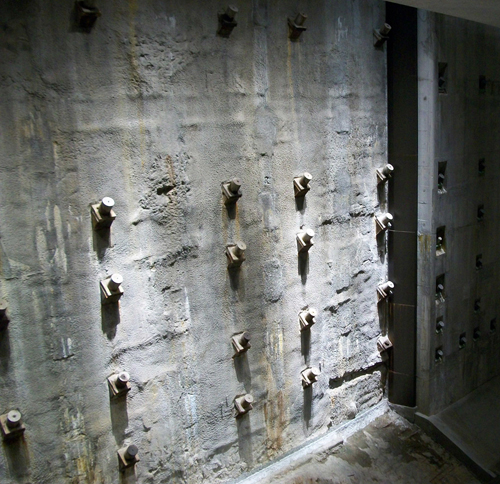 I also viewed what is called the "Last Column". The "Last Column" is 58' tall and weighs 36 tons. It was the last of the 47 columns supporting the South Tower that remained standing after the building collapsed.

It spent 7 years in a hangar at JFK, where it was carefully restored. It was returned in 2009, emblazoned with fire and police insignias. It has since collected Mass cards, photos of missing persons, and letters from children to parents who will never be coming home. Once erected, the Museum was literally built around it.
The Museum has a natural flow that takes you past the exhibits. Many pieces and parts of the Towers are on display such as an elevator motor.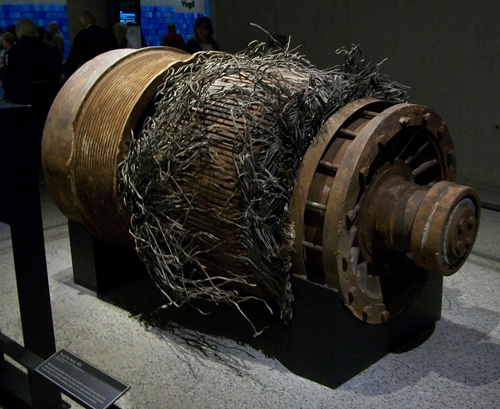 You will also see a heavily damaged fire truck.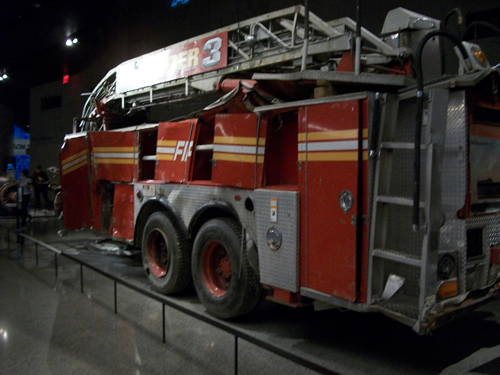 Also visible are components of the building's foundation. Included are "box columns", so-called because of their rectangular shape and hollow center. 73 steel box columns, anchored 70' belowground, supported each tower around its perimeter.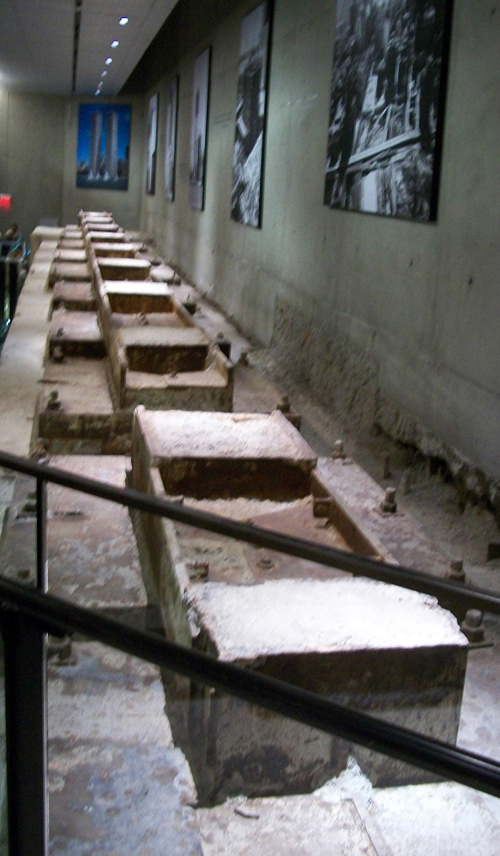 One of the things I found very sobering were the remnants of the Vesey Street stairs.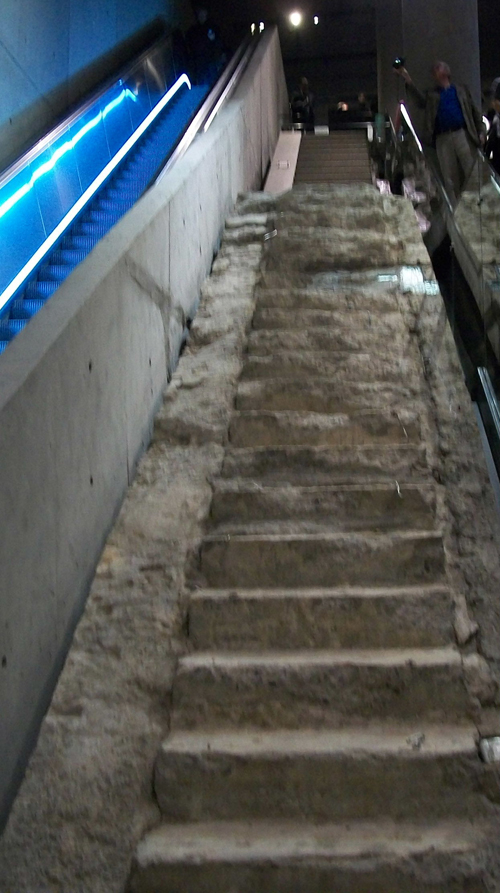 This staircase connected the northern edge of the World Trade Center's plaza to the Vesey Street sidewalk below. It, and an adjacent escalator, provided an escape route for hundreds of people. To realize that survivors actually ran down these stairs to safety that day makes one shudder.
Before leaving the museum, you can enter a Recording Booth where you can add your voice to the exhibits. Record where you were that day, what you were doing, or any remembrance you'd like to add.
Once you exit the museum, take a moment to absorb all you've experienced. You may want to re-visit the reflecting pools for your own final reflections of 9-11-2001.
---
Top of Page
Back to Travel