Trip to Germany Part 2
At Home In Germany
by Ron Kitson
Our trip from Cleveland Hopkins Airport to Philadelphia was quick and uneventful. On the SRO shuttle bus to the overseas gates at Philly, a wonderful young lady offered me her seat.
She didn't offer to share it with me mind you, she was willing to stand so that I could be seated. I thanked her very kindly but declined and thought to myself, gee, do I really look that old? Not an encouraging sign but a nice gesture.
In Philly we had trouble understanding the announcements and so did lots of other people whom you'd hear say "Did you hear what she said?" or "What gate did he say?" Most of the announcers talk much too fast, and some who don't, can still be difficult to understand. It's important information and I think they should use announcers we can understand.
The USAirways Airbus roared, rumbled and then soared to a smooth highway somewhere between the clouds and the stars and but for a moment of what seemed like weightlessness somewhere out over the briny, it was pretty much ripple free and enjoyable. I need to continually remind myself however, that these are extremely safe, comfortable and dependable flying machines, but somehow I just can't seem to sleep in them.
The airport in Frankfurt, Germany is very modern, clean and well organized. All PA announcements come first in German and then English seemingly by the same announcer and in each case, easy to understand with only a very slight trace of an accent. Convenient luggage carts are provided as a free service and have drop-off locations in the parking garage.
If you're flying overnight to Europe and you have friends or family meeting you at the airport, be real sure they understand your schedule. Don't tell them you're coming on the 29th as we did if that's the day your leaving. Tell them you leaving Thursday evening the 29th and that you'll be arriving Friday morning.
They drove all the way from Zweibrücken to Frankfurt to pick us up Thursday morning. No wonder they couldn't find us, we hadn't left the house yet. I had my old cell phone upgraded to a "World Phone" (Cingular GSM) so we could keep in contact with them and were able to send them a Text Message as we boarded in Philadelphia.
It was the first time we were able to travel in Europe yet stay in touch with the folks back home. They call their cell phone a "Handy" and never leave home without it. They were able to use theirs here via the Cingular and T-Mobile towers on their most recent visit to Ohio.
Zweibrücken, which means two bridges, is a rather small city of approximately 38,000 people, likely as many bicycles and no skyscrapers. I don't recall seeing or hearing any dogs there but there probably are some.
It is in South West Germany not far from the French border and on the border of Saarland which is now part of Germany. The larger city of Saarbrücken is about 35 km (22 miles) to the West.
Cities in Europe are more compact than ours, especially residential areas. As with most other cities in Germany, this one is quite old and at least the facades of the old downtown buildings have been preserved.
Earliest mention of Zweibrücken in the historic records is in 1170 and in 1182, Count Heinrich the 1st became "Graf (Count) von Zweibrücken" when it became a self standing or independent "Grafschaft" or county.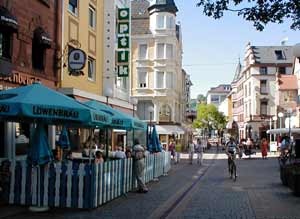 A relaxing September afternoon
in downtown Zweibrücken



The city has a large cobblestone square in the heart of the city and hosts a sizable weekly outdoor fruit and vegetable market. It also has some smaller cobblestone squares void of motor vehicle traffic other than those making deliveries.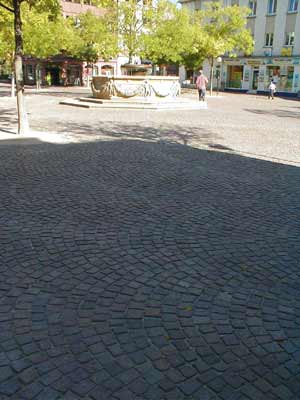 Zweibrücken fountain and cobblestones
A large portion of the shopping area is off limits to regular traffic and is reserved for pedestrians and bikers. Something I noticed about the cobblestones is that they often use light colored ones to mark the traffic lanes, crosswalks and parking slots. This eliminates the need to paint and repaint.
There is nearby indoor and outdoor parking and the rates I noticed at the outdoor lot was 40 cents for the first hour and 2.20 (Euro) for all day. One Euro is worth a little over our dollar at this time but we tend to think of their prices at par to keep it simple.
Probably the biggest tourist attraction in Zweibrücken is their famous Rosengarten which is very large and home to just about every kind of rose in the world and well worth a visit.
There is also a totem pole in the garden in front of a cluster of Sugar Maples all donated by the Canadian Government and the Royal Canadian Air Force 3rd Fighter Wing, an important part of NATO Air Defenses in Western Europe after the War.
The ceremony on May 31st, 1969 wasn't to celebrate the fact that the Canadians were leaving, it was rather in recognition of the wonderful relationship that had developed over the years. Also, we had a hockey rink on the base and on "Skate Nights" civilians were invited and they seemed to appreciate that a lot.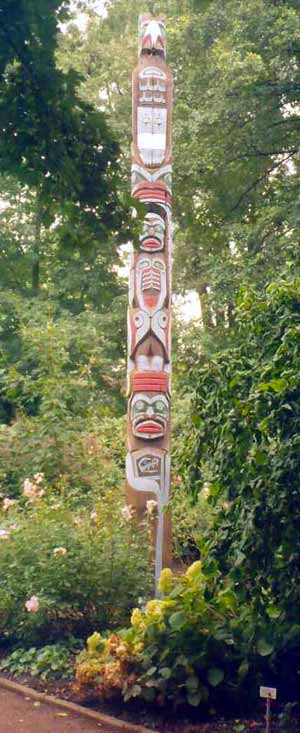 Totem Pole in Rosengarten
---
Top of Page
Back to Travel
Back to Cleveland Germans
Back to Ron Kitson Memories and Stories