Ernest "Mooney" Warther
World's Master Carver
by Ron Kitson
Most will agree Jack Nicklaus is the world's all-time greatest golfer, Frank Sinatra the best "Pop" singer, Wayne Gretzky the best hockey player and Dover, Ohio's Mooney Warther was without a doubt the world's master carver.
Born in Dover in 1855 to Swiss immigrants, Ernest Warther (everyone called him "Mooney") took neighbors' cows to pasture each morning as a young boy to earn money for his widowed mother. He would spend the day in the pasture then bring the cows back into town in time for the evening milking. On days when the weather was too severe, the cows remained in town with their owners and little Ernest went to school. He eventually completed the second grade.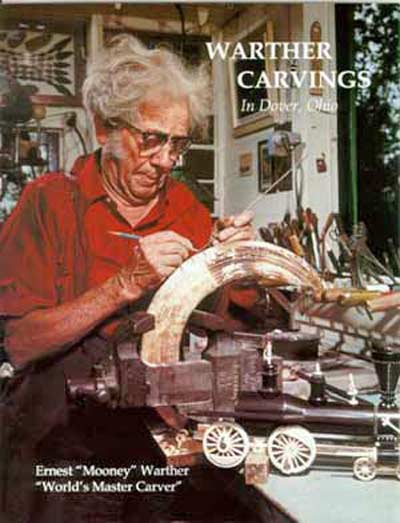 On one of his trips to pasture, he stumbled onto a pen knife and began to whittle to pass the hours. A hobo showed him how to whittle a pair of working pliers from a single piece of wood. He then learned to whittle chains and balls in a cage.

Fascinated by the steam engine and it's long history, Mooney's next project was to build himself a workshop, stop whittling and begin to carve the history of the steam engine.

This led to the most magnificent, incredible carvings the world has ever seen. "Priceless works of art" according to the Smithsonian Institute. "A mechanical and mathematical genius" said others, "his work is exactly to scale."

In 1899 at the age of fourteen, Ernest Warther went to work in a steel mill, The American Sheet & Tin Plate Company in Dover where he worked for the next 23 years and in the evenings he carved. He began with Hero's steam engine of 250 BC that powered curtains enabling them to be opened or closed in response to words uttered by the priest as if by divine intervention.

In all, 64 incredible carvings of early steam engines, railroad locomotives and indeed entire trains ending with the Union Pacific Big Boy of 1941.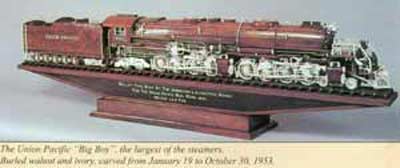 Union Pacific Big Boy carving



Thousands of pieces and as with all his carvings, the moving parts operate. He began with beef bone and walnut. He later carved from ebony and the worlds finest ivory. He learned a lot about metallurgy at the steel mill and was able to create his own carving knives that would cut the ivory and yet retain an edge.

He made kitchen knives for his mother and then for friends and neighbors and then for anyone who wanted the best knives in the world. Knife making was to become his main source of income as it is to this day at the Warther Museum.

We have a complete set of Warther Kitchen Knives in a woodblock, a gift from our son who visited the museum two or three years ago.

In 1923, Mooney quit his job at the steel mill and went to work for the New York Central Railroad touring the country with his carvings and later displayed them at the Grand Central Station in New York City.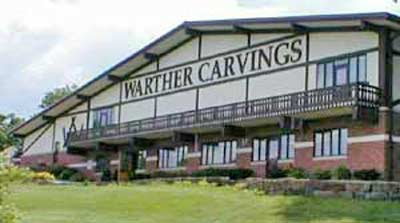 Warther Carvings Building in Dover, OH



At the age of 72 he started his carvings of "Great Events in American Railroad History." At the age of 80, he carved the entire Lincoln Funeral Train in ebony and ivory with mother of pearl accents.



The original 8 x 10 foot workshop is still there as an attachment to the Warther Museum just as he left it with his tools, stove and an unfinished locomotive.
The museum is run by son Dave Warther as well as grandson Mark Warther and other members of the Warther family.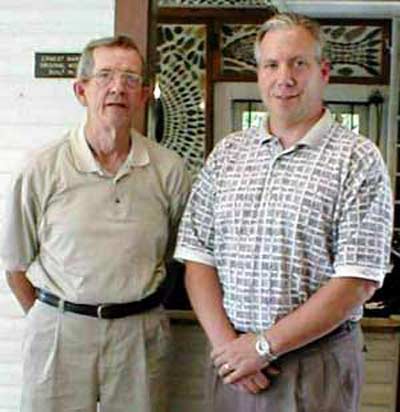 Ron Kitson and Mark Warther


There is so much to tell you about Ernest "Mooney" Warther and so little space but a wonderful museum you should visit that offers regular tours and of course a website. You don't have to be a train buff to appreciate the genius and if you're like us, after your first visit, you'll want to return with friends.

Tours are 9 to 5, seven days a week, March through November. Visit them on the web at www.warthers.com or e-mail them at info@warthers.com.

See the Warthers in their booth at the Fabulous Food Show in Cleveland November 2007



---
Top of Page
Back to Ron Kitson Stories
Back to Travel