Jim Thorpe and Jim Thorpe, Pa.
by Ron Kitson
Most of you who read these columns will no doubt remember Jim Thorpe the athlete. However, outside of Carbon County, Pa., we just don't hear or read the name much anymore. How soon we forget.
The Associated Press Writers named Jim Thorpe "Athlete of the 20th Century." More on this incredible athlete coming up but first, let's visit his final resting place, you guessed it, Jim Thorpe, Pa.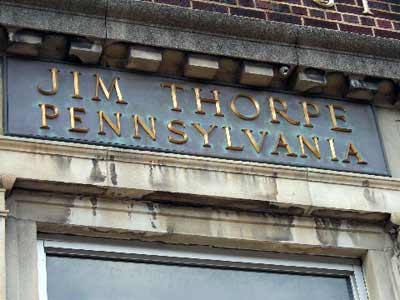 Jim Thorpe, Pennsylvania Post Office



Nestled in the Pocono region of eastern Pennsylvania, Jim Thorpe had its beginning back in 1816 as a coal shipping village which grew to be known as Mauch Chunk along with East Mauch Chunk. How and why it was to become Jim Thorpe, Pa. is quite an interesting story.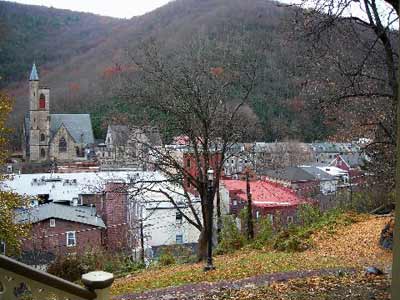 A section of Jim Thorpe, Pa. including the very old and beautiful St. Marks Church, as viewed from Packer Hill.



At the time of its founding, area coal companies built a wagon road from the coal fields to the Lehigh (Lee'high) River. Industry and building boomed in the 1820s as anthracite coal was shipped in large quantities down the Lehigh to Bethlehem and by 1824, all the way to Philadelphia via the Delaware.

The Lehigh River in its natural state did not lend itself to shipping until two entrepreneurs named Josiah White and Erskine Hazard gained control of the Lehigh Coal Co. and later merged it with the Lehigh Navigation Co. in 1821.

Prior to this, around 1820, they created a navigation system of Hydrostatic locks which allowed passage of canal boats laden with coal to move enormous amounts of anthracite to fire not only the furnaces of Bethlehem Steel, but to all who wanted this cheap fuel to heat their homes and businesses as well as factories along the Lehigh and Delaware and soon thereafter to New York City.

As the coal poured out of Mauch Chunk, the money poured in along with anxious workers, builders and other businessmen and quickly the once small village became a booming town and a top tourist destination.

Not only men came of course, the women came too, some with their men, others for various reasons.

Coming up, an in interesting "Show and Tell" with a few of my digi pics from our visit but first, let's get back to Jim Thorpe the athlete.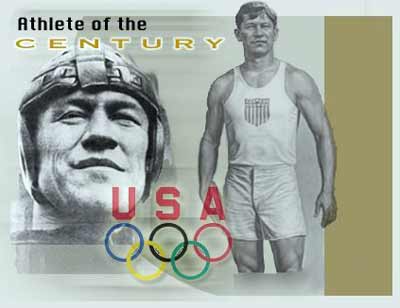 Jim Thorpe, Athlete of the Century.
Photo courtesy www.jimthorpe.org



Jim Thorpe was born and raised on "Indian Land" in Oklahoma and spent several years in eastern Pennsylvania, mostly in Carlisle which is just west of Harrrisburg. A member of the Sac and Fox Indian tribe, Jim Thorpe played football at the Carlisle Indian School 1907 - 1908 and 1911 - 1912 under the great coach 'Pop' Warner.

It was there he gained the recognition that sent him to the 1912 Olympics in Stockholm where he won both the pentathlon and the decathlon. The never-to-be-duplicated feats were followed by a ticker tape parade in New York City.

He played major league baseball for over six years hitting 327 during his final season. He is also believed to have played some Pro basketball (probably more like Barnstorming according to Tom Loughery), to make money for him and some Indian friends and is a charter member of the Pro Football Hall Of Fame in Canton Ohio where he played his first professional football game. Jim Thorpe died in Lomita, California in 1953.

As the story goes, Jim's widow, Mrs. Patricia Thorpe, was having trouble finding anyone back in Oklahoma, in California where he died, or with his Sac and Fox tribe with any interest in providing a good burial place along with a suitable monument in honor of his great achievements.

Meanwhile, with coal having lost much of its appeal, the communities of Mauch Chunk and East Mauch Chunk were no longer the "Boom Towns" of old. The "Sleeping Bear" had gone into long term hibernation and needed a wake-up call. The towns started a Nickel-a-Week fund raising campaign in the late 1940's, wherein anyone who could donate, would put a nickel or more into collection boxes all over town, and the money was collected into an Economic Development fund.

In the beginning, they didn't know what it would be used for, and surely no one thought it would bring them a new name and a deceased sports hero, but they donated when they could, and within a few years according to Mr. Loughery, the fund had grown to tens of thousands of dollars.

This newsworthy dedication was reported in Philadelphia where, among TV viewers, was none other than Mrs. Jim Thorpe who was watching the news in her hotel room. Soon she was on her way to Mauch Chunk to meet with town officials. This led to an offer she couldn't refuse.

Not only would they be willing to provide a wonderful resting place for the late Jim Thorpe along with a suitable monument, they would also merge the two towns into one and call it Jim Thorpe.

By the time the merger agreement was signed and all concerned had agreed to the name change, the remains of Jim Thorpe had already been place on a train and was well on its way to the Lehigh Valley and the new town of Jim Thorpe. His remains arrived at their final destination on Monday, February 8th, 1954 accompanied by his widow.

The name of Jim Thorpe, Olympic hero and famous professional athlete, returned to the limelight as news spread of his new and final resting place in a once famous town now renamed in his honor.

To this day, tourists flock once again to this wonderful little town in eastern Pennsylvania not just to visit the Jim Thorpe memorial, but to walk through history.

While some communities can't resist the urge to tear down historic structures and replace them with modern ones or other facilities, the town of Jim Thorpe decided to begin restoring their old town, a project still in progress. The town is home to no less than eight buildings on the National Register of Historic Places. The prosperity from the town's rich coal mining history has left its mark.

When you visit Jim Thorpe, Pa., allow time to take in the many historic attractions and tours and take your cameras.

A good starting point is the old Mauch Chunk Railroad Station in the restored Jersey Central R.R. Station of 1888. Here you'll find the Visitors' welcome and Information Center. Ph. (570) 325-5810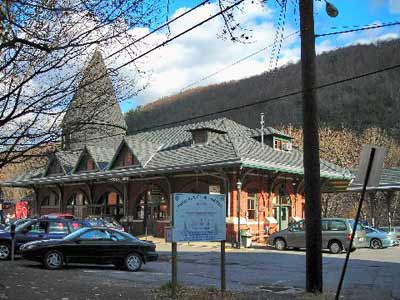 Mauch Chunk Railroad Station



This is the old Carbon County Courthouse and clock tower with its columns and gargoyles. The monument to the right is a memorial to those from Carbon County who fought in the wars from the Civil War to WWII. A bronze plaque at the base lists those who served in WWII.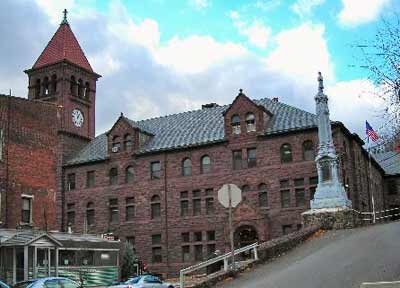 Carbon County Courthouse and clock tower



Behind the courthouse up on Packer Hill sits the Asa Packer Mansion in all its glory. It was built 1861-3 at a cost of $14,000.00, a lot of money in the 1860s.

Asa Packer, head of the Lehigh Valley Railroad and founder of the Lehigh University, built a magnificent twenty room mansion overlooking the town. The home is preserved along with its original furnishings, gold embroidered draperies and even his Steinway concert piano. Tours are available most of the year.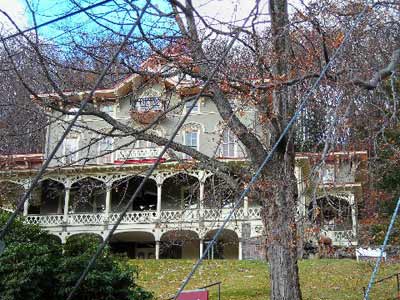 Asa Packer Mansion



Asa Packer, a carpenter came to Mauch Chunk penniless they say, from Connecticut to build canal boats and ended up building a railroad that reached out to Buffalo to the west as well as much of the eastern seaboard.

The Harper's Weekly reported on June 4th 1879 that Asa Packer had died "the richest man in the commonwealth and second to none in grandeur of achievement and measure of influence."

His son Harry lived in another mansion next door. It was used as the model for Disney World's "Haunted Mansion."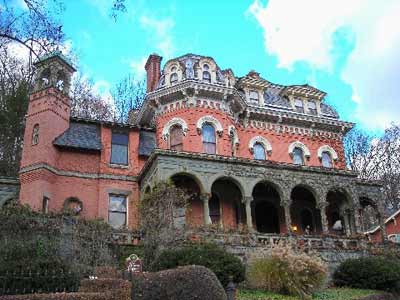 Harry Packer Mansion



It was from here that I snapped the picture near the beginning of this article of a portion of the town with St. Mark's Church in the background. Built into the base of the mountain, this 1869 Gothic Revival stone church features ornate gas-lit baptismal font and original Minton floor tiles from England as well as original Tiffany Stained glass windows.

This (below) is the LC&N building. "The Lehigh Coal and Navigation company was once one of the busiest and richest companies in the East. This was the company that founded the town, and as the name suggests, they got coal and put it on the Lehigh River (actually the Lehigh Canal, aka Navigation, since the river is almost all too rocky for coal barges). They got the coal from the mountains about 6 miles west of town, and devised a gravity railroad (the Switchback RR) that brought the coal right down next to the river, where it was dumped into barges and taken slowly to the markets of Philadelphia, New York and Bethlehem (heard of Bethlehem Steel? - anthracite coal is what helped them become #1 steel maker in the world).

Later, the Lehigh Valley Railroad made transportation easier and more efficient, so the Navigation part of the business went by the wayside, but the Coal was still making millions, along with Asa Packer and his railroad. This town was once home to 13 millionaires, not bad for a town of only 5000 people." -Tom Loughery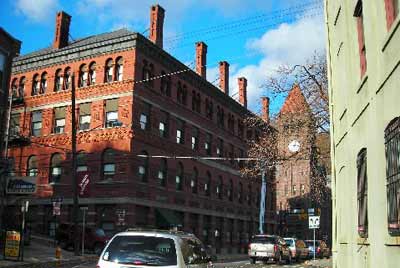 Lehigh Coal and Navigation building



Here are two views of Race Street in the heart of the historical district including some of the already restored buildings and the famous Stone Row.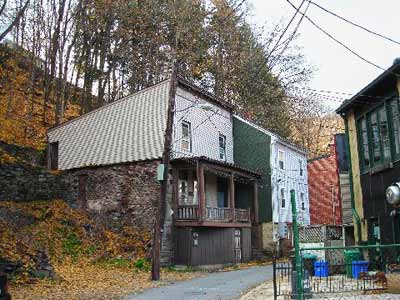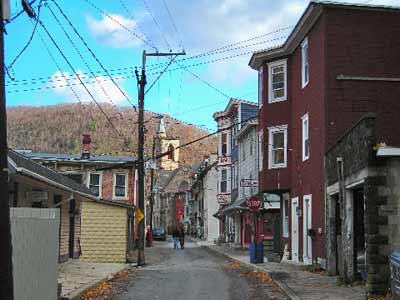 Race Street in Jim Thorpe, Pennsylvania



The mountain in the distance is Bear Mountain from which the original village of Mauch Chunk got its name which, in a native tongue means "Sleeping Bear."

There is so much more to see and do here from Museums to train rides, hiking or biking along the old tow path, as well as enjoying fine dining and shopping in some of the oldest stores in the country that are still open for business in their original buildings.

A visit to Jim Thorpe, Pa. is indeed like a walk through history and not soon to be forgotten.

My sincerest thanks to Tom Loughery, corresponding secretary, Jim Thorpe Chamber of Commerce for his time and a wealth of good information.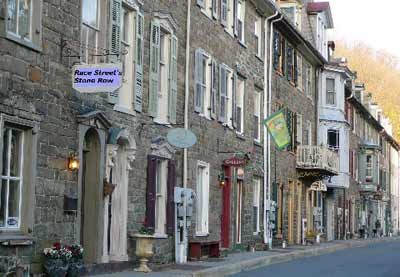 Stone Row on Historic Race Street



For more information on tours and to help you plan your visit, go to www.jimthorpe.org or call (570) 325-5810.

Jim Thorpe, Pa. is located approximately 25 miles north of Allentown just off I-476. Go to their web site for details.

Ron Kitson 21Feb2008

Note: In all fairness to the greatest Canadian athlete of all time, I would like to add a short note about Lionel "The Big Train" Conacher.

Lionel Conacher, played professional baseball, lacrosse and football in addition to eleven seasons in the National Hockey League and was an all star in all of the above. He was also a champion wrestler and boxer. I can't help but wonder if he ever met the great Jim Thorpe. There was no doubt some mutual admiration.

To read more about Lionel Conacher, Visit www.histori.ca/sports/conach.html



---
Top of Page
Back to Travel
Back to Ron Kitson Memories and Stories