Preserving Memories
My Story Productions is in the business of preserving personal histories. We believe everyone has a story to tell....everyone. Our goal is to help people keep cherished memories and histories for themselves and future generations.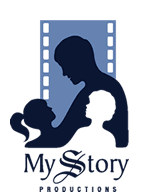 Our professional videographers will create a living snapshot to last several lifetimes.

We are a new company, but not a new idea. The concept of storytelling is as old as communications itself. With today's technology, preserving beautiful and inspiring stories of our loved ones' lives is more important than ever. We want to help you.

Our misson at My Story Productions is to preserve the personal and cherished memories for individuals and their families.

Our lives are filled with victories and defeats, high points and low, yet no matter who you are or where you are from, you've reached where you are today by decisions, actions, and circumstances that need to be shared to advise and encourage those who follow you in life's journey.
---
Special Offer
for ClevelandSeniors.Com visitors!
Mention ClevelandSeniors.Com
and get $100 off the price
of your video package.
---
Call My Story Productions at 440-667-4355.

Or email us at mike@mystoryproductions.com.

Our address is:

My Story Productions
P.O. Box 1818
Painesville, Ohio 44077

http://www.mystoryproductions.com

---
Top of Page
Back to Memories