I'm Opposed to my Thumb
by Amy Kenneley
This digit of ability,
of strength, and versatility
Has gone upon a holiday
and left me quite un-handily.
There was once co-operation
with his fellow Fingernation,
But now a rebel he would be
and will not lift a thumb for me.
He will not turn the key in door,
he lets the cup fall to the floor.
He can no longer turn a page,
I almost think he acts his age.
The words "tear here" just make him laugh
-buttons fumble on his behalf.
Will all the other parts of me
now join this traitor's mutiny?
This useful tool proposed to be
the line 'tween human and monkey,
This thing: opposable thumb,
has quite forgotten where it's from.
The thumb has spurned his history
and how I'll cope's a mystery.
Now what is left, do you suppose?
Decrepitude? I'll thumb my nose!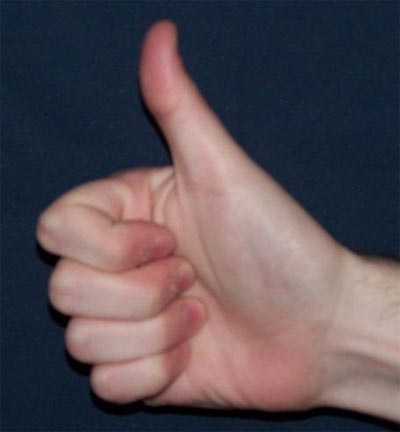 ---

---
Back to Top of Page
Back to Memories
Back to Amy Kenneley