The Lowly Spud
by Amy Kenneley

And here's to you, o lowly spud--
the 'tater, pratie, humble grub;
We've smashed you, mashed you,
whipped and creamed,
and frenchy-fried you, baked and steamed.
We've boiled you, oiled you, hot and cold
a comfort food for young and old.
We know your past-a family fine,
Solanum tuberosum line.
You come in any shape and size
and colors, too-it's no surprise
you're noted for variety
and welcome multiplicity.
There's nothing that can warm a soul
as praties steaming in a bowl
where smiles and happy voices sound
as families pass the spuds around.
Though many lands have welcomed you,
and eating, given you your due,
you are, through many storms and trial
best loved upon the Emerald Isle.
For it was there they could depend
on you for filling food-- a friend.
But then the blight swept you away
and left the land to starve and pray,
and those who left the Irish shore
for other lands, returned no more.
But every soil they came to, found
the spud would grow quite well and sound.
No matter where they had to roam,
the pratie spoke to them of home.
The humble spud remains the heart
of every feast-no meal may start
unless the steaming bowl is there,
with butter melting every care.
Still linked, the spud and us, you see-
A very Irish history!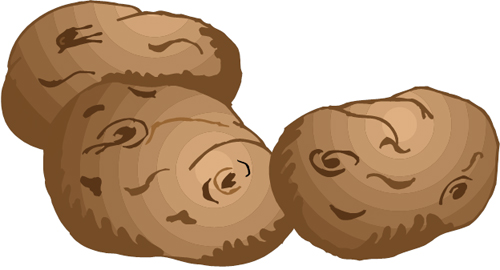 ---
---

---
Back to Top of Page
Back to Memories
Back to Amy Kenneley
Back to Irish in Cleveland