Presentable
by Amy Kenneley
Standing in front of the bathroom mirror, I surveyed my little girl's braids with the too-cute ribbons mom had affixed to each end. Shiny-faced and freshly dressed, my best shoes of patent leather Mary Janes with little white socks, I was ready for something. Mom gushed, "Oh, you look darling!" but great grandma only offered, "presentable."
Since getting dressed up usually meant something involving presents, I assumed great gram meant I was ready for presents. Of course, that is what it must be.
It was several years later that I understood gram's "presentable" to mean something quite different. No, it did not involve presents at all-rather, it was the final process in preparing to be presented to…someone or something. Perhaps royalty?
She was not one to give compliments, this stoic great- grandmother of mine. Sometimes she gave a "humpf!" at something she thought silly, ridiculous, or just plain bad. Her "humpf!" covered a variety of possibilities. You had to listen carefully to the tone.
So, for her to tell me I was "presentable" was a nice compliment. Especially when she said it with a little gleam in her eye. You see, she was raised with the idea that children should be seen and not heard. Children should say "yes, ma'am" or "yes sir" when speaking. But best of all her ideas was "Don't toot your own horn." This kept a lid on boastfulness for sure. Humility was the order in great-grandma's world. "Presentable" was as gushy as she got.
So I traipsed out the door of my childhood, knowing that having a hanky pinned to my school dress, buttons buttoned, face washed and teeth brushed met with her approval. I was "presentable" to the world of school.
Or Not So Much
Not so presentable in my teen years, though. Great-gram raised her eyebrows often as I sashayed-as she called it-down the stairs in my too-tight sweaters and too-high heels.
"Where are you going in THAT get-up?" she often asked. Sometimes I would even offer to tell her, but she wasn't part of my new, giddy world of teen-ness. She was ancient. She was out of touch. Her small world was the house and the porch in the summer. So I sashayed out the door, with her "humpf!" following me. What did I care?
The Big Day
All too soon, I placed that teen world behind me as I prepared to be married. What fussing!
What planning! What busy-ness! The bridesmaids all arrived at the house early in the morning. I was still getting into my wedding dress, heavy with hoop and train, buttons and lace. I came downstairs just as the photographer arrived. As though a symphony, he said, "Stand here, mother" "Over here, ladies" -- a conductor with his camera as a baton.
He arranged mom and I in front of the mantle. She pinned my veil and he took a photo. "Oh, you are just beautiful!" mom said. Of course she would say that, wouldn't she? I pinned her corsage on her dress. He took a photo. Behind us I heard great-gram's voice. "I just want to see you in your dress, Amy Lou" She shuffled into the room and sat at the dining room table, taking in the commotion. The photographer loomed in on us. "And who is this?" he asked.
"This is my great grandmother" I told him, and he moved in closer. "Let's get a photo of you and her" he suggested. "Oh, no! I'm not presentable!" great gram said, a shake in her voice.
"Of course you are," he assured her, and moved me to bend beside her where she sat.
She tucked her thin gray hair behind her ears, pulled her crocheted shawl around her to hide her house dress and apron. "Now smile" the photographer said. But great gram just stared at the man and click---the photo was done.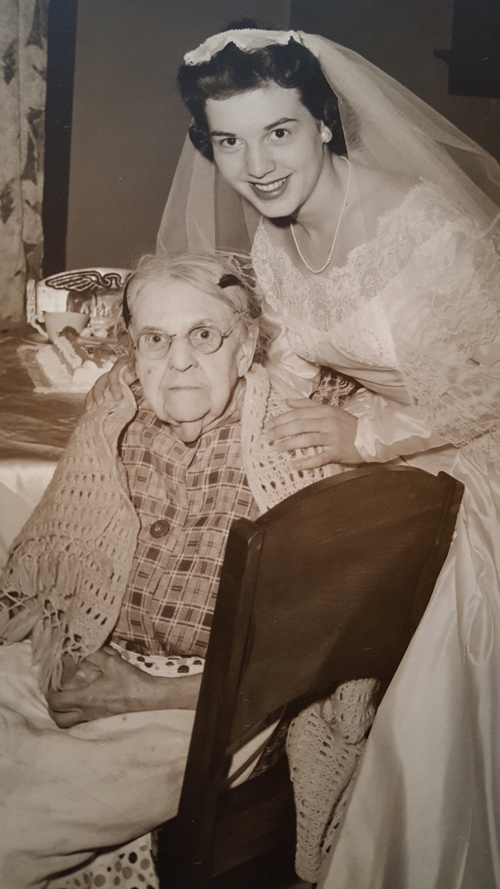 Amy Kenneley with her great grandmother on her wedding day


"How do I look, Gram?" I asked then. She surveyed me top to bottom and offered with a slight smile, "Presentable."

We rushed out the door to the waiting cars to get to church, leaving great gram, who hadn't gone outside the house in several years, alone. A year later, she would be dead. It was the last photo we have of her, and if the photographer hadn't moved quickly, there would be none.

I look at the photo album today and think: yes, she was presentable.
---
Back to Top of Page
Back to Memories
Back to Amy Kenneley
---