Meet Our Expert
Physical Therapist
Deborah Wieder Singer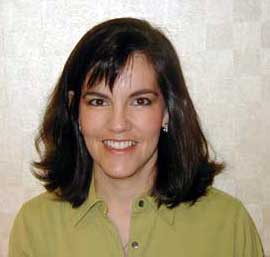 Deborah is the Area Vice President for NovaCare Rehabilitation with 27 NE Ohio area clinics.
She is both a physical therapist and a certified athletic trainer.
EDUCATION
The University of Miami, Florida M.S. Degree in Physical Therapy, December 1988
The University of Iowa B.S. Degree in Sports Medicine, May l986
---
PROFESSIONAL EXPERIENCE
Physical Therapist/Management
NovaCare Outpatient Rehabilitation Division, Inc.
Area Vice President, Northeastern Ohio
May 1994 to present
Ohio Physical Therapy and Sports Medicine, Inc.
Febuary 1989 to January 1994: Clinical Director
Clinical Internships l987 88:
South Miami Hospital, Miami, Florida
Jackson Memorial Hospital, Miami, Florida
Dartmouth Medical Center, Hanover, New Hampshire
Ortho and Sport PT, La Crosse, Wisconsin
Harmarville Rehabilitation Center, Pittsburgh, Pennsylvania
Athletic Trainer
Iowa City Junior High School District, 1985 86
University of Iowa Sports Medicine Clinic, 1984 86
Assistant Trainer Des Moines Knights (semi pro football) 1983 84
Instructor
Cleveland State University, December 1993, July 1994, December 1998 "Microamp Electrical Neuromuscular Stimulation" "Marketing a Physical Therapy Practice"
Hiram College, February 1991
"Lower Extremity Musculoskeletal Anatomy" University of Miami, Graduate Assistant, l987 88
"Orthopedics I", "Communications", "PT Clinical Skills" Kirkwood Community College, February 1985 May 1986
"Care and Prevention of Athletic Injuries"
---
EXECUTIVE PROFESSIONAL APPOINTMENTS
American Physical Therapy Assoc., Sports Physical Therapy Section, Nominating Committee, 1993 to 1997 Nominating Commitee Chair, 1995
Book Reviewer: Journal of Orthopaedic and Sports Physical Therapy, 1993
Circuit of Reebok Professional Specialists, 1991 to 1997
Board Member: Dance Exercise Committee, American Council on Exercise, 1991 to 1995
National Certification Exam Item Writing Committee, International Dance and Exercise Association, 1990 to 1992
Sports Medicine Columnist Rehab Management: The Journal of Therapy and Rehabilitation, June 1990 to 1997
Medical Advisory Board: Tech Sport Inc., May 1994 to 1997
---
HONORS
North Coast99 Award-Top 99 Businesses in NE Ohio, 2000,2001,2002
North Coast99 Best Practice Award - Employee Retention 2000
Ernst & Young's "Entrepreneur of the Year" NE Ohio Finalist, 1998
Crain's Cleveland Business "Forty Under Forty" Award, 1998
Gilford's Who's Who Among Extraordinary Professionals, 1993-94
Who's Who Among Human Services Professionals, 1992 93
Academic Performance Award, University of Miami School of Medicine (3.98 GPA), 1988
AMBUCS Academic Scholarship, l987, 1988
University of Iowa Dean's List, l983, 1984, 1985, 1986
Phi Epsilon Kappa, Professional Academic Scholarship, l986
Magna Cum Laude, Iowa Athletic Training Program, 1985
Phi Eta Sigma National Honor Society, 1983
---
MEMBERSHIPS
National Athletic Trainers Association, Certified
National Emergency Medical Technicians Registry, Certified
American Academy of Pain Management, Board Certified Fellow
American Physical Therapy Association, l987 to present
Ohio Athletic Trainers Society, 1990 to present
Ohio Physical Therapy Association, 1989 to present
Florida Physical Therapy Association, l987 to 1989
Iowa Athletic Trainers Society, l985 to 1989
---
Ask our Expert a Question

E-mail your questions to pt@ClevelandSeniors.Com


---
Top of Page


Back to Bones, Muscles & Physical Therapy