Where is the final resting place of
President James A. Garfield?
Cleveland Photo Quiz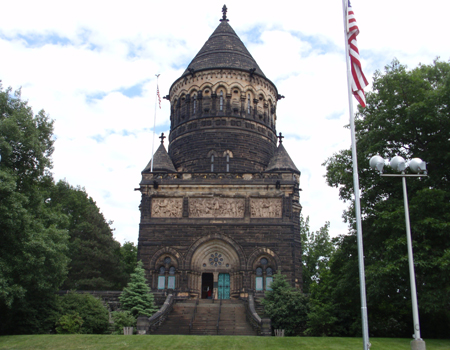 James A. Garfield was the 20th president of the United States. He was born November 19, 1831, in a log cabin in Orange Township, which is now Moreland Hills, Ohio.
He attended the Western Reserve Eclectic Institute (now known as Hiram College) from 1851 to 1854. He served nine consecutive terms in the U.S. House of Representatives from Ohio's 19th District before becoming president.
In the 1870's he purchased property in Mentor that came to be known as Lawnfield. From there he conducted the first successful front porch campaign for the Presidency. The home is now maintained by the National Park Service as the James A. Garfield National Historic Site.
Garfield was president for only 200 days — from March 4, 1881, until his death on September 19, 1881 when he was shot by assassin Charles J. Guiteau on July 2, 1881.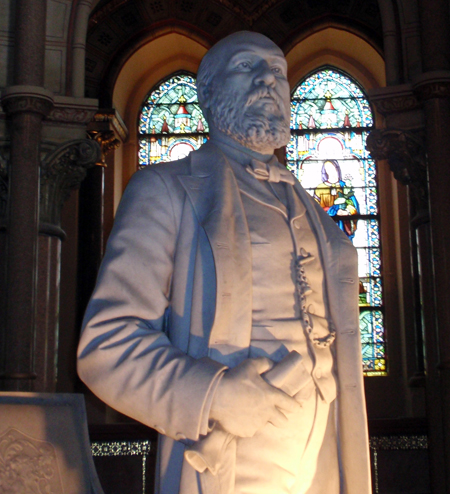 It is said that on September 25, 1881 in Cleveland, more than 150,000 people lined up to pay their respects. That was equal to the entire population of Cleveland at the time. His body was temporarily interred in a vault in Cleveland's Lake View Cemetery until his permanent memorial was made.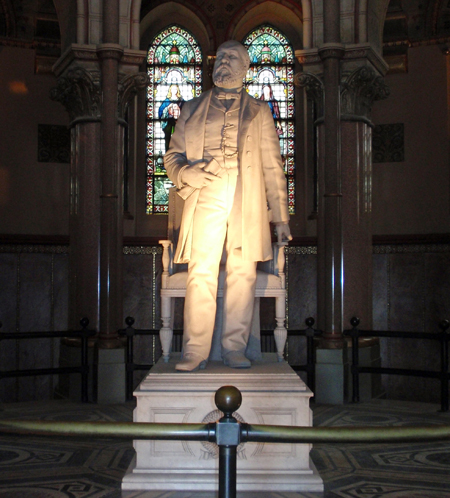 On May 19, 1890, Garfield's body was permanently interred, with great solemnity and fanfare, in a mausoleum in Lake View Cemetery in Cleveland. Former President Rutherford B. Hayes, then current President Benjamin Harrison, and future President William McKinley all attended the ceremony.
Below is a look at the exterior of the 180' monument and a walk around the larger than life statue of President Garfield.
---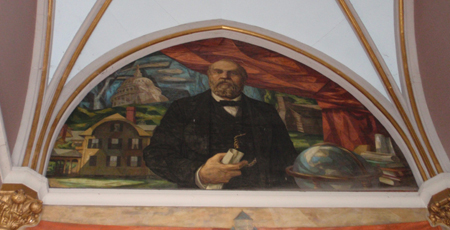 ---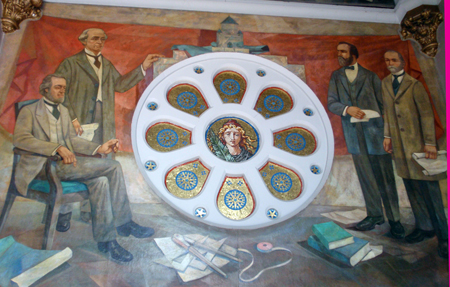 ---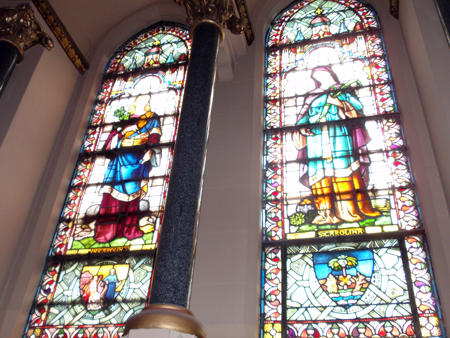 As you will see in this video from upstairs in the monument, besides looking down on the statue of Garfield, you can see the Cleveland skyline in the distance.
---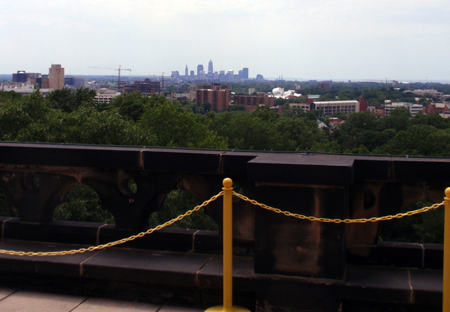 Cleveland Skyline in the distance
---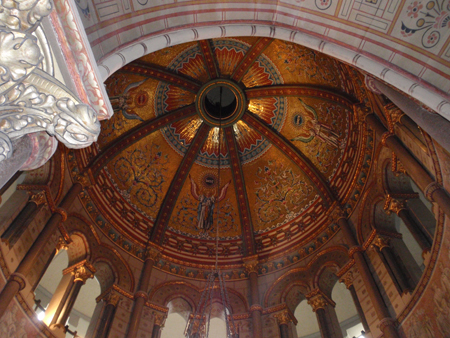 Ceiling of the Garfield monument
The actual burial crypt of President James A. Garfield and his wife is located in the basement of the President James A. Garfield Monument. President Garfield's casket, draped with an American Flag, is the only Presidential casket on full display. Mrs. Lucretia Garfield's casket is also located in the crypt. The remains of their daughter Mary (Molly), and her husband, Joseph Stanley Brown, are in the two urns located in front of the Garfields' caskets.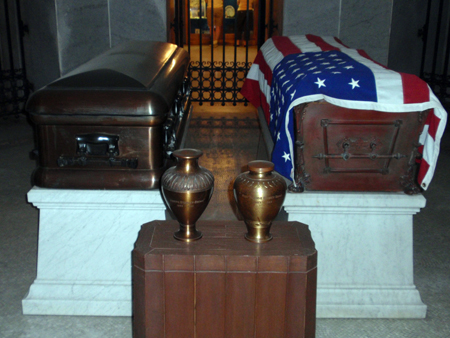 Memorabilia and historical items are on display at the Monument.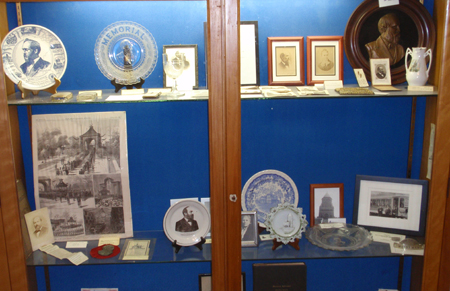 When you visit in person you can study the detailed bas-relief panels, depicting scenes from Garfield's life.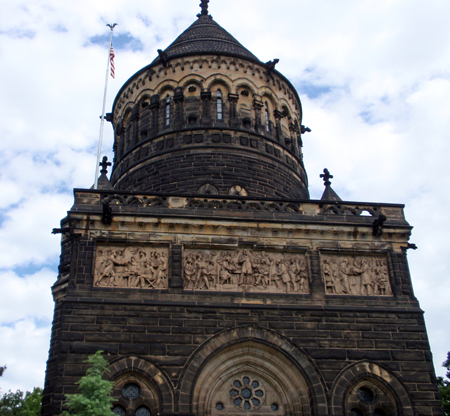 ---

---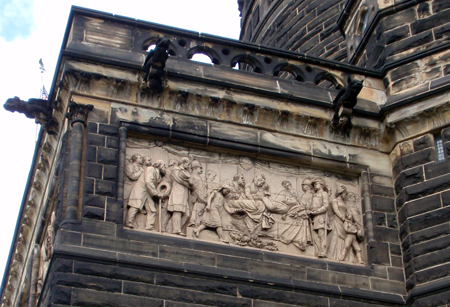 ---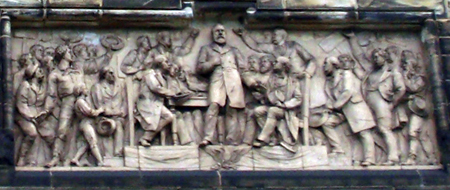 ---
---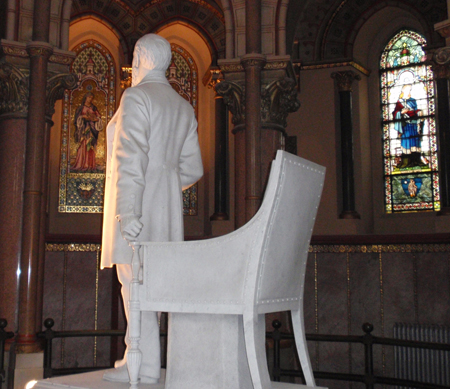 ---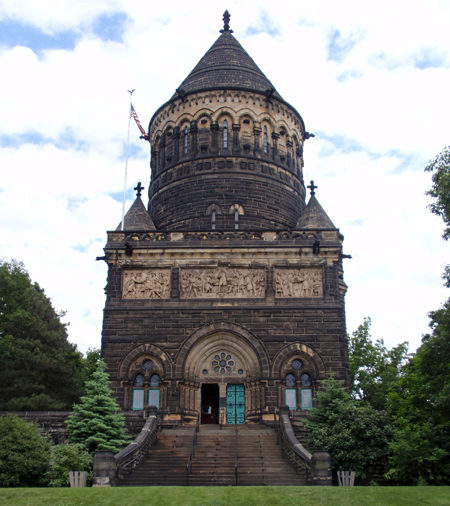 ---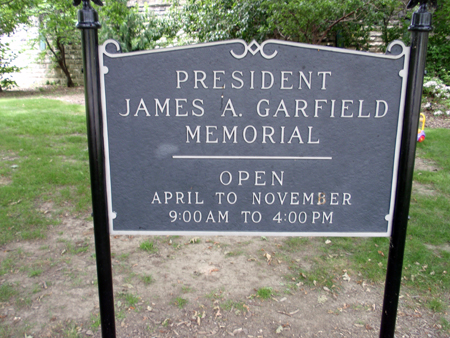 ---
You can visit the Garfield Monument at Lake View Cemetery at 12316 Euclid Ave. Cleveland, OH 44106. Call 216 421-2665 or visit the Lake View Cemetery website
---
Top of Page
Back to Cleveland Photo Quiz