Golden Trefoils
When Girl Scouts get together for an awards ceremony, they recite the Girl Scout Laws, sing together and in general, share their friendship. They also read a poem about the Golden Trefoil pin they are about to award new scouts. It reads in part…
Three gold leaves the Trefoil wears
Threefold the promise that it bears
To serve God and your country dear
To bring others hope and cheer….
Over Twenty-five years ago a group of women, former Girl Scouts, leaders and council members joined together and formed the Golden Trefoils. It is the fourth line of this pledge that unites these ladies together, "… to bring others hope and cheer".
They get together once a month and in true Girl Scout fashion work together to help other scouts. They make craft projects, which they in turn sell. The proceeds from their projects are donated to young Scouts who, for whatever reason, cannot afford to participate in the Scouting activities.
Many of these women were Girls Scouts themselves and have found the principles scouting taught them help them through daily life, even now. Many had children in the Scouts and became leaders or co-leaders to help their daughters. Now their daughters have their own troops and so does Mom.
Carol Slater (68) sums it up. "There is a need there and we can fill it. If a girl wants to be a scout and develop friendships with other scouts, I would feel terrible if she couldn't participate because she didn't have the money. So we help out as much as we can."
Peg Brace (71) likes the idea of togetherness and helping others. She's been a scout since she was very young, and her daughter now leads a troop in Texas. She's active in other organizations as well (Irish American Club, East Side, The Foresters, etc.) but feels the camaraderie of this group is special.
"It's so nice when we get a thank you letter. It makes you feel really good about what you're doing," says Steffy Laudenbach (86). Marty Cleaveland (67) feels she is learning as much as an adult as she did as a young scout. "We learn different things from different people, but we never stop learning. Being with these ladies once a month teaches me a lot".
The group's leader is Linda Beidle (63). She's been a Girl Scout since she was 9 years old and still has her award pins from 1947. She sums it all up simply "These are all my friends. There's a lot of talent in this group, and we put it all too use".
The groups' original leader, Pat Jarchon (71) stepped down last year after 25 years as leader. "In a Girl Scout uniform" says Pat, "You don't know who's rich or poor or even what part of the country you're from. It gives girls a chance to start off on even footing, and that's important. That's why, if we can help someone get that uniform or go on that camping trip that maybe otherwise they could not afford, than that's a good thing, and we all feel good about it"
All of the Golden Trefoils feel the principles of scouting are as pertinent today as they were when they were scouts, forty, fifty and even sixty years ago. "We make a promise to serve God and our country and help people at all times. That never went out of style and never will." Says 78-year-old Frances Griffith.
One of their continual programs is the Hug-A-Bear project. The Golden Trefoils make stuffed bears, which they give to Fire Stations, Battered Women's Homes, Burn Units, Hospitals and veterinary offices (for children who lost pets). The material is often donated and the bears are made with love.
Every Girl Scout remembers sitting around a campfire singing the famous Girl Scout Song, which says…
"Make new friends but keep the old, One is silver and the other gold."
It is this adage that tells the story of the Golden Trefoils. They have indeed made new friends, but have never forgotten the old and now help others to do the same.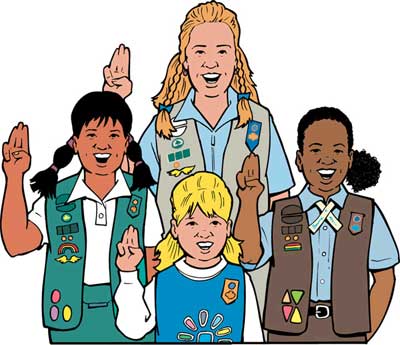 See photos of the Golden Trefoils

---
Top of Page
Back to Cleveland Senior Resources