What the heck is an
iPod?
"I'm embarrassed to ask"
"Please don't use my name"
"Am I the only one?"
These are just a sampling from questions received lately. It seems that a lot of people just aren't sure what some of the terms being used so much actually mean.
As I've stated before, there is no such thing as a stupid question and if you aren't sure, there are 1000 others who aren't sure as well. Let me know what other terms you're not quite sure of.
Just click here to send me an e-mail and let me know what terms you want explained.
Here is the first in a series of "What the heck does that mean?"
You probably hear the word iPod a hundred times every day. Or you see young people (mostly) walking around with wires coming out of their ears and going to a tiny electronic device. Odds are, that's an iPod (pronounced eye-pod). iPod is a particular model, made by Apple, of something called a digital media player.
Remember when the Sony Walkman came out? That let you play an audio tape (music, book on tape, whatever) in a portable battery-powered unit that you could carry with you when you went for a walk or to the park or wherever.
You now can get music or audio books in digital format - meaning you don't have a physical tape that needs rewinding or fast-forwarding. Just like your VHS tapes may have been replaced by DVDs, audio tapes have been replaced by CDs and other digital media. In other words, they can be stored on your PC, or PC-like device, instead of on a record album, audio tape or CD.
A digital media player is a device that lets you take those songs or audio books from your PC and copy them so you can play the music or audio books when you walk or travel or…
Apple came up with the iPod brand digital media player. They are small and sleek and most models have a simple scroll wheel to control it.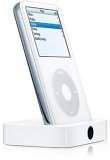 An Apple iPod in it's charging cradle



You can transfer digital media (songs, books) to an iPod and then listen to them when you are away from your PC or stereo via the little headphones that fit inside your ear. Those headphones are called earbuds or sometimes just buds.

The Apple iPod is just one brand of dozens of available digital media players but its catchy name, design and Apple marketing made it the most popular. You can get the same functions with other players from other companies so shop around for features and price.

In other words, you do not have to have an Apple brand iPod to listen to digital media on a portable device.

Players may come with extras - software, power adaptors, chargers, subscriptions to music clubs and so on. The Apple iPod, for example, comes with software for transferring music (and maybe other things) from your PC or Mac to your portable unit.

You can also go to music websites like Apple's iTunes that let you sample and buy music for your iPod or other device. Other music services like Napster provide a similar capability. Note, these and other legitimate services are legal ways of getting music.

Recently a video version of the iPod (and its competitors) had come to market. With these devices, not only can you listen to music and other audio as you move about but you can also watch video, including some popular TV shows, on the unit.

Often you can get a TV episode a day after airing for $1 and load it on your iPod or similar device and watch it at your leisure as you travel.

Be warned, while the quality is decent, the screen display size is very small so you may want to do your TV and video viewing on a traditional screen.
---
Answered by Tech Expert Dan Hanson
---
If you have computer or Internet questions, e-mail our Tech Guru at tech@ClevelandSeniors.Com
---
Top of Page
Back to Technology