When we were children, what did we do when we needed extra money? I remember kids on our street who set up a lemonade stand. How many of you sold lemonade or kool-aid on your block? Pretty good idea, especially on a hot day.
I cut lawns in the neighborhood. Five bucks a lawn wasn't bad and it sure kept me in baseball cards and model planes. Sometimes it paid for essentials my parents couldn't afford.
What about shoveling snow or garage cleaning? How many of you engaged in these money-making endeavors? I'm sure there were a number of additional activities that were pursued when the need presented itself.
What you probably didn't realize at the time was that you were home business pioneers. You needed money so you set up a business that you operated from home.
All transactions and activities do not have to occur in your home to be classified as a home business. It has more to do with originating business where you live and not having an office or place of business outside your residence.
For example, if you make lemonade in your kitchen, take it outside and sell it on the sidewalk in front of your house or apartment, then come in and count your money, the origination and eventual business transaction takes place in your home.
If you run a courier service where you deliver envelopes and packages to businesses and come home to do your bookkeeping and billing, you are considered to be a home business owner.
It has been stated by several financial experts that most people are usually $400 to $500 short every month. That extra money could certainly help pay the bills and perhaps make life just a bit easier--maybe--just maybe leave a few extra dollars around to do something special once in awhile.
If you are looking for that extra income, starting a home business could provide an answer. You may even decide you want to earn more--a lot more. There are a number of businesses that could take you in that direction. We're not talking about get-rich-quick schemes but honest, easy to begin and operate home based business opportunities.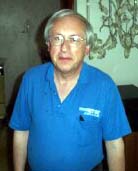 If you are looking for a source that can point you in that direction, the author of this article, Dr. Harvey Sisler, has written a book entitled "50 Home Businesses for People Over 50." This book includes a great deal of information on what to look for and how to get started in addition to a description of 50 plus home businesses. Also included is a computer disc with additional information and opportunities.
"50 Home Businesses for People Over 50" is available for $12.95 plus $2 shipping and handling from Hillcrest Publications, Dept. CN, 1223 Bonnie Lane, Mayfield Hts. Ohio 44124.
---
Top of Page
Back to Forever Young Resources