Where in Cleveland would you find
this statue of a Revolutionary War Hero?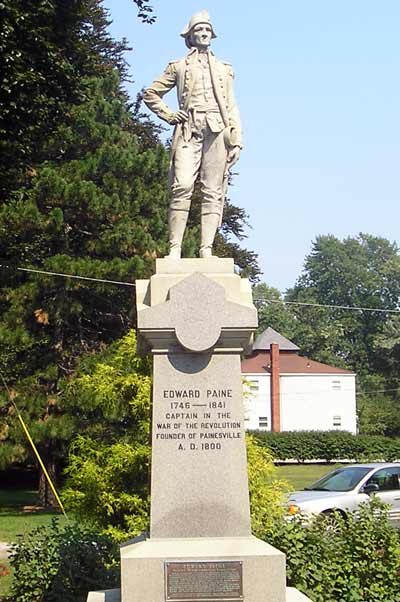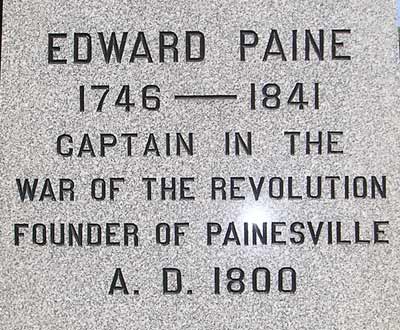 General Edward Paine, from whom Painesville takes its name, was born in Bolton, Connecticut, in the year 1746.
The area around modern day Painesville was firt surveyed by the Connecticut Land Company in 1798 as part of their Western Reserve. In 1800, sixty-six pioneers settled led by General Edward Paine and John Walworth.
At that time, the Western Reserve became Trumbull County and was divided into eight townships. The smallest township was named for General Paine and included what we now know of as Perry, Leroy, Hambden, Concord, Chardon, Mentor, and Kirtland.
In 1840 Lake County was created from portions of Geauga and Cuyahoga Counties; and Painesville was made the county seat and a court house erected. In 1852 the Town of Painesville became a village and in 1902 the village became the City of Painesville.
According to the Lake County Genealogical Society, Charter Oak Park, located at the intersection of Mentor Avenue and West Washington Street is the grave site of General Edward Paine.
"In 1900, as part of the commemoration of the centennial of the settlement of Painesville, a movement began to erect a monument in honor of General Paine. Through the efforts of descendants of the Paine family, the New Connecticut Chapter of the National Society Daughters of the American Revolution, and other interested members of the community, the site was secured and a statue sculpted in Barre, Vermont.
An old map of the Washington Street Cemetery, in 1900 the site of the Painesville High School, was used to locate the grave. The remains of General Paine were placed in the base of the monument. Dedication services of the monument were held on July 21st, 1900.
On the bronze plaque at the base of the statue is the following inscription:
Edward Paine/ Soldier of the American Revolution/ Born January 27, 1746, in Bolton, Connecticut, entered service as ensign in the Connecticut Militia, Commissioned first Lieutenant in Captain Jonathan/ Birge's company, 1776, and captain of the 5th. company/ Alarm list, 19th. Regiment, 1777.
Later made brigadier General of New York State Militia. In 1800 General Paine and family moved to Ohio. He promoted the development of the Grand River area.
The county seat of Lake County bears his name. He died at Painesville, August 28, 1841. Inscribed by New Connecticut Chapter, National/ Society, Daughters of the American Revolution, July 21, 1966.
---
Top of Page
Back to Cleveland Photo Quiz