Where is this
Marcus A. Hanna Statue?
Where in the Cleveland area would you find this statue of Marcus A. Hanna?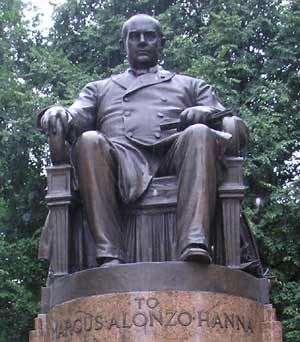 (from the statue):
This monument is erected by friends and fellow citizens commemorating his efforts for peace between capital and labor, his useful citizenship and his distinguished public service.

Born September 1837 - Died February 1904

MCMVII
---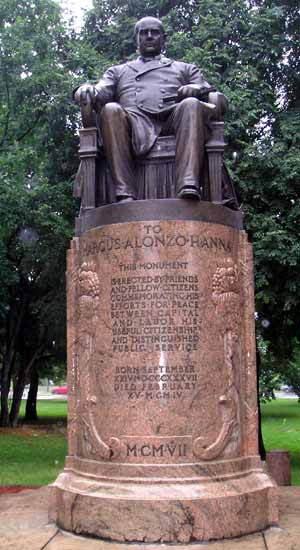 Marcus Alonzo Hanna was a US Senator from Ohio and was instrumental in having William McKinley elected governor of Ohio in 1891 and again in 1893. Among other things, he advocated construction of the Panama Canal, opposing the Nicaraguan route.
Hanna was one of the organizers (1901) and the first president of the National Civic Federation, whose purpose was to solve social and industrial problems, and in 1901 became chairman of a permanent board of conciliation and arbitration established by the Federation.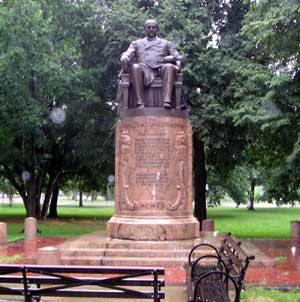 The statue of Marcus Alonzo Hanna is in a little park at the NorthWest corner
of Chester and Euclid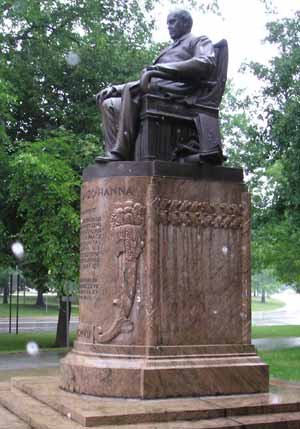 ---
Top of Page
Back to Photo Quiz