Where is this
Jimmy Doolittle Plaque?
Where in the Cleveland area would you find this memorial of Jimmy Doolittle?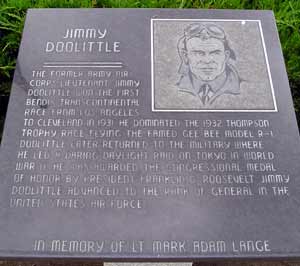 As fiddlergreen.net tells us, "On the morning of September 4, 1931, eight pilots warmed up their powerful racing planes at Burbank Airport, Los Angeles for the swift dash to Cleveland. Jimmy Doolittle was first off in his Super Solution. He hauled the tiny plane into the air after a short run of 500 ft. and roared through the early morning darkness of Cajon Pass. A quick stop at Albuquerque and Kansas City for fuel and he was screaming toward Cleveland.
Landing well ahead of the second place aircraft, he hurriedly took on fuel and pointed the Sky Buzzard toward Newark. His wheels touched the ground at Newark 11 hours, 16 minutes and 10 seconds after take-off from Burbank, clipping 1 hour and 8 minutes off of Frank Hawk's record.
His average speed to Cleveland was 223 mph and 217 mph for the 2450 mile coast to coast flight."
Jimmy Doolittle later became a General in the United States Air Force and led his raiders on a daring daytime raid against Tokyo during WWII.
Read more about The Doolittle Tokyo Raiders and the 16 surviving Doolittle Raiders.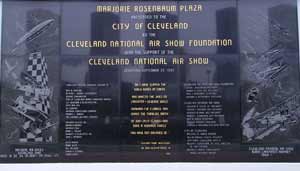 The memorial is one of may plaques dedicated to heroes of aviation at the Rosenbaum Plaza just outisde the Cleveland National Air Show near Burke Airport.
---
Top of Page
Back to Photo Quiz