Name that Tune
Music Quiz 1
This song is the theme song of a TV show.
Make sure you have your speakers turned on. Refresh the page (press the F5 key) to play the song again.
Here are some clues:
The show ran from 1965-1970
The star of the show played a character who was born on April 1st of the year 64 B.C.
Several performers played themselves on the show including Groucho Marx, Sammy Davis Jr., Milton Berle, Don Ho, & Judy Carne and Arte Johnson of Rowan & Martin's Laugh-In.
One of the actors who played a major character, later starred as a dastardly villain in a hit show based in Texas.
Another actor later played a neighbor of Bob Newhart.





Scroll Down for the Answer












Don't peek - Keep Trying






Here's the answer: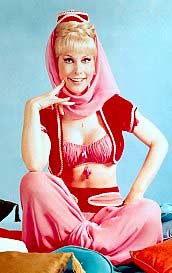 It's the theme song from I Dream of Jeannie starring Barbara Eden and Larry Hagman
---
---
Top of Page
Back to Music Quiz