Meet Bailey
the Schipperke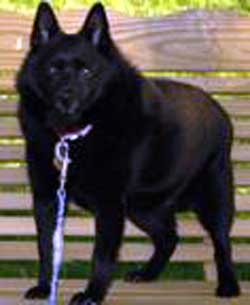 Bailey is a 7 1/2 yr old Schipperke female
Schipperkes (pronounced "Skipperkey") were bred in Belgium to work on barges. The name means "Little Captain."
Bailey was born in Springfield, MO. There are only a small handful of "Schips" in Northern Ohio.
Her owner says "Bailey's hobbies include killing her stuffed 5 ft long snake and her goose that honks, guarding food, being cute, barking, and running my life."
"Schipperkes are one of the longest living dog breed and I've read about some that live into their early 20's."
Oh yes. Her nickname is "Sparkles" - don't ask.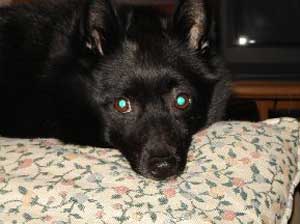 ---
Do you have a pet you'd like to submit
for Featured Pet?

Send us a digital image (gif or jpg) to pet@ClevelandSeniors.com or mail a photo to

ClevelandSeniors
3150 Payne Ave
Cleveland, OH 44114

Don't forget to include the reason(s) your pet is so special.
---
Top of Page
Back to Featured Pets