Recon the 5-year-old Chocolate Lab
My name is Recon a 5-year-old Chocolate Lab and I would like to tell you my story.
My life started out great five years ago. I was born in Kentucky on May 6, 2003 on a 100-acre farm. I ran, swam and played 24/7 like any other normal dog. I had a great life but had no idea what was going to happen from the time I was almost two until just after my 3rd birthday.
My family started to fight and argue. Being a sweet, good-natured dog that I am. I tried to get them to stop. Well in the process they got mad at me and started to take things out on me. I remember being pushed and kicked down the basement stairs. Also being hit with a vacuum cleaner.
As time went on my family would take trips but not with each other for weeks at a time and left me to fend for myself. I did have a doggy door so I would hunt during the day then come back home at night to sleep.
My diet consisted of mostly mice, moles and rabbits. Once in a while the occasional garbage can provided a well-balanced meal.
In June 2006 things started to get worse around the house and for me. My mom moved out leaving me with my dad. He would go on a trip and leave me behind. My mom, trying to get back at my dad, would come in while dad was gone and destroy the house. Also locking up the doggy door so I could not use it. So here is me coming home from my daily adventure and could not get into the house. This left me to find another place to sleep.
The farm had a barn that was home to a family of peacocks. They were nice enough to provide me with a place to sleep. I slept in the barn with rats and mice crawling on me. I did not care it was a warm and dry place to sleep. Then once my dad came home I got back into the house.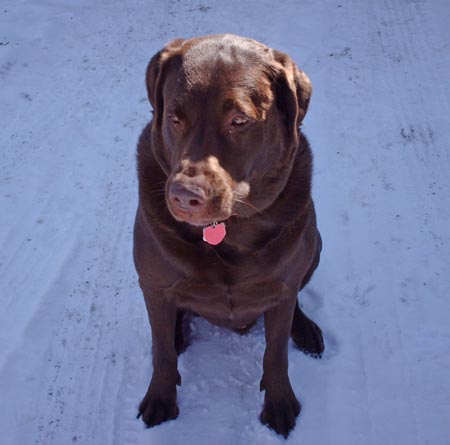 Finally in September 2006 my dad found out that he needed surgery and would be off of his feet for several months. He then realized that he would not be able to take care of me. My dad was going to drop me off at a school for dogs to get trained to be a Seeing Eye dog. He first asked my mom if she wanted me. She said no I don't want him and I don't care what you do with him. She always said that I was a big dumb moose.
So it was off to school I go. Well just as I was getting into the truck for school my new parents found out the whole story and called my dad to say we want to take Recon and give him a good home.
On October 2, 2006 I will never forget the day my dad made arrangements to have my new parents pick me up in a parking lot somewhere in Akron, Ohio. My new mom said when she saw me for the first time she immediately fell in love with me. But when she looked at me she wanted to cry.
She said 'You are wrong. This is not a chocolate lab he looks more like an Irish setter with no hair.'
See I was very underweight, about 70 pounds, hardly any hair, my back and tail had sores on it that where bleeding and I smelled like I had just jumped out of a sewer. So it was time to go.
At first I did not want to get into the car because it was not the one I came in. I had to get picked up and put in the car. I was so sad and scared I wondered where I was going. As soon as I got to my new home I was showed around. I kept looking for the doggy door - all I wanted to do is get out.
Again I was scared and had no idea why I was being taken away from my old life. I thought I did something wrong. As the days went on I was scratching all the time. Bleeding more and more every day. I was given an oatmeal bath which soothed me for a while.
My mom made an appointment to see a vet. The vet was busy so it took about a week after I came to get in to see him. Well here I go off to the vet. I had mange, tape worms, yeast infection in my ears and suffered from malnutrition. I heard the doctor tell my mom that I was lucky. If I had not of been taken away from the farm when I was he said I would be dead in two weeks. That is how sick I was.
I was given shots and medicine and more oatmeal baths. I was well on the road to recovery. It took about six months for me to get back to what a chocolate lab should look like.
Well it took me no time to get adjusted to my new home. But about three months after I came to my new home my old dad showed up to visit me. I was friendly but when it came time for him to leave I ran over to my mom and hid behind her. I did not want him to take me away from my new home that I had grown to love.
Divorce time:
Well my old parents went to court for their divorce my old mom decided she wanted me. I am happy to say that the judge threw her request out of court when he found out that my old dad gave me away to a good home. At this point my mommy got paperwork putting me in her name. So now it is legal. This will be my home for life.
Things are going great for me. Mommy put me on a great diet. It consists of dry dog food and scrambled eggs for breakfast. For dinner I get dry dog food with two cups of steamed vegetables. My favorites are carrots, parsnips and green beans. I love broccoli but it tends to give me gas so mommy took it away. I also get vitamins daily to keep me healthy.
I have a wonderful family. I have a grandma, uncles, aunt and cousins all who spoil me. I go to visit them every Saturday. My uncle always has a toy waiting for me; my grandma feeds me dry dog food and scrambled eggs or oatmeal. Then she gives me vitamin E and beta-carotene. She wants me to have good skin and eyes.
My aunt sometimes makes my eggs for me even though she can't stand anything about eggs. My mom says I rate. Then my other uncle who gives me a slice of pizza. So I now nicknamed him Pizza Man.
So Saturday mommy says is my day to cheat on my diet and get spoiled. My grandma's house is also where I have learned to go up and down the stairs again. It took me about a year to not be afraid. I knew I could trust my new family not to push me down them.
My life is great. I am a 110 pound beautiful chocolate lab. I have my own bedroom with a queen-sized bed all to myself. My mom plays with me daily. I get to play catch, which I am very good at. I love to carry my toys around the house and yard. My nickname on the street is 'the adorable chocolate lab that carries his ball around the yard.'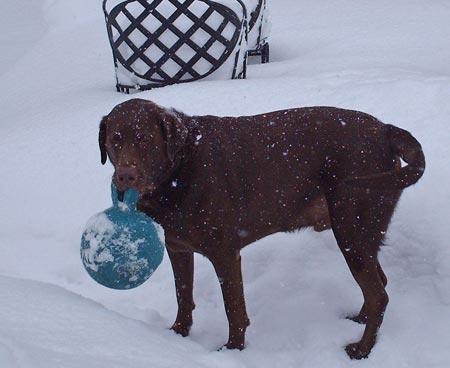 I even have my own car to go for bye-bye rides whenever I want. My family gets their daily hugs and kisses from me so I can let them know how truly happy I am. Once in a while I get nightmares from the days on the farm. But my mommy comes and checks on me. Once I see her I now that everything is okay. I give mommy a kiss and go back to sleep.
So my story does have a happy ending. I am so happy for how my life turned out and thank mom and dad everyday for adopting me.
Hope you enjoyed my story.
Recon
PS - Mommy's name is Sue Barnes
---
Posted 3-1-09
Top of Page
Back to Featured Cleveland Pets