Nicholas the Poodle Guide Dog
Hogan is pleased to announce that Nicholas is one of Hogan's Heroes.
Linda Lindeman-DeCarlo raised and trained Nicky and then turned him over to his new handler.
Here are some of Linde's comments:
Our visit in Michigan with Nicholas and his new handler, Pam Blizzard, was great. Nicky was happy to see us, but he didn't come apart at the seams. He behaved very professionally and it was clear to us that he had Pam's best interest and safety in mind at all times.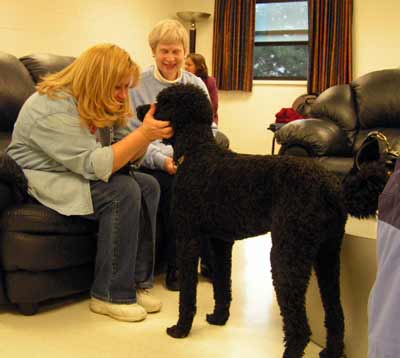 Trainer Linda Lindeman-DeCarlo with Nicholas the poodle and her new handler Pam Blizzard.



He is no longer the shaggy little class clown poodle that we turned in seven months ago. He has transformed into a fabulous and well trained Guide Dog. He grew tall and strong and now sports a more Poodle-like hairdo!

He looks quite different. I really had to look deep into his eyes, for that has always been the window to his soul, to find the puppy I raised. He is so mature now, he is no longer my Poodle-boy, he is Pam's Poodle-man.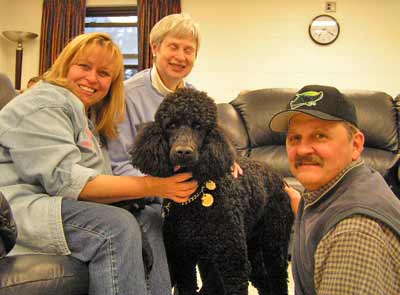 We are very proud of him and we fell in love with his new owner. She is a sweet person and is very grateful to have Nicholas in her life. She knows that he is a wonderful dog and as I was describing to her what a pleasure he was to raise, she quietly said, "I wish I could see him."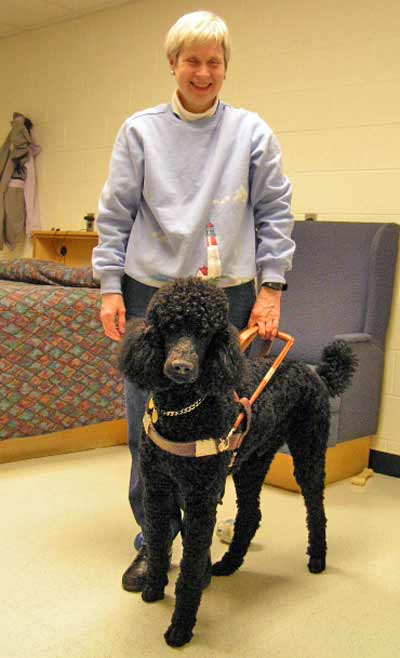 Pam Blizzard with her guide dog Nicholas the poodle



Thank you friends for allowing us to bring Nicholas into your homes, cars, place of business and hearts. It's all of these little things that helps create a successful Guide Dog.

Congratulations to Nicky (and Linde) for being one of Hogan's Heroes.
---
Top of Page
Back to Hogan's Heroes