Hungarian Festival of Freedom
Celebrating the 50th Anniversary of the Hungarian Revolution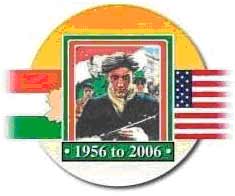 Festival of Freedom
Saturday, October 21st 2006 10:00 am -6:00 p.m.
The CSU Wolstein Center, Cleveland, OH
(Symposium time: 11 AM - 4:30 PM)
---
The Hungarian Revolution of 1956 was the first domino in a series of domino -effect events that led to the collapse of the Berlin Wall and the fall of Soviet communism. What really happened? What were the politics behind the politicians? What are the implications of this historic event and how are they manifested in current affairs and conflicts around the world?
On Saturday, October 21st the Cleveland Hungarian Revolution 50th Anniversary Committee (CHR50) will host a daylong event to commemorate, reflect upon and celebrate the Revolution. The events include an intense, 3-part series of panel discussions for the academic, political science and historically minded per son. Panelists are experts in their fields from across the United States and Hungary.
11:00 a.m.       We Were There!

October 1956 Eyewitness Accounts and Recollections.  Hear the stories first-hand from freedom fighters and others who were actually in Hungary at the time.  Hear what they did, what they saw, and how they fled and found refuge in the United States.


Session Chair: 
Steven I. Reger, Ph.D.
1956 Eyewitness; Cleveland Clinic Research Scientist today

Panelists:        
Jim Balogh       
1956 Freedom Fighter; Engineer & Founder, Mar-Bal Inc.                                     
Peter Hargitai  
1956 Eyewitness; Author & Poet
Professor of Literature, Florida International University

Paul Hollander 
1956 Eyewitness; Author,
Professor Emeritus University of Massachusetts
Associate, Davis Center for Russian and Eurasian Studies

John Szucs 
1956 Eyewitness; National City Bank Officer, Retired



Panelists will explore and discuss national and international policies and related topics.  Find out who knew what and when; who acted, who didn't, and why.  What were the U.S., Soviet and U.N. positions?  What was the "Cold War" and how did the Revolution fit into this policy? What role did Poland, Yugoslavia, Romania and other countries play? 


Session Chair: 
John Fund        
Journalist, The Wall Street Journal

Panelists:        
Marek Jan Chodakiewicz, Ph.D.                       
Author & Lecturer
Professor of History & Academic Dean, Institute of World Politics 

Lee Edwards, Ph.D.
Author, Lecturer and Professor, & Distinguished Fellow, Heritage Foundation

Honorable August Pust 
Former U.S. Commissioner for Preservation of America's Heritage Abroad
Director Emeritus, Ohio Governor's Office of Multicultural Affairs/International Relations.




Panelists will reflect on the political, social and economic lessons of the '56 Revolution.   Was the blood bath worth it?  If Hungary was the "first domino," who were the secondary dominos?" Did the Revolution herald policy changes?   What implications does the Revolution have for communism today? In China, North Korea, Cuba and other Latin American countries?  What was "Goulash Communism?" Are there universal lessons for all freedom loving people?


Session Chair:
Peter W. Schramm, Ph.D.
Executive Director, Ashbrook Center for Public Affairs and Professor of Political Science, Ashland University

Panelists:  
Andrew Gross, Ph.D.   
Professor, Marketing & International Business, Cleveland State University

Paul Hollander, Ph.D.   
Author, Professor Emeritus Univ. of Massachusetts
Associate, Davis Center for Russian and Eurasian Studies

Andrew Ludanyi, Ph.D.
Professor of Political Science, Ohio Northern University

Laura Y. Tartakoff, J.D.           
Adjunct Associate Professor of Political Science, Case Western Reserve University




Meet and chat with the author panelists who have written about the Revolution, communism and related world events.  Add books to your library personally signed by the author.


Tickets: General Admission  (includes admittance to all Oct. 21, 2006 program activities at Wolstein Ctr.) 
$15       Adults               $10       Seniors  65+

(Symposium attendance FREE with General Admission ticket, plus pre-registration - To Register, Click Here)

Tickets available through Ticketmaster, Wolstein Ctr box-office  and CHR50 website:  www.celebratingfreedom1956.org


Other CHR50 Events

---
Back to Top
Back to Hungarians in Cleveland