Polka Hall of Fame
Cleveland Style
Located in the former City Hall of Euclid, The Polka Hall of Fame is the National Center for Cleveland-style polka music and the home of many famous polka stars.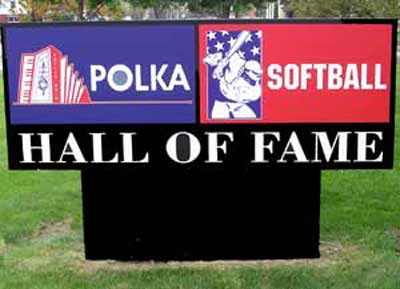 National Cleveland-Style Polka Hall of Fame and Museum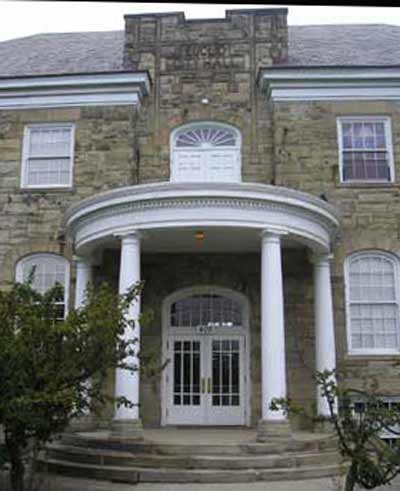 The former City Hall of Euclid.
Home of the Polka Hall of Fame
The Hall of Fame is dedicated to the preservation of Polka Music, or, as they call it "the happiest sound around." Yes, the "country's happiest music" has a home of its own.
Cleveland-style Polka music has its roots in the Slovenian-type Polka, but the American influence has given it a sound all it's own. Polka music represents the central European countries and their love of music.
The Hall of Fame is run by the American Slovenian Polka Foundation with a volunteer Board of Trustees from all aspects of Polka music.
Every year at Thanksgiving time they hold an awards ceremony based on the votes of the membership on categories including Recording of the Year, Lifetime Achievement and more. Past recipients include The Jeff Pecon Orchestra, Cecilia "Cilka" Dolgan, the Don Wojtila Orchestra and The Bob Kravos Band. Recordings of past years include, of course, Frankie Yankovich and The Joey Tomsik Orchestra.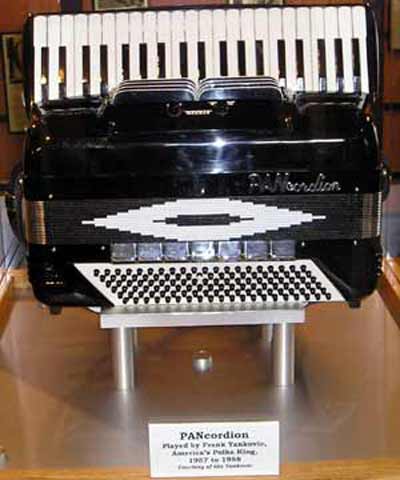 Frankie Yankovic Pancordion
from the Polka Hall of Fame



The Polka Hall of Fame has exhibits, historic photographs and original instruments that trace the history of Cleveland-style polka from its roots in Slovenia in the 1800s though the Top Ten post-war years though today.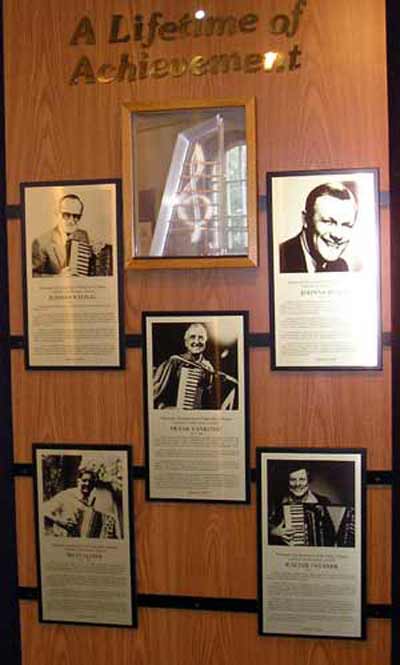 Polka Hall of Fame inductees Johnny Vadnal, Frank Yankovic, Johnny Pecon, Matt Hoyer and Walter Ostanek
Admission to the museum (and adjacent parking) is free. You can reach the Hall of Fame at 216-261-FAME or toll free at 1-866-66-POLKA.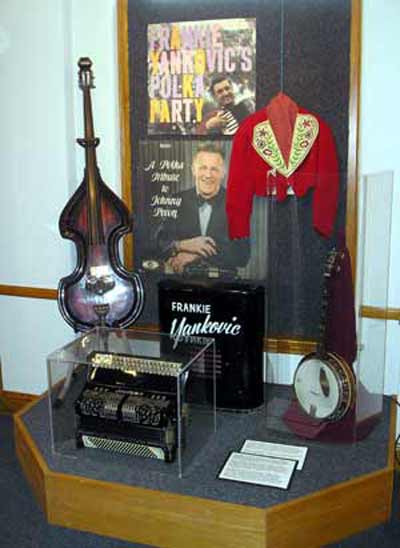 Polka Hall of Fame Frankie Yankovic exhibit
The Polka Hall of Fame is at 605 East 222nd Street in Euclid Ohio. Visit their website.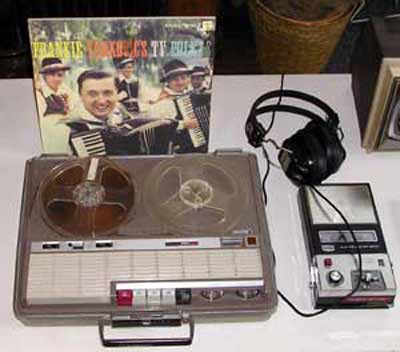 Part of "The way we listened" exhibit at the
National Cleveland-Style Polka Hall of Fame and Museum
---
Back to Top
Back to Cleveland Slovenians
Back to Music
Back to Frankie Yankovic Square dedication
Back to Euclid