Chinese New Year
Year of the Rat
The Chinese Lunar Calendar began February 7 2008. That day marks the beginning of the Year of the Rat, or the ancient name of Wu Zi. It is not 2008 in the Chinese calendar, but more than double that - 4706.
The New Year celebration will traditionally continue on for about 15 days. Those celebrating will take part in parades, feasts, traditional rites and will visit the eldest members of their families as a sign of respect and honor. It is not unheard of for people to take weeks of vacation from their work to celebrate (and prepare for) the New Year.
The Year of the Rat
According to legend, Buddha asked all of the animals to come and meet with him on New Year's Day. Only twelve came. As a token of recognition for their faithfulness to him he named a year after each of the twelve and passed on some of the animals personality traits to anyone born in a year dedicated to that animal.
The traits passed on for The Rat include charisma, patience, practicality and a strong work ethic. Those born in the year of the rat are seldom followers - they are at the front of the pack- taking charge, conquering and blazing new trails.
To find out more about the traits of the twelve animals or to see what animal sign you were born under, click here.

Don't miss sculptures celebrating the Year of the Rat

See photos and a video from a traditional Lion Dance celebrating the Chinese New Year
---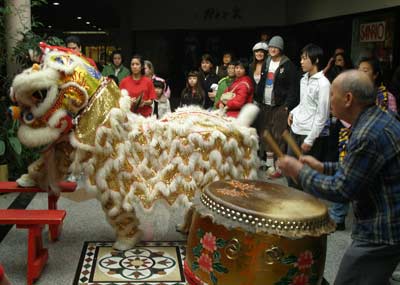 Celebrating the New Year with a Lion Dance
---
Back to Top
Back to Chinese in Cleveland