Twelve Days of Christmas
This is one of those songs that some people find very fun and others find annoying.
The Twelve Days of Christmas are the twelve days from Christmas until the beginning of Epiphany on January 6th. The 12 days count from December 25th until January 5th.
The Twelfth Night is January 5th, the last day of the Christmas Season before Epiphany (January 6th). Twelfth Night often included feasting along with the removal of Christmas decorations. French and English celebrations of Twelfth Night included a King's Cake, remembering the visit of the Three Magi, and ale or wine.
---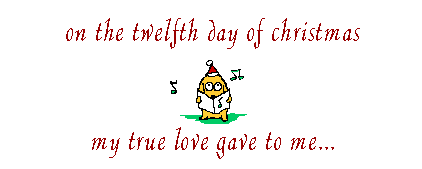 Some say that the song "The Twelve Days of Christmas" is simply a nonsense song for children. Others have suggested that it is a song of Christian instruction dating to the 16th century religious wars in England, with hidden references to the basic teachings of the Faith. They contend that it was a mnemonic device to teach the catechism to youngsters.

The "true love" mentioned in the song is not an earthly suitor, but refers to God Himself. The "me" who receives the presents refers to every baptized person who is part of the Christian Faith. Each of the "days" represents some aspect of the Christian Faith that was important for children to learn.

Whether you enjoy singing the song or not, you may enjoy this humorous a capella version sung by a talented Indiana University group. Just click on the play button to watch and listen.

Cleveland Browns fans will remember when the Kardiac Kids took the city on a wild ride and someone created the 12 Days of a Cleveland Browns Christmas.

On the 12th Day of Christmas Art Model (boo! hiss!) gave to me...

Dave Logan leaping

Doug Dieken blocking

DeLeone a'hikin'

Kardiac Kids a'Winnin'

Darden interceptin'

Newsome a'catchin'

BOTH THE PRUITTS' MOVES....

Alzado attacking

Brian Sipe a'passin'

Don Cockroft Kickin'

on a Rutigliano Super Bowl Team!
---
Top of Page
Back to Christmas
Back to Holidays
Back to Cleveland Sports