An Adventure
in Lake View Cemetery
It was a gray Saturday morning when our group of grave-gawkers gathered at the Garfield Monument, our gizzards giddy with anticipation of grisly tales. It was drizzly and misting, the skies overcast with greenish-gray clouds, perfect weather for a Halloween weekend trek through historic Lake View Cemetery.
We were met by our docent, Dave from Dayton, who began our tour on the steps to the Garfield Monument. Begun in 1885 and completed in 1890, the building is considered by many to be the first true mausoleum (the combination of a tomb and a memorial). Its dedication was attended by many notables of that era, including President Benjamin Harrison and past president Rutherford B. Hayes.
The building is impressive, inside and out. The exterior is made of native sandstone. It has a 3-tiered circular tower atop a stone terrace, capped with a cone-shaped roof.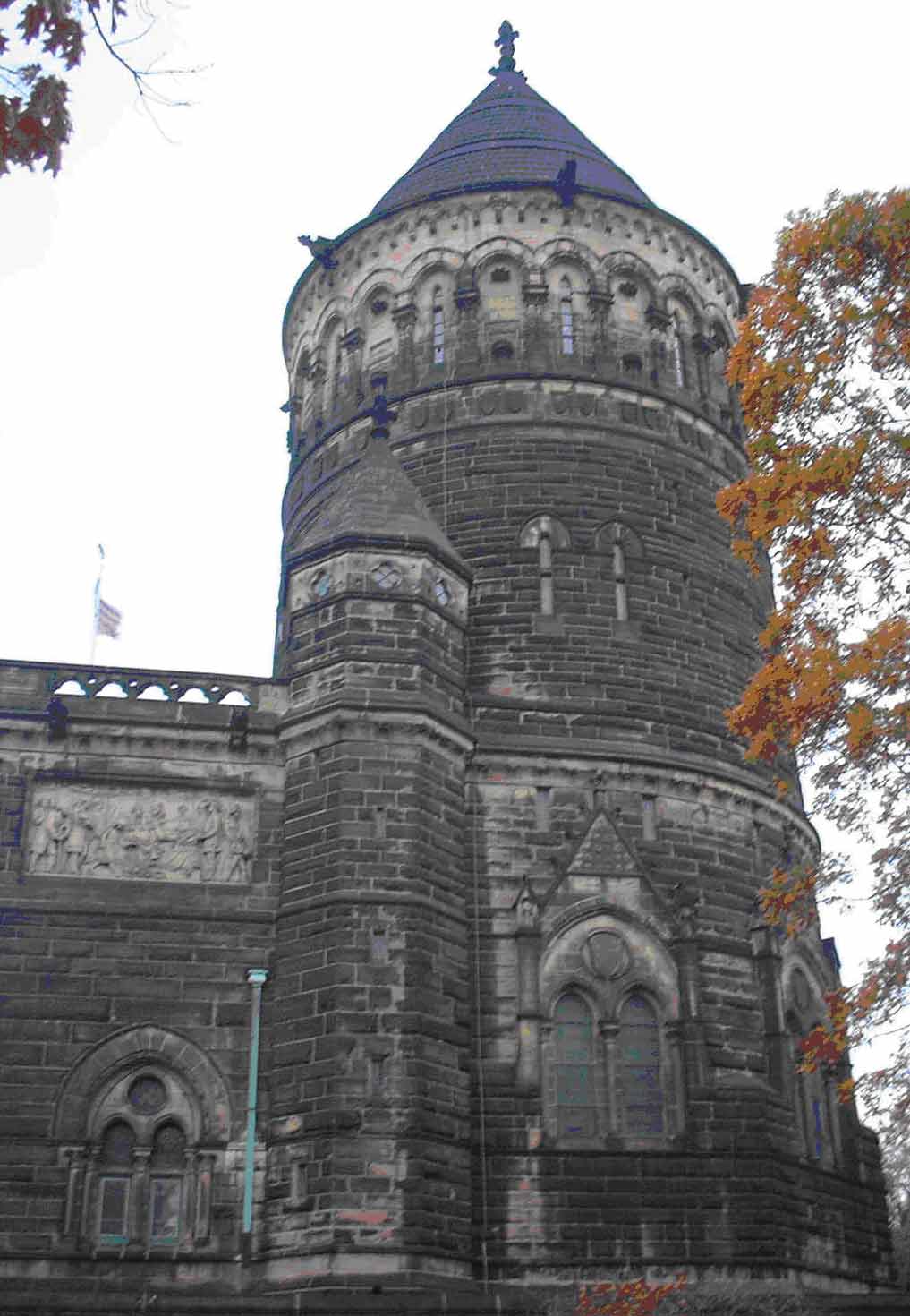 Garfield Monument
The inside is just as impressive - stained glass windows, mosaic tiles, steps of marble. In the center of the memorial hall is a marble statue of our 20th President, striking a pose typical of statesmen back in those days.
Directly below the memorial hall is his tomb. A semi-dizzying trip down the narrow winding stairway will take you there.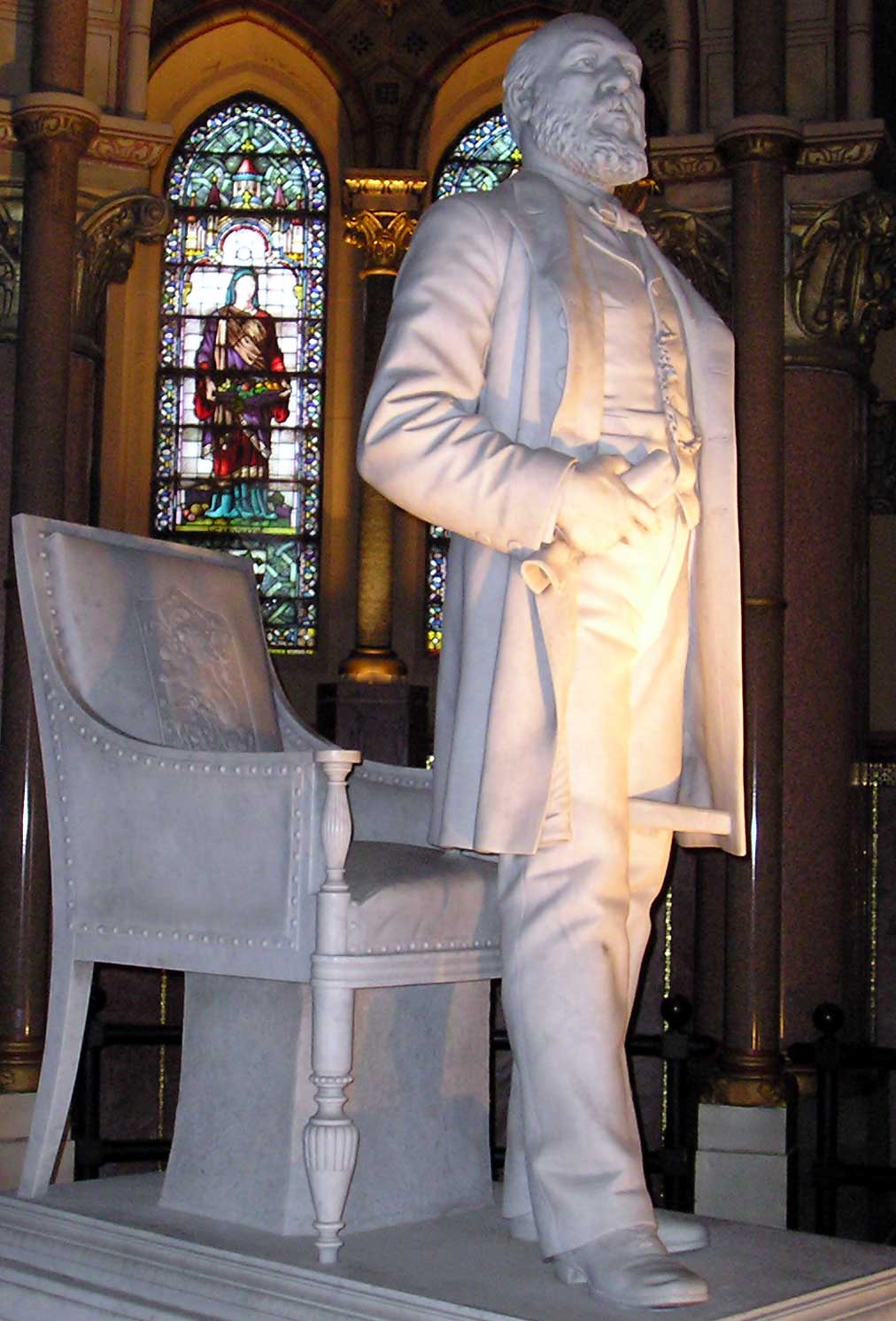 Garfield statue in Monument
A different winding stairway leads up to the outdoor observation deck. From here you get a great view of the entire area. The weather had begun to clear a little at this point, and although the skies were still mostly cloudy we got a decent look at the Cleveland skyline and Lake Erie.
A trip back down the winding stairs returned us to the main entrance, and from there the rest of our excellent adventure continued.
Once outside, we silently slipped past countless headstones. One of our first stops was at John D. Rockefeller's memorial. An impressive obelisk betrays the simplicity of John D's grave itself -- a simple headstone directly behind it. He his flanked by his wife and mother, in an unassuming, ivy-covered plot.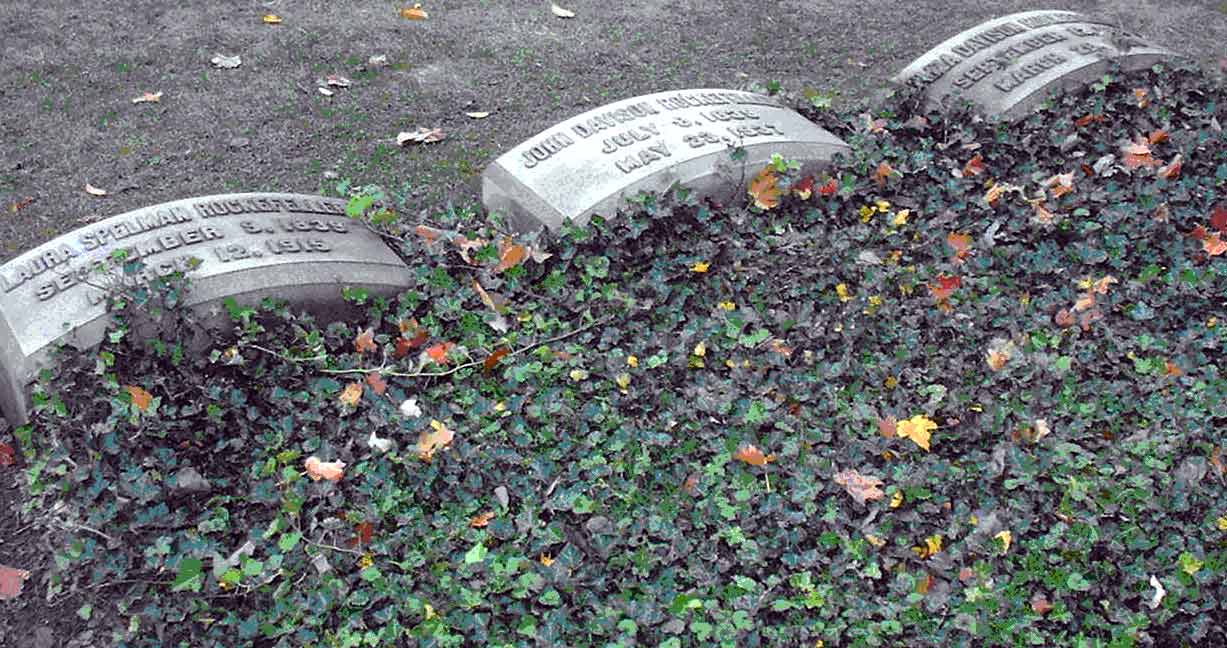 Rockefellers



We visited several more notable memorials, including that of John Hay, John Severance, Charles Brush (inventor of the arc light), Harvey Rice (considered by many as founder of the Cleveland School system), and Francis Glidden (of varnish and paint fame).

One perhaps little-known Clevelander's gravesite you'll find in Lake View is that of Alexander Winton (who, like the Wright Brothers, started off manufacturing bicycles, but Winton went on to designing and developing high-end automobiles instead of airplanes).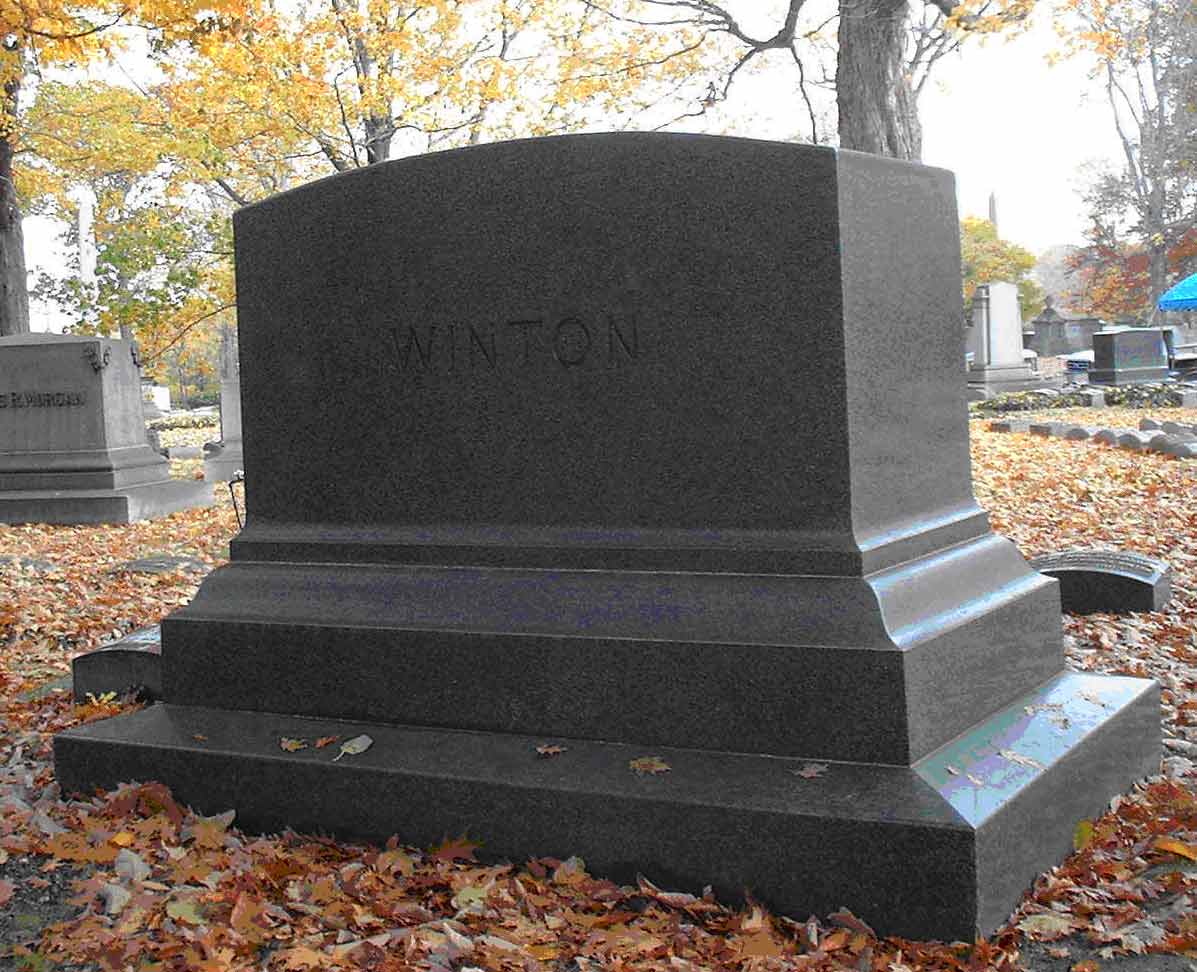 Alexander Winton



Winton was a pioneer in the automobile industry, having over 100 patents that were critical to the development of cars and engines. History has it that Winton once interviewed Henry Ford for a job at his factory in Cleveland, but he was unimpressed with Henry and declined to put him on the payroll.

Winton certainly did help one other person to fame and fortune. James Packard purchased one of Winton's "horseless carriages" in Cleveland, and during his drive home (in Warren, Ohio) the car broke down. Packard had it towed the rest of the way by horses, then returned to Winton's factory to "give a little advice."

Winton, who, sources say, had been described as a "trigger-tempered Scot", told Packard that if he was so smart, why didn't he build a better car himself. Well, the rest, as they say, is history.

Perhaps the crown jewel in Lake View is Wade Chapel, built in 1901 in honor of Jeptha Wade by his grandson. Jeptha Wade was very interested in the telegraph, and his telegraph line network was one of the companies that later joined and created Western Union Telegraph, a company he would become president of in 1866.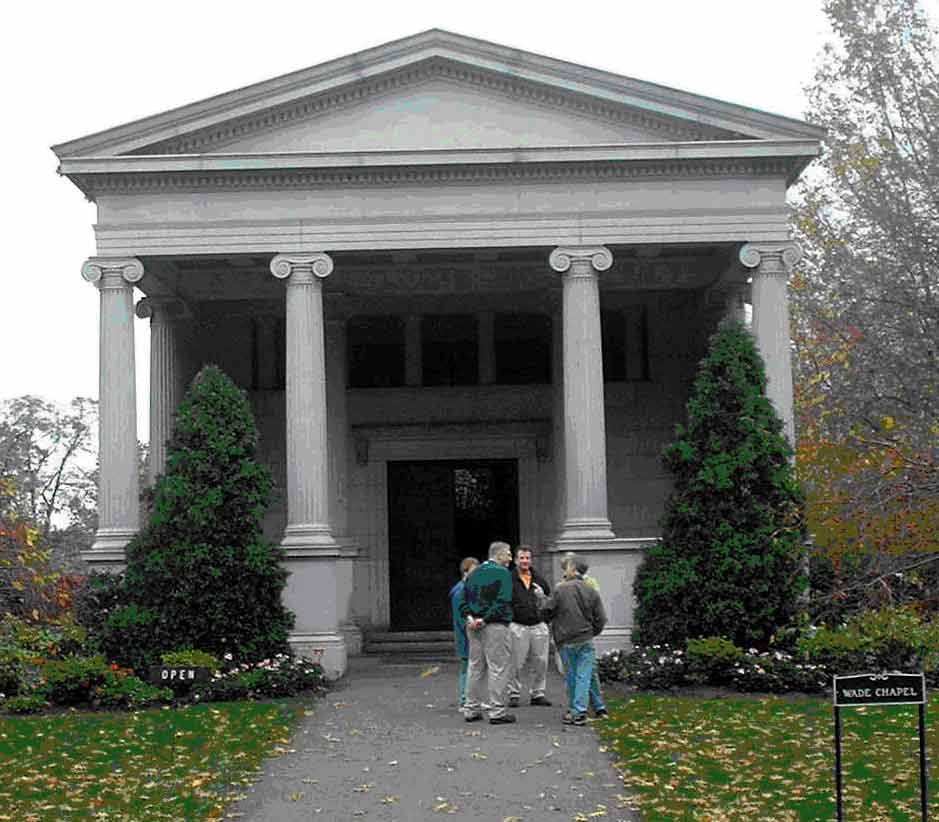 Wade Chapel



Very influential in the business and cultural community in Cleveland, Jeptha was a director of railroad companies, president of a bank and savings and loan, and, coincidentally, Lake View Cemetery Association's first president. His donation of 75 acres of land to Cleveland later became Wade Park.

The inside of Wade Chapel is splendid. Its interior - doors, floor, benches, mosaics, lighting and ceiling - were completely designed by Louis Tiffany.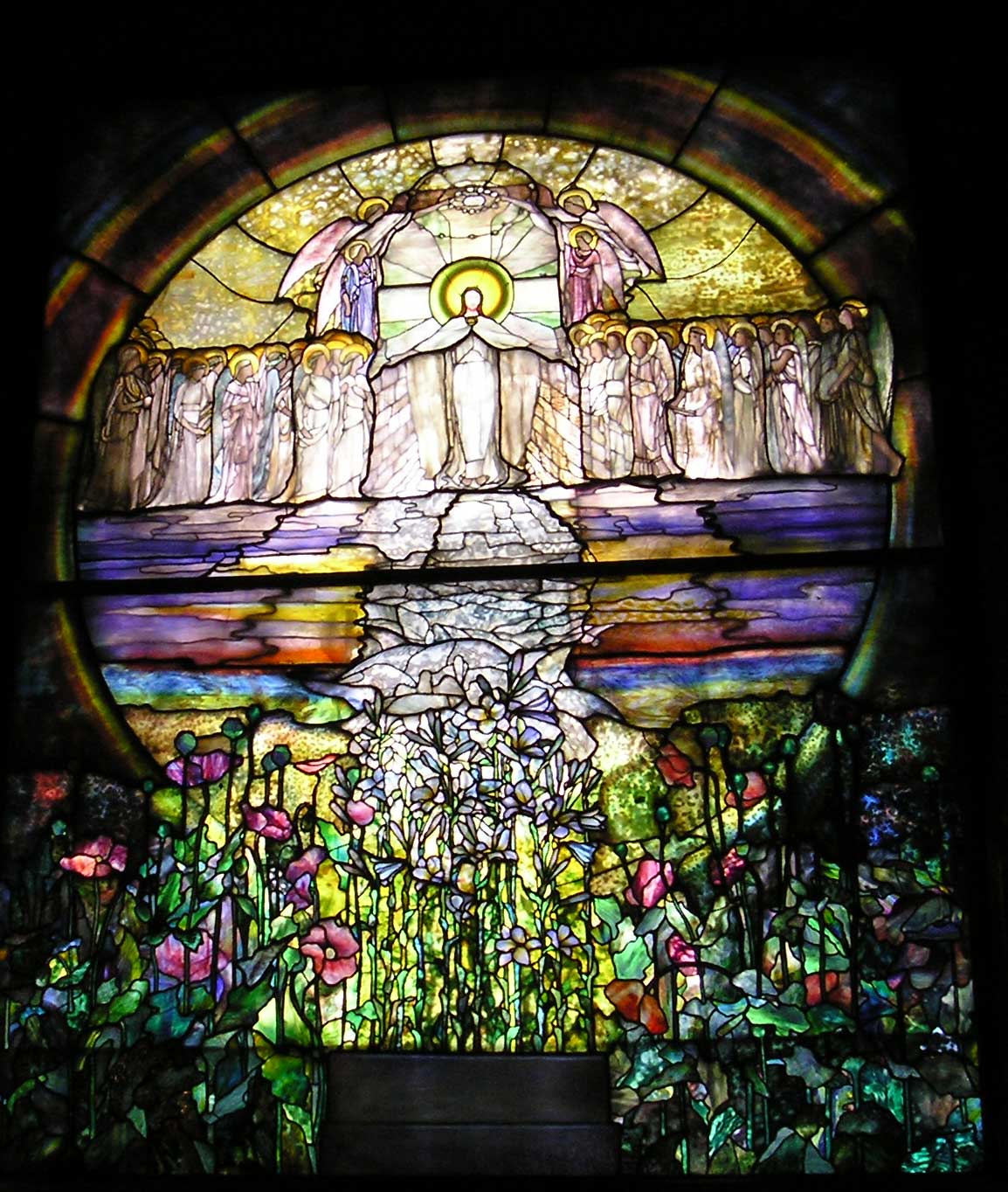 Wade Chapel Tiffany


Perhaps the best known facet of the Chapel is the Tiffany stained glass window. However, the wall mosaics tell a fascinating story, one that a docent is eager to share with you when you visit. We were fortunate that the Chapel was still open - it was closing the very next day until spring.

Another famous resident in Lake View is Eliot Ness. But to visit his grave you may need your bathing suit - his ashes were spread in the small lake across the drive from the Wade Chapel.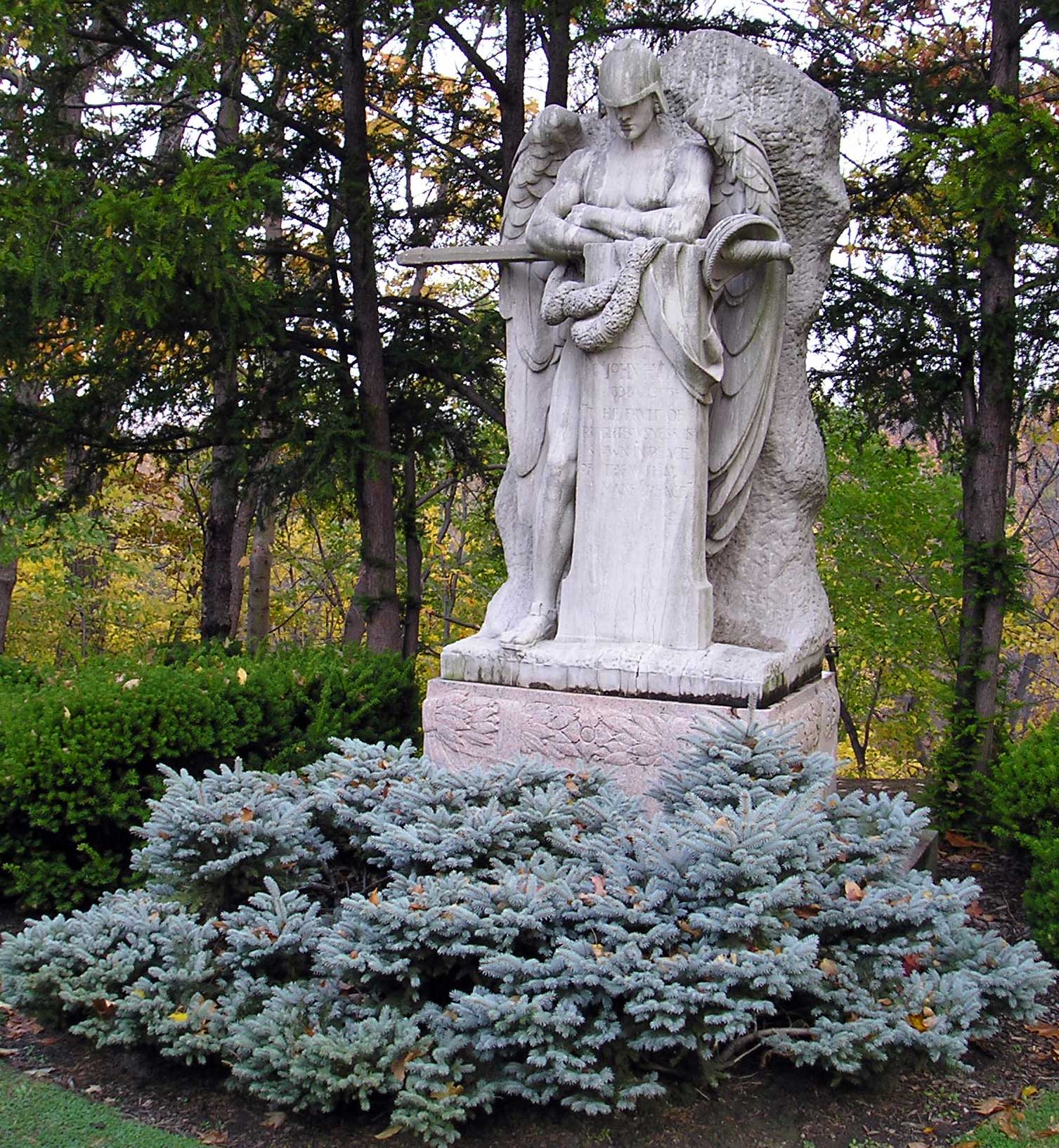 John Hay tomb


Lake View Cemetery is a fabulous Cleveland site to visit, a true treasure just waiting to be discovered - by you!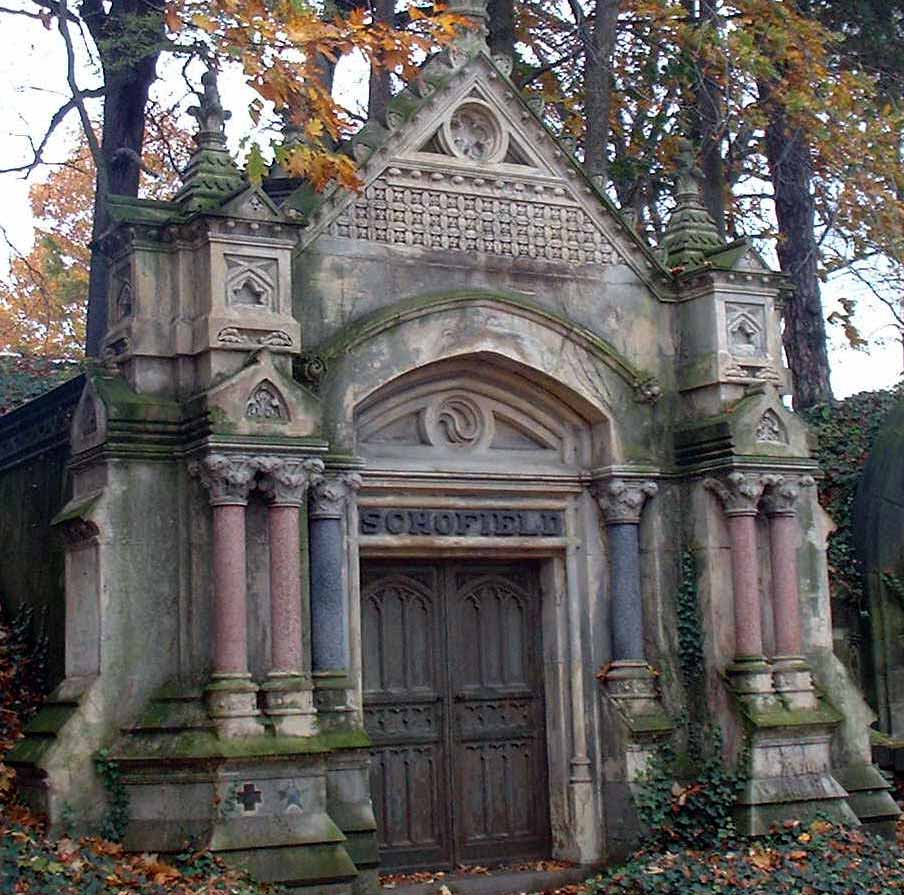 Schofield Mausoleum
Only minutes from the University Circle area, you can enjoy some quiet time among the monuments and magnificent trees -- and learn a part of Cleveland's history.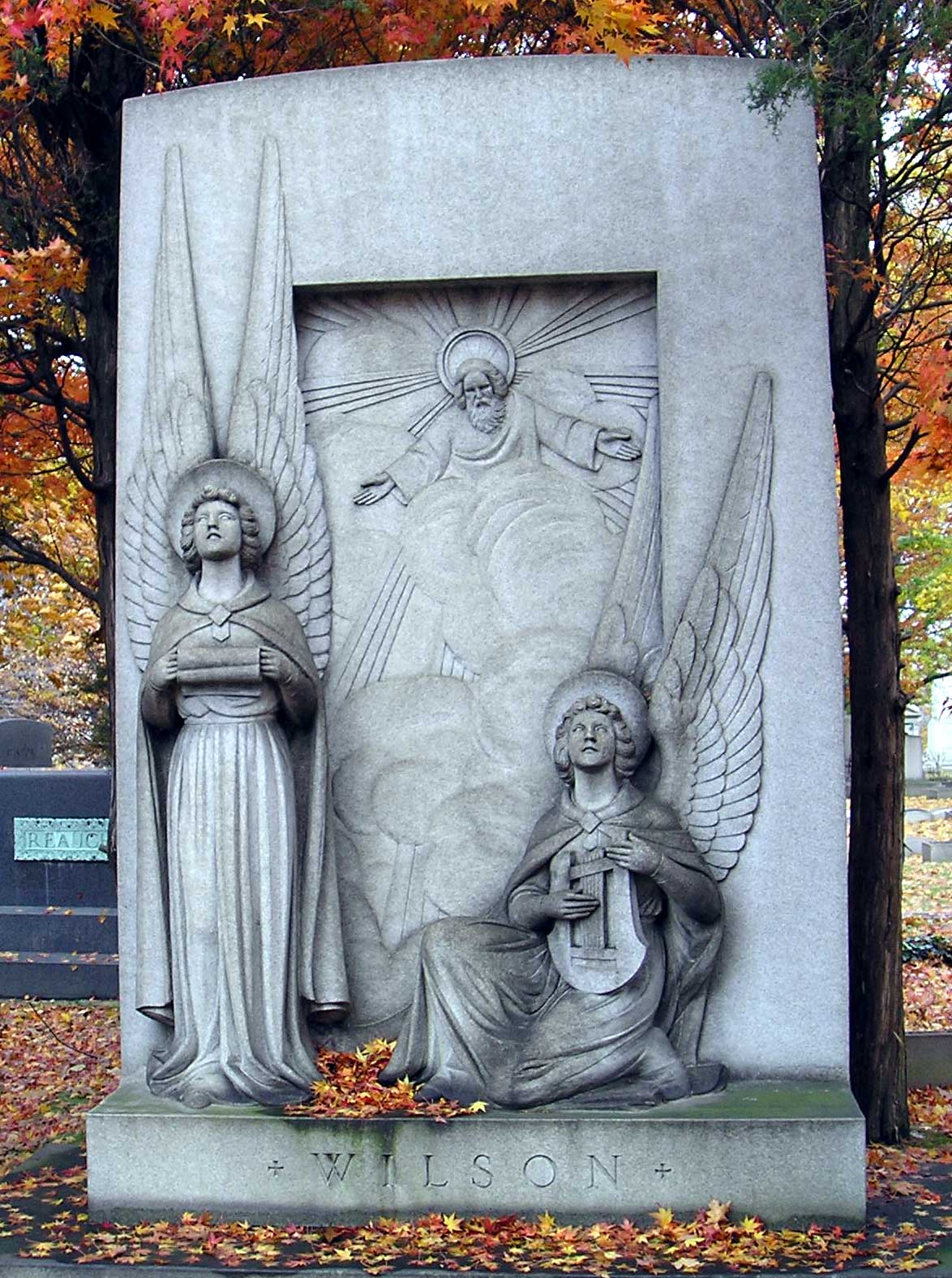 Wilson tomb


For more information on Lake View Cemetery, visit their website

by Tom Mugridge

---


Cleveland Cemeteries
Stones, Symbols, and Stories

Click on the book cover for more information or to buy




---
Top of Page
Back to Travel